Secondo singolo ufficiale estratto da "Streets Of Gold", nuovo album dei 3OH!3. Si tratta di "Double Vision", uptempo fresca e divertente prodotta da Benny Blanco. Il brano è stato in queste ore accompagnato da un video, la clip è piacevole ed originale, diversa dalle solite insomma. Il concept fa riferimento a quello utilizzato da Google per pubblicizzare il suo browser Chrome. La release date di questo secondo singolo è fissata per il 27 settembre nel mercato europeo mentre in America è uscita il 15 giugno e sin ora ha peakkato alla posizione numero 89 della Billboard Hot 100. Ecco il video che accompagna "Double Vision", che ne dite ?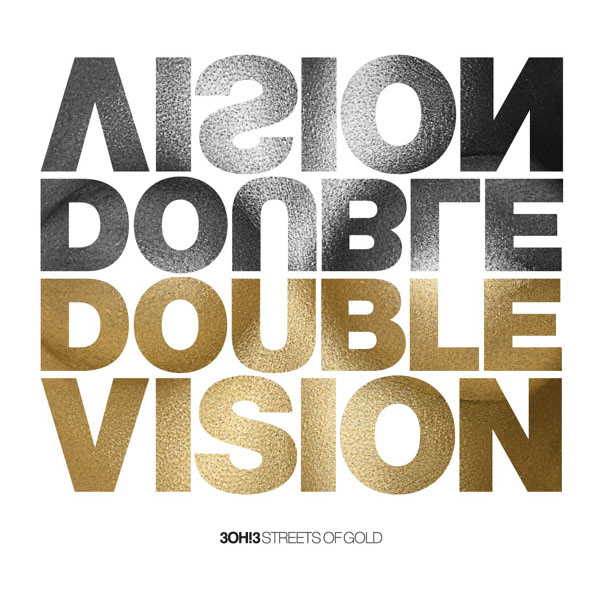 The sun is so hot.
The drinks are so cold.
Your clothes just fall off, as the day goes.
We're gonna stay up. Aint gonna lay low.
We're gonna dance all night because we say so.
I'm thinking maybe I cant have relationships
'Cause lately they're not making any sense.
And baby you're the one thing on my mind, but that can change anytime.
'Cause there's so many fine women that my head is spinning and I've lost all feeling everybody's singing like hey na na na hey hey na na na na
hey na na na hey hey na na na na
'Cause there so many fine women that my head is spinning and I'm seeing double vision everybody's singing like hey na na na hey hey na na na na hey na na na hey hey na na na na na
Lets do this outside
Shut down the whole block
Watch the girls strut by like its the catwalk.
We got it easy
We got the whole day
And we can go hot don't matter what the cops say
I'm thinking maybe I cant have relationships
'Cause lately their not making any sense and baby your the one thing on my mind that I can change anytime
'Cause there's so many fine woman that my head is spinning and I've lost all feeling everybody's singing like hey na na na hey hey na na na na
hey na na na hey hey na na na na
'Cause there so many fine woman that my head is spinning and I'm seeing double vision everybody's singing like hey na na na hey hey na na na na hey na na na hey hey na na na na na
I see no vitals on your EKG
Dead on the dance floor.
We only clap because we need more 3OH!3
Blowing out your speakers (HEY!)
Blowing out your
'Cause there's so many fine woman that my head is spinning and I've lost all feeling everybody's singing like hey na na na hey hey na na na na
hey na na na hey hey na na na na
'Cause there so many fine woman that my head is spinning and I'm seeing double vision everybody's singing like hey na na na hey hey na na na na hey na na na hey hey na na na na na