Nella classifica dei singoli più di successo a livello mondiale questa settimana troviamo ancora in vetta per un totale di sei settimane "Thrift Shop" di Macklemore & Ryan Lewis featuring Wanz che supera ufficialmente "Scream And Shout" diventando (almeno per il momento) il singolo di maggior successo del 2013.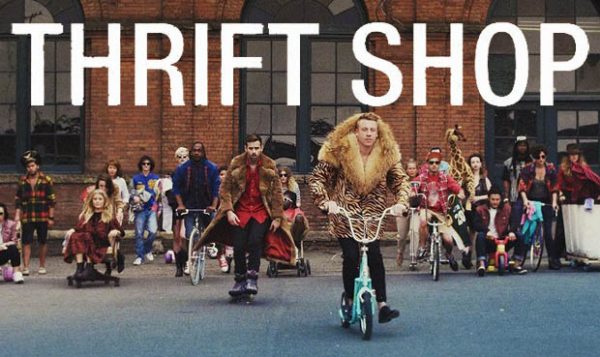 Guadagna altre due posizioni arrivando alla 2 "When I Was Your Man" di Bruno Mars, è stabile alla posizione numero 3 "Stay" di Rihanna featuring Mikky Ekko mentre salgono alla 4 "Just Give Me A Reason" di Pink featuring Nate Ruess ed alla 5 "Suit & Tie" di Justin Timberlake featuring Jay-Z in attesa di vedere quali numeri ha fatto registrare il nuovo album nella settimana di debutto. Perde ancora una posizione e scende alla 6 la sopracitata "Scream And Shout" di Will.I.Am featuring Britney Spears, entra in top10 alla posizione numero 7 "Mirrors" di Justin Timberlake mentre alla 8 è stabile "Locked Out Of Heaven" di Bruno Mars. Entra in top10 questa settimana anche alla 9 "Feel This Moment" di Pitbull featuring Christina Aguilera grazie al video ufficiale, scende invece di altre quattro posizioni alla 10 "Harlem Shake" di Baauer.
Per quanto riguarda invece la classifica degli album, in una settimana ricca di debutti a conquistare la numero 1 è stata la rock star David Bowie con il suo 27esimo studio album "The Next Day".

Hanno lottato per la numero 1 di questa settimana anche i Bon Jovi con il loro 12esimo album "What About Now" che si è però fermato alla posizione numero 2. Terza posizione in classifica e terzo debutto della settimana, troviamo alla 3 i Les Enfoirés con "La Boîte À Musique Des Enfoirés", scende di una posizione alla 4 Bruno Mars con "Unorthodox Jukebox" mantre alla 5 debuttano i giapponesi Sakanaction con l'omonimo album "Sakanaction". Rientra in top10 alla posizione numero 6 Pink con "The Truth About Love", alla posizione numero 7 debutta la colonna sonora di "Sound Control (Real To Reel)", sono stabili alla 8 i Mumford & Sons con "Babel" ed anche alla 9 Rihanna con "Unapologetic" mentre crolla dalla 2 alla 10 Luke Bryan con "Spring Break… Here To Party".
Classifica SINGOLI
01 01 Thrift Shop – Macklemore & Ryan Lewis featuring Wanz 407.000 punti
02 04 When I Was Your Man – Bruno Mars 343.000 punti
03 03 Stay – Rihanna featuring Mikky Ekko 340.000 punti
04 07 Just Give Me A Reason – Pink featuring Nate Ruess 290.000 punti
05 09 Suit & Tie – Justin Timberlake featuring Jay-Z 261.000 punti
06 05 Scream And Shout – Will.I.Am featuring Britney Spears 245.000 punti
07 16 Mirrors – Justin Timberlake 231.000 punti
08 08 Locked Out Of Heaven – Bruno Mars 206.000 punti
09 11 Feel This Moment – Pitbull featuring Christina Aguilera 204.000 punti
10 06 Harlem Shake – Baauer 204.000 punti
11 10 I Knew You Were Trouble – Taylor Swift 193.000 punti
12 12 Ho Hey – Lumineers 171.000 punti
13 NE Kimi No Na Wa Kibô – Nogizaka 46 162.000 punti
14 13 Don't You Worry Child – Swedish House Mafia featuring John Martin 153.000 punti
15 15 Try – Pink 138.000 punti
16 14 Troublemaker – Olly Murs featuring Flo Rida 136.000 punti
17 19 One Way Or Another (Teenage Kicks) – One Direction 135.000 punti
18 17 Diamonds – Rihanna 131.000 punti
19 NE Ninja Ri Ban Ban – Kyary Pamyu Pamyu 126.000 punti
20 18 Daylight – Maroon 5 123.000 punti
21 20 I Could Be The One – Avicii vs. Nicky Romero 119.000 punti
22 24 Started From The Bottom – Drake 110.000 punti
23 21 Girl On Fire – Alicia Keys featuring Nicki Minaj 109.000 punti
24 02 Calling – Arashi 106.000 punti
25 22 Skyfall – Adele 104.000 punti
26 23 Hall Of Fame – The Script featuring Will.i.am 101.000 punti
27 26 Sweet Nothing – Calvin Harris featuring Florence Welch 99.000 punti
28 35 Can't Hold Us – Macklemore & Ryan Lewis featuring Ray Dalton 98.000 punti
29 30 I Love It – Icona Pop featuring Charli XCX 98.000 punti
30 25 Radioactive – Imagine Dragons 97.000 punti
31 27 Heart Attack – Demi Lovato 90.000 punti
32 28 I Will Wait – Mumford & Sons 90.000 punti
33 29 It's Time – Imagine Dragons 86.000 punti
34 36 My Songs Know What You Did In The Dark – Fall Out Boy 84.000 punti
35 NE Let Her Go – Passenger 83.000 punti
36 NE Crescendo – Akdong Musician 81.000 punti
37 32 Love Me – Lil Wayne featuring Drake & Future 80.000 punti
38 NE Que Sera Sera – Tomohisa Yamashita 76.000 punti
39 33 Little Talks – Of Monsters And Men 75.000 punti
40 31 Gangnam Style – Psy 73.000 punti
Classifica ALBUM
01 NE David Bowie – The Next Day 404.000 copie
02 NE Bon Jovi – What About Now 271.000 copie
03 NE Les Enfoirés – La Boîte À Musique Des Enfoirés 146.000 copie
04 03 Bruno Mars – Unorthodox Jukebox 107.000 copie
05 NE Sakanaction – Sakanaction 83.000 copie
06 11 Pink – The Truth About Love 74.000 copie
07 NE Soundtrack – Sound Control (Real To Reel) 69.000 copie
08 08 Mumford & Sons – Babel 66.000 copie
09 09 Rihanna – Unapologetic 65.000 copie
10 02 Luke Bryan – Spring Break… Here To Party 65.000 copie
11 05 Jimi Hendrix – People, Hell & Angels 58.000 copie
12 13 One Direction – Take Me Home 51.000 copie
13 07 Emeli Sande – Our Version Of Events 50.000 copie
14 NE Passion – Let The Future Begin 48.000 copie
15 14 Adele – 21 48.000 copie
16 18 Josh Groban – All That Echoes 48.000 copie
17 NE The Hurts – Exile 45.000 copie
18 10 Soundtrack – Les Misérables 44.000 copie
19 17 Macklemore & Ryan Lewis – The Heist 43.000 copie
20 NE Eric Clapton – Old Sock 42.000 copie
21 20 Lumineers – Lumineers 41.000 copie
22 06 Dido – Girl Who Got Away 40.000 copie
23 25 Fun. – Some Nights 40.000 copie
24 16 Andrea Bocelli – Passione 39.000 copie
25 NE Mindless Behavior – All Around The World 38.000 copie
26 26 Imagine Dragons – Night Visions 38.000 copie
27 24 Taylor Swift – Red 38.000 copie
28 22 Nick Cave & The Bad Seeds – Push The Sky Away 35.000 copie
29 32 Ed Sheeran – Plus 31.000 copie
30 04 One OK Rock – Jinsei X Boku 28.000 copie
31 12 Bastille – Bad Blood 28.000 copie
32 30 Florida Georgia Line – Here's To The Good News 28.000 copie
33 35 Passenger – All The Little Lights 27.000 copie
34 21 Atoms For Peace – Amok 26.000 copie
35 RE Phillip Phillips – World From The Side Of The Moon 25.000 copie
36 27 Lana Del Rey – Born To Die (Paradise-Edition) 24.000 copie
37 29 Justin Bieber – Believe Acoustic 23.000 copie
38 36 Maroon 5 – Overexposed 23.000 copie
39 31 Of Monsters & Men – My Head Is An Animal 23.000 copie
40 40 One Direction – Up All Night 22.000 copie