Nuova numero 1 nella classifica dei singoli americana Billboard Hot100 dove questa settimana troviamo in vetta P!nk Featuring Nate Ruess con il terzo singolo "Just Give Me A Reason". Per la cantante è la prima numero1 dall'album "The Thruth About Love" e la quarta totale in carriera dopo la collaborazione "Lady Marmalade", ed i più recenti singoli "So What" e "Raise Your Glass". Senza alcuna promozione il singolo sta vendendo attualmente quasi il doppio rispetto alle altre canzoni presenti in top5 e grazie all'ottimo successo in radio potrebbe mantenersi in vetta alla classifica almeno per un'altra settimana.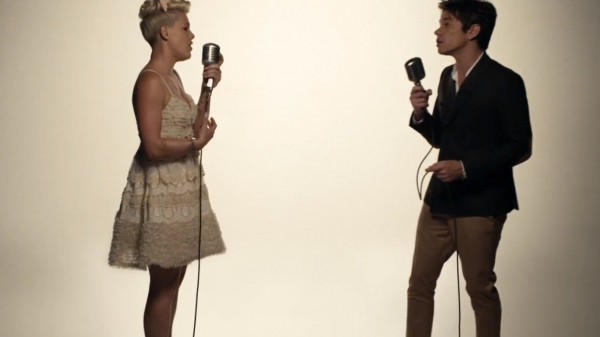 Sono stabili per l'ennesima settimana alla posizione numero 2 Macklemore & Ryan Lewis Featuring Wanz con "Thrift Shop" che sarà facilmente la canzone più venduta del 2013 nella classifica di fine anno visto che ormai il singolo è prossimo ai 6milioni di copie vendute. Scende subito alla posizione  numero 3 dopo una sola settimana in vetta Bruno Mars con "When I Was Your Man", rimane stabile alla 4 Rihanna Featuring Mikky Ekko con "Stay" che continua a salire in radio ma non essendo disponibile per i servizi di streaming continua a guardare la vetta della classifica senza possibilità di raggiungerla. Grazie alla performance agli MTV Movie Awards salgono di altre due posizioni alla 5 Macklemore & Ryan Lewis Featuring Ray Dalton con "Can't Hold Us" che potrebbe salire ancora la prossima settimana grazie al rilascio del video ufficiale, posizioni numero 6 e 7 per Justin Timberlake in discesa con "Suit & Tie" Featuring Jay-Z mentre entra in top 10 con il secondo singolo "Mirrors" che sta facendo registrare degli ottimi numeri a livello radiofonico e anche su iTunes. Sale di un paio di posizioni alla 8 Pitbull Featuring Christina Aguilera con "Feel This Moment", alla 9 è stabile Drake con "Started From The Bottom" mentre raggiunge la top10 proprio alla 10 Demi Lovato con "Heart Attack" che potrebbe guadagnare ancora qualche posizione la settimana prossima grazie al buon andamento in radio, anche se è uscita dalla top10 di iTunes.
Dopo il rientro della scorsa settimana alla 8 scendono alla 11 i Florida Georgia Line Featuring Nelly con "Cruise", manca il debutto in top10 alla fermandosi alla posizione numero 12 Psy con "Gentleman" che ha già fatto registrare numeri da record su Youtube. Continua la sua discesa alla posizione numero 13 Baauer con "Harlem Shake", scendono anche alla 14 gli Imagine Dragons con "Radioactive" ed alla 15 Lil Wayne Featuring Drake & Future con "Love Me" mentre salgono di una posizione alla 16 le Icona Pop Featuring Charli XCX con "I Love It". Scendono alla 17 i Maroon 5 con "Daylight" che sono ormai pronti a rilasciare il prossimo singolo dal fortunato album "Overexposed", debutta invece alla posizione numero 18 Luke Bryan con la nuova "Crash My Party" performata ai Country Music Awards, scende alla 19 Taylor Swift con "I Knew You Were Trouble" mentre sale dalla 35 alla 20 Miranda Lambert con "Mama's Broken Heart" sempre grazie ai Country Music Awards.
01 03 P!nk Ft Nate Ruess – Just Give Me A Reason
02 02 Macklemore & Ryan Lewis  – Thrift Shop
03 01 Bruno Mars – When I Was Your Man
04 04 Rihanna Ft Mikky Ekko – Stay
05 07 Macklemore & Ryan Lewis – Can't Hold Us
06 05 Justin Timberlake Ft Jay-Z – Suit & Tie
07 12 Justin Timberlake – Mirrors
08 10 Pitbull Christina Aguilera – Feel This Moment
09 09 Drake – Started From The Bottom
10 15 Demi Lovato – Heart Attack

11 08 Florida Georgia Line Ft Nelly – Cruise
12 NE Psy – Gentleman
13 06 Baauer – Harlem Shake
14 11 Imagine Dragons – Radioactive
15 13 Lil Wayne Ft Drake & Future – Love Me
16 17 Icona Pop Ft Charli XCX – I Love It
17 14 Maroon 5 – Daylight
18 NE Luke Bryan – Crash My Party
19 16 Taylor Swift – I Knew You Were Trouble
20 35 Miranda Lambert – Mama's Broken Heart
Salgono questa settimana in classifica di ben 17 posizioni ciascuno alla 25 Tim McGraw Featurign Taylor Swift con "Highway Don't Care" ed alla 26 J. Cole Featuring Miguel con "Power Trip", salgono anche alla 29 i Lady Antebellum con "Downtown" e recupera un paio di posizioni alla 32 Taylor Swift con "22". Perdono ancora diverse posizioni questa settimana alla 37 Ariana Grande Featuring Mac Miller con "The Way" ed alla 38 Rihanna con "Pour It Up" mentre guadagna altre 15 posizioni alla 40 Blake Shelton Featuring Pistol Annies & Friends con "Boys 'Round Here".
21 24 Darius Rucker – Wagon Wheel
22 20 The Lumineers – Ho Hey
23 23 Fun. – Carry On
24 19 Bruno Mars – Locked Out Of Heaven
25 42 Tim McGraw – Highway Don't Care
26 43 J. Cole Ft Miguel – Power Trip
27 21 Calvin Harris  – Sweet Nothing
28 18 will.i.am Ft Britney Spears – Scream & Shout
29 36 Lady Antebellum – Downtown
30 27 Fall Out Boy – My Songs Know What You Did

31 31 Wale Ft Tiara Thomas – Bad
32 34 Taylor Swift – 22
33 25 Mumford & Sons – I Will Wait
34 28 A$AP Rocky Ft Drake- F**kin' Problems
35 26 Swedish House Mafia – Don't You Worry Child
36 29 Blake Shelton – Sure Be Cool If You Did
37 22 Ariana Grande Ft Mac Miller – The Way
38 30 Rihanna – Pour It Up
39 32 Olly Murs Ft Flo Rida – Troublemaker
40 55 Blake Shelton – Boys 'Round Here
Diversi i debutti nella zona centrale della classifica dove troviamo alla 43 Hunter Hayes con "I Want Crazy", alla 45 Selena Gomez con "Come & Get It" che salirà sicuramente in classifica la prossima settimana grazie all'ottima promozione che l'ha già portata in top10 su iTunes, debuttano anche alla 51 Ray J Featuring Bobby Brackins con la controversa "I Hit It First" ed alla 52 Avril Lavigne con il nuovo singolo "Here's To Never Growing Up". Ancora country in salita alla 53 dove troviamo Jason Aldean con "1994" ed alla 59 con Eric Church con la sua "Like Jesus Does", recupera intanto cinque posizioni alla 60 will.i.am Featuring Justin Bieber con "#thatPOWER" che ha da poco un video ufficiale.
41 39 Florida Georgia Line – Get Your Shine On
42 40 Krewella – Alive
43 NE Hunter Hayes – I Want Crazy
44 38 Ace Hood Ft Future & Rick Ross – Bugatti
45 NE Selena Gomez – Come & Get It
46 53 The Band Perry – DONE.
47 33 Imagine Dragons – It's Time
48 44 AWOLNATION – Sail
49 37 Of Monsters And Men – Little Talks
50 51 Thompson Square – If I Didn't Have You

51 NE Ray J Ft Bobby Brackins – I Hit It First
52 NE Avril Lavigne – Here's To Never Growing Up
53 58 Jason Aldean – 1994
54 52 Chris Brown – Fine China
55 54 Kenny Chesney – Pirate Flag
56 59 George Strait – Give It All We Got Tonight
57 56 Emeli Sandé – Next To Me
58 50 Lee Brice – I Drive Your Truck
59 66 Eric Church – Like Jesus Does
60 65 will.i.am Ft Justin Bieber – #thatPOWER
Dopo il grandissimo successo del singolo di debutto "Home" sale questa settimana alla 62 Phillip Phillips con "Gone, Gone, Gone", guadagna ben 10 posizioni alla 65 Kendrick Lamar con "Bitch, Don't Kill My Vibe" mentre sale dalla 83 alla 68 Nicki Minaj Featuring Lil Wayne con "High School". Sale di sole sei posizioni alla 74 Justin Bieber Featuring Ludacris con il nuovo singolo "All Around The World", debutta invece alla 77 Brad Paisley Featuring LL Cool J con "Accidental Racist".
61 57 Lil Wayne Ft 2 Chainz – Rich As F**k
62 64 Phillip Phillips – Gone, Gone, Gone
63 71 Chris Young – I Can Take It From There
64 63 Rihanna Ft Future – Loveeeeee Song
65 75 Kendrick Lamar – Bitch, Don't Kill My Vibe
66 61 Young Jeezy Ft 2 Chainz – R.I.P.
67 69 Brad Paisley – Beat This Summer
68 83 Nicki Minaj Ft Lil Wayne – High School
69 70 Carrie Underwood – Two Black Cadillacs
70 68 Tamar Braxton – Love And War

71 72 Lupe Fiasco & Guy Sebastian – Battle Scars
72 73 B.o.B Ft T.I. & Juicy J – We Still In This B****
73 77 Zedd Ft Foxes – Clarity
74 80 Justin Bieber – All Around The World
75 67 Trinidad James – All Gold Everything
76 74 Hadouken! – Levitate
77 NE Brad Paisley Ft LL Cool J – Accidental Racist
78 87 Jake Owen – Anywhere With You
79 84 Brantley Gilbert – More Than Miles
80 79 Kelly Rowland – Kisses Down Low
Nella parte più bassa della classifica debuttano alla 83 i Paramore con "Still Into You", rientra alla posizione numero 87 Kelly Clarkson Featuring Vince Gill con il singolo country "Don't Rush" mentre salgono alla 91 le Little Mix con "Wings". Ancora debutti nelle ultimissime posizioni della classifica dove troviamo alla 92 i WE The Kings con "Just Keep Breathing", alla 94 Scotty McCreery con "See You Tonight", alla 97 Fabolous Featuring Chris Brown con "Ready" ed infine alla 99 Rocko Featuring Future & Rick Ross con "U.O.E.N.O.".
81 76 OneRepublic – If I Lose Myself
82 82 Future Ft Lil Wayne – Karate Chop (Remix)
83 NE Paramore – Still Into You
84 88 Kip Moore – Hey Pretty Girl
85 81 Anna Kendrick – Cups
86 91 Tyga Ft Cedric Gervais, Wiz Khalifa – Molly
87 RE Kelly Clarkson Ft Vince Gill – Don't Rush
88 86 Future – Neva End
89 95 Ed Sheeran – Lego House
90 85 Tim McGraw – One Of Those Nights

91 98 Little Mix – Wings
92 NE WE The Kings – Just Keep Breathing
93 89 A$AP Rocky Ft Skrillex – Wild For The Night
94 NE Scotty McCreery – See You Tonight
95 90 Juicy J Ft Big Sean Young Jeezy – Show Out
96 92 Rascal Flatts – Changed
97 NE Fabolous Ft Chris Brown – Ready
98 78 One Direction – Kiss You
99 NE Rocko Ft Future & Rick Ross – U.O.E.N.O.
100 100 Macklemore & Ryan Lewis – Same Love