Nuova settimana, nuova numero 1! A conquistare la vetta della classifica inglese di questa settimana è stato il Dj e produttore Duke Dumont con il singolo "Need U (100%)" che vede la partecipazione della cantante appena 18enne A*M*E.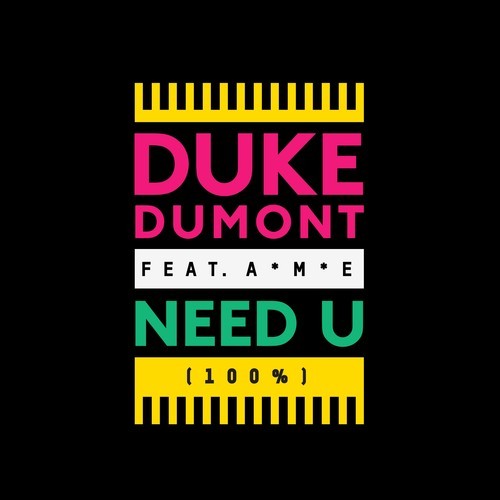 Rimane stabile alla posizione numero 2 P!nk Featuring Nate Ruess con "Just Give Me A Reason" che è attualmente in corsa per la numero1 della settimana prossima visto l'ottimo andamento su iTunes dove è presente nella top100 con ben 3 versioni. Si scambiano di posizioni tra la 3 e la 4 Justin Timberlake con "Mirrors" e le Saturdays Featuring Sean Paul con "What About Us", alla 5 sono stabili i Bastille con "Pompeii" mentre scendono dalla 1 alla 6 PJ & Duncan con "Let's Get Ready To Rhumble". Sale di due posizioni alla 7 Nelly con "Hey Porsche", entra in top10 alla 8 Pitbull Featuring Christina Aguilera con "Feel This Moment", scende alla 9 Bruno Mars con "When I Was Your Man" mentre debutta alla posizione numero 10 Michael Bublé con "It's A Beautiful Day".
01 NE Duke Dumont Featuring A*M*E ~ Need U (100%)
02 02 P!nk Featuring Nate Ruess ~ Just Give Me A Reason
03 04 Justin Timberlake ~ Mirrors
04 03 The Saturdays Featuring Sean Paul ~ What About Us
05 05 Bastille ~ Pompeii
06 01 PJ & Duncan ~ Let's Get Ready To Rhumble
07 09 Nelly ~ Hey Porsche
08 11 Pitbull Featuring Christina Aguilera ~ Feel This Moment
09 06 Bruno Mars ~ When I Was Your Man
10 NE Michael Bublé ~ It's A Beautiful Day
Abbandonano la top10 scendendo alla 11 Macklemore & Ryan Lewis Featuring Wanz con "Thrift Shop", guadagna altre due posizioni alla 12 Taylor Swift con "22" mentre esce dalla top10 anche alla 13 Bridgit Mendler con "Ready Or Not". Perdono una sola posizione alla 14 i Disclosure Featuring AlunaGeorge con "White Noise", scende alla 15 dopo il debutto alla 7 della settimana scorsa Charlie Brown con "On My Way", perdono posizioni anche alla 16 i The Lumineers con "Ho Hey" ed alla 17 i One Direction con "One Way Or Another (Teenage Kicks)" mentre volano dalla posizione 32 direttamente alla 18 gli Imagine Dragons con "Radioactive". In attesa del video ufficiale che accompagna la canzone sale alla 19 Calvin Harris Featuring Ellie Goulding con il nuovo singolo "I Need Your Love", scende invece alla 20 Avicii Vs Nicky Romero con "I Could Be The One".
11 10 Macklemore & Ryan Lewis Featuring Wanz ~ Thrift Shop
12 14 Taylor Swift ~ 22
13 08 Bridgit Mendler ~ Ready Or Not
14 13 Disclosure Featuring AlunaGeorge ~ White Noise
15 07 Charlie Brown ~ On My Way
16 15 The Lumineers ~ Ho Hey
17 12 One Direction ~ One Way Or Another (Teenage Kicks)
18 32 Imagine Dragons ~ Radioactive
19 25 Calvin Harris Featuring Ellie Goulding ~ I Need Your Love
20 16 Avicii Vs Nicky Romero ~ I Could Be The One
21 19 The 1975 ~ Chocolate
22 17 Taylor Swift ~ I Knew You Were Trouble
23 22 will.i.am Featuring Britney Spears ~ Scream & Shout
24 31 Christina Perri ~ A Thousand Years
25 18 Justin Timberlake Featuring Jay-Z ~ Suit & Tie
26 27 The Script ~ If You Could See Me Now
27 23 Rihanna Featuring Mikky Ekko ~ Stay
28 21 Kodaline ~ High Hopes
29 NE Chris Brown ~ Fine China
30 NE Haim ~ Falling
31 20 Nicole Scherzinger ~ Boomerang
32 24 Olly Murs ~ Army Of Two
33 28 Bruno Mars ~ Locked Out Of Heaven
34 NE Imagine Dragons ~ On Top Of The World
35 30 Calvin Harris Featuring Tinie Tempah ~ Drinking From The Bottle
36 NE Iggy Azalea ~ Work
37 26 Emeli Sandé ~ Clown
38 NE Macklemore & Ryan Lewis Featuring Ray Dalton ~ Can't Hold Us
39 29 Baauer ~ Harlem Shake
40 RE Imagine Dragons ~ It's Time