Ad aggiudicarsi la numero 1 della settimana di natale in Regno Unito è stata la cover di "He Ain't Heavy, He's My Brother" riproposta dai The Justice Collective, un gruppo di cantanti e celebrità tra cui troviamo Robbie Williams, Paloma Faith, Paul McCartney, e Rebecca Ferguson per ricordare le vittime della strage di Hillsborough dove nel 1989 morirono 96 persone.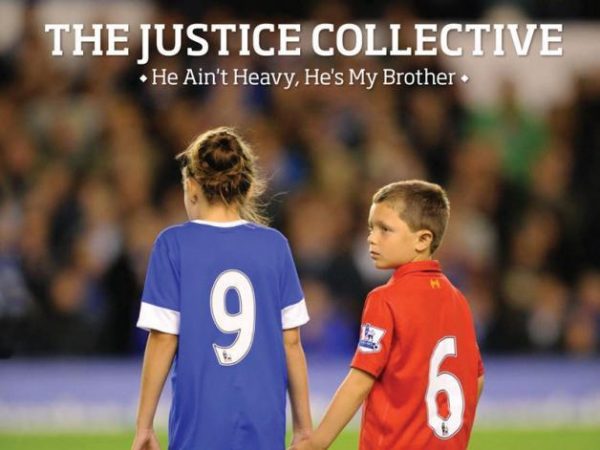 Dopo aver debuttato alla 1 la scorsa settimana, scende alla 2 il vincitore di X Factor Uk James Arthur che con "Impossible" vende altre 233mila copie raggiungendo un totale complessivo di 713mila copie e con la prossima settimana potrebbe addirittura aggiudicarsi il titolo di singolo più venduto dell'anno 2012. Perde una posizione anche alla 3 will.i.am Featuring Britney Spears con "Scream & Shout", sale alla 4 Rihanna Featuring Mikky Ekko con "Stay" mentre scende alla 5 Bruno Mars con "Locked Out Of Heaven". Recupera posizioni alla 6 PSY con "Gangnam Style", scende alla 7 Olly Murs Featuring Flo Rida con "Troublemaker" mentre sale in top10 alla posizione numero 8 Taylor Swift con "I Knew You Were Trouble". Scende questa settimana dalla 4 alla 9 Gabrielle Aplin con "The Power Of Love" e scende anche alla 10 Rihanna con "Diamonds" che ha raggiunto questa settimana lo status di platinum.
01 NE The Justice Collective ~ He Ain't Heavy, He's My Brother
02 01 James Arthur ~ Impossible
03 02 will.i.am Featuring Britney Spears ~ Scream & Shout
04 06 Rihanna Featuring Mikky Ekko ~ Stay
05 03 Bruno Mars ~ Locked Out Of Heaven
06 09 PSY ~ Gangnam Style
07 05 Olly Murs Featuring Flo Rida ~ Troublemaker
08 11 Taylor Swift ~ I Knew You Were Trouble
09 04 Gabrielle Aplin ~ The Power Of Love
10 07 Rihanna ~ Diamonds
Esce dalla top10 scendendo dalla 8 alla 11 Labrinth Featuring Emeli Sandé con "Beneath Your Beautiful", salgono alla 12 i The Pogues Featuring Kirsty MacColl con "Fairytale Of New York" ed anche alla 13 Pitbull Featuring TJR con "Don't Stop The Party", recuperano invece posizioni alla 14 Robbie Williams con "Candy" ed alla 15 gli Swedish House Mafia Featuring John Martin con "Don't You Worry Child". Perdono ben sei posizioni alla 16 gli One Direction con "Little Things", scendono anche alla 17 i The Lumineers con "Ho Hey", alla 18 Ke$ha con "Die Young" ed alla 19 P!nk con "Try" mentre sale di una posizione alla 20 Mariah Carey con "All I Want For Christmas Is You".
11 08 Labrinth Featuring Emeli Sandé ~ Beneath Your Beautiful
12 18 The Pogues Featuring Kirsty MacColl ~ Fairytale Of New York
13 20 Pitbull Featuring TJR ~ Don't Stop The Party
14 15 Robbie Williams ~ Candy
15 17 Swedish House Mafia Featuring John Martin ~ Don't You Worry Child
16 10 One Direction ~ Little Things
17 16 The Lumineers ~ Ho Hey
18 13 Ke$ha ~ Die Young
19 14 P!nk ~ Try
20 21 Mariah Carey ~ All I Want For Christmas Is You
21 19 Alicia Keys ~ Girl On Fire
22 12 One Direction ~ Kiss You
23 25 DJ Fresh ~ Gold Dust
24 23 Adele ~ Skyfall
25 NE Alex Day ~ Stupid Stupid
26 28 Disclosure Featuring Sam Smith ~ Latch
27 26 Calvin Harris Featuring Florence Welch ~ Sweet Nothing
28 RE Willy Moon ~ Yeah Yeah
29 NE £1 Fish Man ~ One Pound Fish
30 27 Christina Perri ~ A Thousand Years
31 33 Maroon 5 ~ One More Night
32 40 Burns ~ Lies
33 NE Ellie Goulding ~ Figure 8
34 34 The Script Featuring will.i.am ~ Hall Of Fame
35 RE Wham! ~ Last Christmas
36 RE Chris Rea ~ Driving Home For Christmas
37 32 Wiley Featuring Skepta, JME & Ms. D ~ Can You Hear Me (Ayayaya)
38 29 Wizzard ~ I Wish It Could Be Christmas Everyday
39 36 Ellie Goulding ~ Anything Could Happen
40 31 Rudimental Featuring John Newman & Alex Clare ~ Not Giving In