Dieci anni di Lady Gaga, ecco i suoi migliori video musicali, dal 2008 ad oggi
Sono passati esattamente 10 anni dal debutto di Lady Gaga, ecco i suoi 10 capolavori in video.
Sono passati ben 10 anni da quando Lady Gaga rilasciò il suo brano di debutto "Just Dance", era l'8 aprile 2008, ed oggi la Germanotta può festeggiare la sua prima decade, fatta di grandi successi.
Proprio in queste ore Gaga ha twittato ai suoi Monsters riguardo a questa celebrazione dei 10 anni da Just Dance:
I love you little monsters 4eva. The last decades been a blast I will never forget. I can't wait for the next. If you don't have any shadows you're not standing in the light. 💫I wrote "just dance, gonna be ok" right after one of the hardest times in my life. It was true. pic.twitter.com/mpx8XLPhfK

— Lady Gaga (@ladygaga) April 9, 2018
Lady Gaga ha prodotto una videografia invidiabile. Più che di video in alcuni casi si dovrebbe parlare addirittura di cortometraggi, non solo per la lunghezza, ma anche per la cura e la ricchezza di dettagli e temi.
E' innegabile quindi che il suo debutto abbia sconvolto un po' tutto il panorama pop: ritornano infatti prepotentemente quella teatralità e quella veemenza espressiva che da anni erano scomparse agli obiettivi delle cineprese.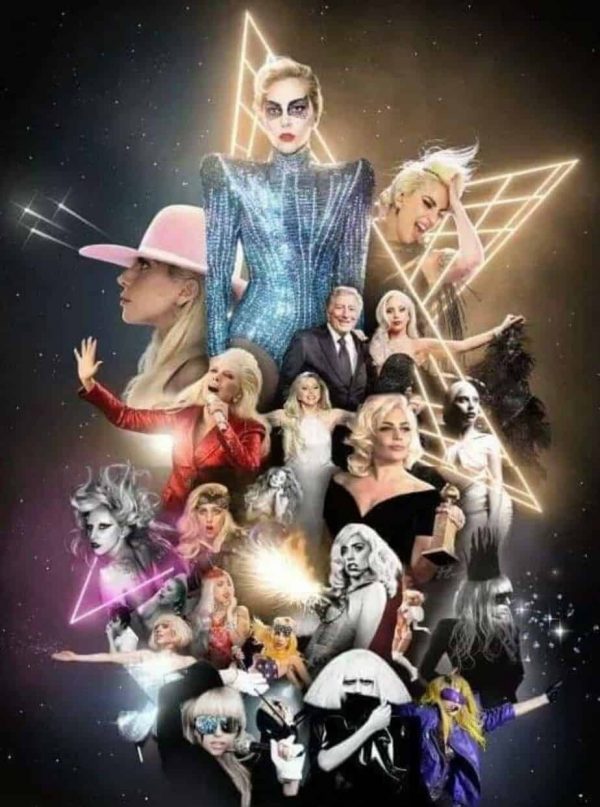 Analizziamo ora quelli che secondo noi si potrebbero considerare i 10 migliori video musicali della cantante, in ordine decrescente dall'ultima alla prima posizione.
LOVEGAME (2009)
Il primo progetto della lista altri non può essere che LoveGame.
Il video è ambientato in una stazione della metropolitana, un po' come Bad di Michael Jackson ed è il primo videoclip interamente coreografato della Germanotta. Secondo una descrizione della cantante stessa si tratta di:
"Un progetto genuino sullo stile di vita di New York con un forte senso dell'inclusione e del glamour tipici della metropoli".
Ciò che però colpisce immediatamente è la forte carica sessuale del video. Chiaro il significato di "discostick", la cosa non dovrebbe stupire più di tanto. Ma è curioso, più che altro, il fatto che la cantante abbia spostato l'ambientazione dal club alla metropolitana per presentarsi come:
"una ragazza dura che, camminando per strada con i suoi amici, afferra delle pinze e crea un paio di occhiali (tagliandoli) da una recinzione per strada".
Lady Gaga vuole quindi mostrarsi come un'artista forte, tenace, che non ha paura di mostrare le proprie abilità e di puntare sulla propria fisicità.
Il significato originario della canzone però si perde in buona parte nel video, il cui obbiettivo, a detta della Germanotta stessa, era quello di creare:
"un movimento pop, simile a quello della New York degli anni '90 in cui i fan invadevano Times Square piangendo, lamentandosi e facendo di tutto pur di vedere anche solo l'unghia di una star".
Un po' confuso effettivamente, ma il risultato è sorprendentemente piacevole.
TELEPHONE (2010)
Segue, in ordine, Telephone, cortometraggio seguel di Paparazzi.
Il video è stato girato da Jonas Akerlund, regista anche del prequel. La trama è piuttosto semplice e segue le vicende della cantante dall'incarceramento per omicidio fino al successivo rilascio per intervento di Honey Bee, interpretata da Beyoncé, insieme alla quale la criminale organizza un omicidio di massa per eliminare l'ex fidanzato della compagna di disavventure.
Si tratta indubbiamente di un video ben curato, ma forse eccessivamente: il tutto potrebbe risultare troppo saturo persino per quasi 10 minuti di cortometraggio. Un ulteriore lavoro di edit avrebbe aiutato decisamente il videoclip. Lady Gaga stessa, infatti, nel Maggio del 2011 in un'intervista con Time Out espresse la propria insoddisfazione per il prodotto finale:
"Non riesco nemmeno a guardare il video di Telephone, lo odio così tanto. Beyoncé ed io stiamo bene insieme ma ci sono tante idee in quel video e tutto ciò che vedo è il mio cervello palpitante di idee, mi sarebbe piaciuto curarlo io stessa un po' di più."
Purtroppo si sa che il troppo stroppia, ed è questa forse la pecca più grande del progetto che riesce quasi a distorcere la cultura pop in nonsense. Ciò non significa che il video sia stupido, però tutto sommato risulta facile distrarsi e perdere il filo.
Indubbiamente va apprezzato l'impegno e il tentativo di creare una sorta di franchise videomusicale, in questo caso ancora oggi fermo al secondo capitolo. Apprezzabile, inoltre, la sceneggiatura, intelligente e vivace, seppur ridotta, che tocca il proprio apice con due frasi particolari: "I told you she didn't have a dick…" (credo abbia bisogno di ulteriori spiegazioni) e "you know what they say, once you kill a cow you gotta make a burger!" – battute semplici ma decisamente d'effetto. Degna di nota anche l'interpretazione di Beyoncé, che per la prima volta ci mostra quel lato pazzo e furioso che si nasconde dietro quell'algida facciata di diva perfetta e intoccabile.
Sarebbe, infine, inevitabile menzionare l'influenza di Quentin Tarantino, a cui si deve non solo la presenza della "Pussy Wagon", comparsa la prima volta in Kill Bill: Vol. 1, ma anche il nome del personaggio di Beyoncé, chiaro omaggio ad "Honey Bunny" di Pulp Fiction.
APPLAUSE (2013)
Ottavo posto per l'unico video della sfortunata era ARTPOP…
Il video, diretto da Inez & Vinoodh, è stato girato a Los Angeles nell'arco di tre giorni. L'idea di base era quella di descrivere la lotta della cantante per tornare sul palco dopo l'intervento all'anca che l'aveva costretta ad annullare l'ultima leg del Born This Way Ball Tour. Lady Gaga infatti aveva rivelato in un intervista a Sirious XM Radio:
"ho capito che era l'applauso dei fan che mi spingeva ad andare avanti. Mi sentivo stordita, avevo le vertigini e provavo dolore, ma cazzo ero in tour da un anno… Non volevo deludere i miei fan cancellando i concerti: l'idea di abbandonare più di 300.000 persone mi spezzava il cuore. Così ho continuato ad esibirmi, spettacolo dopo spettacolo, fino a quando un giorno non riuscivo più a camminare"
Come testimoniato dalla scena in cui la cantante solleva la propria gamba mentre è illuminata da un laser viola, la Germanotta tenta con questo video di imbonirsi i Little Monsters, scusandosi della lunga attesa. Il video è dunque pervaso da un sentimento di forte frustrazione.
Ispirata dai film muti e dalle prime pellicole horror, la cantante ripercorre in soli tre minuti tutta la sua iconografia per descrivere la sua sfrenata passione per il trasformismo. Anche qui ritroviamo tanta carne al fuoco, un minestrone che solo la Haus of Gaga poteva creare: il rischio dell'artista è infatti quello di rappresentarsi come parodia di sé stessa… Un rischio che, in parte, inevitabilmente diventa realtà.
Fun Fact: la scena del materasso inizialmente doveva servire da flashback, rappresentando gli anni tra il 2005-2007 in cui la cantante cercava di emergere. Quando però la Germanotta ha iniziato ad eseguire la coreografia distesa sul materasso, Inez & Vinoodh, rimasti sorpresi, hanno deciso di utilizzare l'intera sequenza come parte integrante del video, scartando quindi l'opzione dell'antefatto.
MARRY THE NIGHT (2011)
Più in alto di un gradino troviamo il cortometraggio più lungo della videografia della Germanotta.
Il video di Marry The Night, diretto da Gaga stessa, è stato girato ad Harlem e Staten Island – le riprese durarono tre giorni. In poco meno di 14 minuti è rievocato quello che la cantante stessa descrive come il giorno più brutto della sua vita: l'artista, scaricata dalla sua prima etichetta, la Def Jam, presa dallo sconforto è costretta a riprendere la sua scalata al successo bruscamente interrotta, fino a quando non viene notata dalla Interscope Records che le fa firmare il contratto della svolta.
Ci troviamo indubbiamente dinanzi al progetto più autobiografico della Germanotta che, senza pudore, rivive forse la più grande delusione della sua carriera per, e qui cito, "riempire tutti i buchi della tela della sua vita al fine di renderla nuovamente bella". Il tutto poi è introdotto dal sorprendentemente poetico "Prelude Pathétique".
Apprezzabile dunque il messaggio di speranza e perseveranza che la cantante lancia. Ispirato al Cigno Nero, Saranno Famosi e a Ragazze Interrotte, il corto, tra sequenze di ballo, nudità ed esplosioni, riflette la psiche della Germanotta che cerca di rimettere ordine nella propria vita. Si tratta però di una sorta di esame di coscienza che rischia di perdersi nell'ego smisurato dell'artista che, a tratti, sembra inconsapevole della sua ridicolezza. Il che, in base ai punti di vista, può essere un bene o un male.
Indubbiamente si tratta di un progetto ben curato, tanti sono i riferimenti e le curiosità, dalla ricostruzione dell'appartamento di Brooklyn della cantante alle scene in ospedale: un corto sì saturo ma la cui opulenza non genera nausea, bensì curiosità. Un obbiettivo, questo, non facile da raggiungere.
Uniche pecche: le sequenze dedicate alla coreografia troppo lunghe e il fatto che la canzone parta solo dopo otto minuti di video. Quest'ultimo può sembrare un dettaglio da niente, ma se pensiamo a Telephone, video in cui la canzone, seppure spezzettata, ci accompagna dall'inizio alla fine nonostante i nove minuti, allora si capisce bene la questione. Il problema invece della coreografia è che segna un passaggio troppo brusco tra la prima parte romanzata e il video "musicale" effettivo. Si capisce che la partenza è piuttosto lenta e risulta piuttosto estenuante attendere nove minuti per la parte migliore. Infatti è proprio negli ultimi minuti che la Germanotta svela il proprio asso nella manica in una sequenza quasi schizofrenica che accompagna il brillante outro della canzone.
La cantante avrebbe certamente fatto meglio ad editare il video un po' di più ma il risultato resta comunque estremamente piacevole – per chi, chiaramente, resiste dall'inizio alla fine.
PAPARAZZI (2009)
Sesto in classifica Paparazzi, diretto da Jonas Akerlund.
Paparazzi è il primo cortometraggio della discografia della Germanotta: è la storia di una donna famosa che pianifica la sua vendetta contro il compagno colpevole di aver organizzato delle "paparazzate" e di averla gettata dal balcone una volta che lei aveva provato a svincolarsi dalla sua morsa e ad opporre resistenza.
Una trama niente male, considerato il fatto che si tratta di un capovolgimento del significato della canzone.
O meglio, l'atto è più o meno lo stesso, girare l'obbiettivo della fotocamera e puntarla sul partner, ma il sentimento è opposto: se nella canzone la Germanotta lo fa per affetto e perché, pur di bilanciare amore e successo, è disposta a diventare la fan numero uno del partner, nel video invece lo fa per vendetta, come tentativo di riscatto.
Ispirata dalla cosiddetta "shock art" Lady Gaga crea un video capolavoro basato sul:
"concetto di fame-whoring, morte e perdità di notorietà, esplorando situazioni iperboliche a cui la gente andrebbe incontro pur di diventare famosa, in particolare la pornografia e l'omicidio".
Nel video, inoltre, sono presenti diversi omaggi: in particolare uno a Vertigo di Alfred Hitchcock (la scena del vortice mentre cade dalla balconata) e un altro a Metropolis di Fritz Lang (per il costume metallico).
Un perfetto racconto di una martire della fama, anche se il tutto a tratti risulta leggermente opulento, in particolare nelle sequenze in cui vengono mostrate le modelle assassinate che rasentano quasi il kitsch. Ma stiamo praticamente trovando il pelo nell'uovo.
Lady Gaga ha sicuramente messo un po' troppa carne al fuoco per "soli" otto minuti ma sarebbe inutile negare l'imponente passo avanti compiuto dall'artista durante la sua prima era discografica.
YOU AND I (2011) 
Quinto posto per il video più romantico della Germanotta…
Il video di You And I, diretto da Gaga stessa e dalla sua coreografa Laurieann Gibson, è stato girato in Nebraska. La trama è stata spiegata benissimo in un'intervista dalla cantante stessa:
"cammino senza bagagli e nient'altro, ci sono solo io. Le mie caviglie sanguinano un po' e c'è dell'erba rimasta attaccata alle mie scarpe. L'idea è che se sei lontano da qualcuno che ami, ti senti torturare. Per cui nel video corro centinaia di migliaia di miglia, da New York al Nebraska, per riprendermi il mio amore".
Ancora una volta ciò che spinge la cantante è un sentimento d'amore. E' curioso però che sul set di un video dedicato al suo ex, Lady Gaga abbia poi trovato un nuovo amore. Senza entrare troppo nei dettagli, anche perchè la loro storia è finita, il protagonista maschile del corto è Taylor Kinney, compagno della cantante dal 2011 al 2016.
La caratteristica principale del video, nonché suo punto di forza, è la presenza di due alter ego: Joe Calderone e la sirena Yuyi (scarto del video originale di The Edge of Glory).
Il corto infatti gira proprio intorno al rapporto tra i vari personaggi, come in una sorta di puzzle i cui incastri, però, a volte sembrano un tantino forzati. Ad essere puntigliosi, infatti, ci sono delle brevi sequenze che sembrano semplicemente una serie di immagini disconnesse. Si nota dunque l'ingenuità dell'artista alla prese con una regia che non sempre le riesce come vorrebbe.
Ad ogni modo, risultano estremamente apprezzabili la scenografia (menzione d'onore va al fienile-laboratorio) e alla fotografia (degna di nota la scena girata al centro del cerchio nel grano). L'unica pecca è il prologo che risulta troppo confuso e repentino.
Fun Fact: l'abito da sposa indossato dalla cantante è quello di sua madre, Cynthia Germanotta…
"Ho chiesto a mia madre di usare il suo vestito nel video perchè l'amore che lei e mio padre condividono da ormai trenta anni è quello che io stessa spero di trovare un giorno…"
JUDAS (2011)
Medaglia di legno per il progetto più scioccante della diva!
Il video di Judas, diretto dalla Germanotta stessa e dalla sua coreografa, Laurieann Gibson, è stato girato in due giorni e debuttò proprio durante la settimana santa del 2011: ottima mossa.
La trama del video è semplice: la cantante, interpretando Maria Maddalena, ripercorre in chiave pop alcune vicende della passione di Cristo, dall'ultima cena al tradimento di Giuda fino al martirio della santa per lapidazione. Un progetto senza dubbio ambizioso e curato quasi freneticamente nei minimi dettagli: dalle giacche degli apostoli, ai costumi delle comparse fino alla ricostruzione di una nuova Gerusalemme.
Una storia di oppressione e sulla libertà di inseguire la propria gloria, anche a costo di sbagliare. Un progetto di forte impatto che inevitabilmente ha incontrato le accuse della comunità cristiana. Anche in questo caso la cantante è passata, ingiustamente, per blasfema ma, come si è espressa la Lega Cattolica statunitense:
"Lady Gaga gioca sì a tira e molla con l'iconografia cristiana ma si limita a ballare sulla linea di confine senza mai oltrepassarla".
Chiaramente, come specificato dalla coreografa dell'artista, l'inserimento di riferimenti e simboli religiosi non è stato casuale, bensì studiato. Ma anche questa non è un'azione da condannare, senza provocazioni non si ottengono reazioni e, inutile fare i finti tonti, sappiamo tutti fin troppo bene quanto la Germanotta punti su questo fattore. Dobbiamo ancora stupirci? Sarebbe inutile, anche perché il più delle volte si dà sfogo a critiche superficiali e campate in aria.
Una menzione d'onore va non solo alla coreografia, semplice e di impatto, un vero e proprio piacere da guardare, ma anche ad un oggetto geniale, la pistola-rossetto: un elemento chiave nella trama che spiega efficacemente la dialettica Gaga-Maddalena.
 BORN THIS WAY (2011)
Born This Way medaglia di bronzo e raggiungiamo finalmente il podio!
Con la collaborazione di Nick Knight, Lady Gaga ha sconvolto nuovamente il panorama pop. Il video di Born This Way è stato girato in due giorni a New York City, città natale dell'artista.
Per la prima volta troviamo una trama ben intricata e anticipata da un prologo, il cosiddetto "Manifesto of Mother Monster". Quest'ultimo ci spiega che nello spazio è avvenuta la nascita di una nuova razza all'interno di quella umana, una razza senza pregiudizi, barriere o limiti (questo spiega anche la presenza di Rick Genest, meglio noto come 'Zombie Boy'). Ma la "mitosi del futuro" ha portato anche alla nascita del male, a quel punto Mother Monster (presentatasi come Giano, divinità degli inizi) si è divisa in due e ha cominciato a ruotare in agonia tra queste due forze, il bene e il male, domandandosi come potesse protegger qualcosa di così bello senza il suo opposto.
Un inizio davvero niente male. Ma ciò che colpisce di più è che per la prima volta la Germanotta presenta un'interpretazione univoca del videoclip. E' chiaro che non voglia che il suo messaggio venga frainteso o minimizzato. E come darle torto? Si tratta infatti del progetto forse più ambizioso e creativo fino ad ora. Ispirata dal surrealismo di Dalì e Francis Bacon, la cantante crea un'opera estrema posta quasi come alternativa al creazionismo più ortodosso.
L'unica pecca del video è la coreografia, troppo complicata per la cantante che sicuramente dà il meglio di sé, con risultati però piuttosto deludenti. In alcune sequenze risulta estremamente goffa e tutto questo sminuisce un po' la serietà del progetto.
Curioso anche il fatto che la cantante abbia voluto omaggiare con questo video due colossi della musica pop come Michael Jackson (attraverso i guanti) e Madonna (attraverso lo spazio, rimarcato, tra gli incisivi). In particolare proprio quest'ultimo omaggio poteva essere tranquillamente evitato vista la presunta, ma tanto criticata, somiglianza tra il brano in questione ed Express Yourself della Ciccone.
 BAD ROMANCE (2009)
La medaglia d'argento tocca alla canzone "gaghiana" per eccellenza…
Con Francis Lawrence in cabina di regia, Bad Romance non poteva che iniziare la sua ascesa a tormentone. L'idea iniziale era quella di filmare il video a New York, girando anche alcune scene in esterno ma i piani cambiarono a causa del budget troppo basso. Per cui si optò per un unico set, a Los Angeles, dove il video fu girato nell'arco di due giorni.
La trama è relativamente semplice: la cantante viene rapita e drogata da un gruppo di modelle che la vendono alla mafia russa per un milione di rubli.
Ritorna, quindi, ancora una volta il concetto di "shock art", già presente nel precedente video: mentre, però, in Paparazzi Lady Gaga esplorava lo scenario dell'omicidio; qui, invece, analizza il tema della prostituzione. "Fame-whoring" ai massimi livelli, a detta dell'artista infatti il video mostra come:
"l'industria dell'intrattenimento possa, in senso metaforico, simulare il traffico di esseri umani, percepiti come prodotti venduti e in particolare la donna vista come semplice merce".
Le domande ora sorgono spontanee: è questo il prezzo che la cantante ha dovuto pagare per ottenere quella fama tanto agognata?
La Germanotta sentiva davvero il bisogno di prostituirsi, mentalmente o addirittura fisicamente?
E in che modo, quindi, il motivo del rapimento si inserisce nella sua storia?
Si tratta forse di un metafora per una qualche forma di predestinazione? Simboleggia magari il catapultamento improvviso da aspirante cantante a popstar di successo?
Difficile dirlo. Probabilmente in quei quattro minuti di pura pazzia è facile leggerci più del dovuto. Magari la cantante ha semplicemente forzato la mano sul fattore shock, di conseguenza ogni ulteriore riflessione risulterebbe vacua.
In ogni caso ciò che resta è un vero e proprio capolavoro dove la visione psicotica della cantante dà vita ad un vero e proprio mostro con cui l'artista è costretta ad instaurare una battaglia, che evidentemente poi riesce a vincere, come si può notare nella scena finale in cui dà fuoco al capo della mafia riottenendo così, di fatto, la propria libertà.
Una menzione speciale va inoltre ai costumi: il guardaroba della cantate si arricchisce ulteriormente con occhiali formati da lamette di rasoio, un costume bianco in latex ispirato dal film Nel paese delle creature selvagge, le famose scarpe "aliene" di Alexander McQueen e le iconiche "armadillo shoes" dello stesso compianto stilista.
ALEJANDRO (2010)
Medaglia d'oro per il capolavoro diretto da Stephen Klein!
Il cortometraggio racconta la storia di una donna tormentata dalla perdita del proprio amante che tenta in tutti i modi di sovvertire gli effetti della morte poiché non può affrontare la brutalità della sua situazione.
Per la prima volta la cantante si presenta vulnerabile e sofferente, una vera e propria novità nella sua discografia. Il video è inoltre caratterizzato da una forte tematica militare omoerotica. Infatti, come dichiarato dalla Germanotta stessa in un intervista con The Times nel 2010:
"il video tratta della purezza delle mie amicizie con i miei amici gay e di come sono stata incapace di instaurare un rapporto simile nella mia vita con un uomo etero. E' una celebrazione dell'amore gay che confessa la mia invidia del coraggio che gli omosessuali dimostrano per poter stare insieme. Nel video mi struggo per l'amore dei miei amici gay, ma loro semplicemente non vogliono che io stia con loro".
Il videoclip raggiunge una tale intensità insuperabile persino dalla cantante stessa, un apice ancora inarrivabile. L'artista ritroverà questa stessa magia quando collaborerà nuovamente con il regista al video per il profumo LADY GAGA FAME.
Curiosa e per nulla offensiva risulta, inoltre, la presenza di immagini ed elementi religiosi, atti a rinforzare lo stereotipo di donna distrutta che si aggrappa alla fede nei momenti di difficoltà. Persino l'atto della teofagia risulta accettabile in tale contesto: l'artista, un po' come la Giovanna D'Arco dei nostri tempi, si accinge ad accogliere Dio – il rosario rappresenterebbe, quindi, proprio la santità. Inutile dire poi che il "Sacro Cuore" portato in processione all'inizio del videoclip non deve essere tanto collegato alla figura di Gesù quanto all'amante della protagonista. Le critiche religiose, così come gli attacchi di alcune colleghe, lasciano pertanto il tempo che trovano.
Sia chiaro, questa non vuole essere un'apologia.  L'intento dell'artista era sicuramente quello di provocare e colpire lo spettatore, ma tutto ciò non sfocia nella blasfemia.
Tra i principali omaggi presenti nel video vanno sicuramente menzionati quello, piuttosto implicito, a Janet Jackson, in particolare a Rhythm Nation, quello alla Shoah, nella scena iniziale in cui i ballerini marciano con una stella di David, ed uno ulteriore al musical Cabaret: il personaggio di Lady Gaga, infatti, richiama quello di Liza Minnelli nell'omonimo film, Sally Bowles, non solo per via del caschetto ma anche per la scena in cui simula atti sessuali con i suoi ballerini su di un palco ornato di brande militari.
Insomma, tanti temi, tanti omaggi e tanti riferimenti per un unico video capolavoro!
E voi che ne pensate? Siete d'accordo con la classifica? Avreste preferito altri video? Ma soprattuto, apprezzate la videografia di Lady Gaga?
Noi vogliamo augurare a Lady Gaga altri decenni di carriera pieni di grandi lavori e soddisfazioni.
Qui trovate la BIOGRAFIA completa e dettagliata di Lady Gaga, prima parte, e seconda parte