10 cantanti allo sbando. L'altra faccia del successo – Prima Parte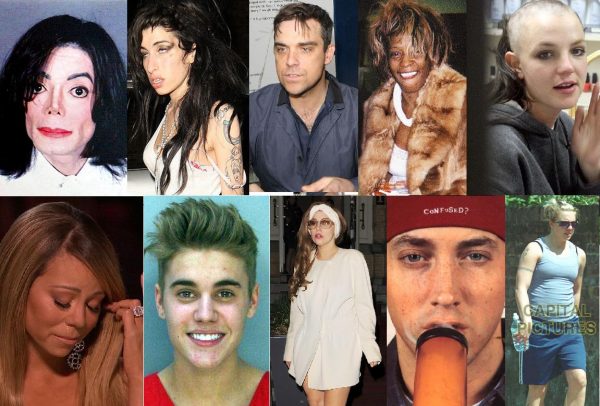 La fama e il successo. Sono questi due valori in grado di stravolgere la vita di un artista. Ogni aspirante popstar desidera la notorietà e l'apprezzamento da parte di pubblico e critica. A volte la fama e il successo arrivano in modo positivo, a volte si trasformano in campagne mediatiche pesanti e aggressive, che invadono anche la vita personale delle star. E così, davanti a questo genere di turbolenze, c'è chi sopravvive e chi, invece, viene travolto dalla fama e dal successo. C'è chi riesce a venir fuori da esaurimenti nervosi e abuso di sostanze stupefacenti, o chi nel peggiore dei casi arriva al suicidio o alla morte.
1 – Michael Jackson
Il compianto Re del Pop rimarrà nella storia per una vita caratterizzata non solo da enormi successi discografici, ma anche da pesanti scandali che hanno letteralmente travolto una delle icone dello scorso secolo. Tra le polemiche suscitate dalla sua "ossessione" per il colore della pelle, attribuibile in parte al lupus del quale Michael soffriva, al suo rapporto con i bambini, e i processi sui presunti abusi sui minori. Una carriera sfavillante che gradualmente ha subito un declino inesorabile. La morte nel 2009, a pochi giorni dal debutto del suo "This Is It Tour", una morte misteriosa che lascia ancora tanti dubbi irrisolti.
2 – Mariah Carey
Dopo un decennio ai vertici delle classifiche di tutto il mondo, nei primi anni 2000 la diva per eccellenza, Mariah Carey fece preoccupare parecchio per le sue condizioni di salute. Nel 2001 circolarono le prime insistenti voci su un presunto esaurimento psicofisico, confermate da un successivo ricovero in ospedale a pochi giorni dall'uscita dell'album "Glitter". Fino al 2004 la star visse anni difficili, caratterizzati da flop anche al cinema e da diverse speculazioni sulla sua vita privata. Per fortuna la storia di Mariah è un lieto fine. Dopo il ritrovato successo nel 2005, negli ultimi dieci anni la star ha dato prova di una ritrovata forma vocale e psicofisica.
3 – Melanie C
Insieme alle Spice Girls diventò una delle icone del pop della fine degli anni '90. Melanie C ebbe successo anche con Northern Star, il suo album di debutto come solista. Poi, dal 2000 al 2003, l'ex Sporty Spice scomparse dalla scena musicale, rivelando successivamente di aver vissuto un lungo periodo di depressione e di disturbi alimentari, causati dalla pressione subita per il duro lavoro e l'attenzione mediatica a partire dal fenomeno Spice Girls. A distanza di più di dieci anni, Melanie C si gode la sua popolarità con equilibrio e moderatezza.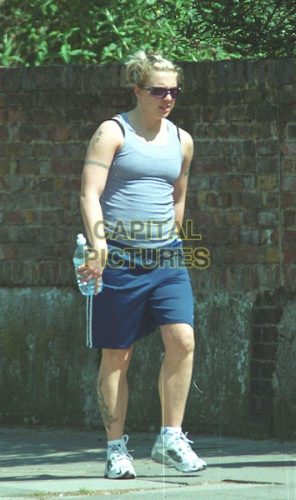 4 – Britney Spears
Se c'è una star che è diventata leggendaria anche grazie al suo meltdown, questa è sicuramente Britney Spears. Dopo anni di interminabili successi e gossip sul suo conto, alimentati dalla stessa giovanissima star, dopo due gravidanze e il divorzio con Kevin Federline, nel 2006 Britney diventa protagonista di un reality quotidiano sulla sua vita allo sbando, costantemente seguita dai paparazzi. Tra shopping notturni, rasature di capelli, ricoveri in rehab, tutto il mondo divenne spettatore di una Britney irriconoscibile. C'è chi ipotizzò la depressione, chi il bipolarismo, chi semplicemente l'abuso di farmaci e sostanze stupefacenti. Nel 2008 la rinascita, e a distanza di otto anni, tutti i problemi del passato sembrano oramai un lontano ricordo.
5 – Whitney Houston
Negli anni '80 e '90 stupì il mondo intero per la sua voce e l'essere per natura una diva. Poi i problemi di droga e familiari, che riguardarono anche il suo ex marito Bobby Brown. Whitney divenne il fantasma di se stessa. Diverse foto mostrarono la cantante letteralmente consumata dall'abuso di crack. Nel 2009 Whitney rialzò la testa e si mostrò al mondo ripulita, pronta a lottare per se stessa e sua figlia Bobbi Kristina. Poi nel 2012, come un fulmine a ciel sereno, il corpo della star venne trovato senza vita nella sua stanza d'albergo a Beverly Hills. Pochi mesi fa anche sua figlia Bobbi Kristina è morta prematuramente all'età di ventidue anni.
6 – Robbie Williams
Insieme ai Take That divenne un idolo planetario per un decennio intero. Un personaggio eclettico e sregolato fin dal suo esordio. La pressione mediatica nei suoi confronti è stata tale da spaziare dalla sua presunta omosessualità alle sue ansie da prestazione sul palco. Tra un successo e l'altro Robbie Williams è stato spesso ricoverato in vari rehab per problemi legati alla depressione, spesso accompagnati dall'ossessione per ciò che riguarda gli UFO. Ma nonostante gli alti e i bassi, Robbie è ancora un artista di successo che è riuscito a vincere le sue debolezze.
7 – Amy Winehouse
Quella di Amy Winehouse è una delle tragiche storie che resterà negli annali della musica. Osannata da pubblico e critica per il suo milionario album, Back To Black, la vita di Amy è stata segnata dalla droga e dall'alcool. E così le sue abitudini sregolate e il suo esaurimento psicofisico furono sotto gli occhi di tutto il mondo, grazie ai paparazzi che la pedinavano per tutta Londra. A nulla sono valsi i tentativi di recupero, e l'allontanamento del suo ex marito Blake. Nel luglio del 2011, dopo una serie di concerti disastrosi, la cantante venne ritrovata morta nel suo appartamento londinese.
8 – Eminem
Il rapper bianco più famoso di tutti i tempi ha avuto un successo planetario a cavallo degli anni 2000, tale da portarlo tra gli artisti di maggior successo di tutti i tempi. Una carriera che sembrava inarrestabile, accompagnata da dichiarazioni forti da parte dello stesso rapper su tanti colleghi e su tanti aspetti della sua vita personale. Poi nella metà dello scorso decennio calò il silenzio sulla sua vita personale e lavorativa. Nel 2009 il cantante ritornò in gran stile, senza fare mistero dei suoi passati problemi con la droga e l'abuso anche di medicinali. Ad oggi Eminem resta ancora in gran forma e le cattive abitudini del passato sono solo un ricordo.
9 – Justin Bieber
Come non includere nella lista delle star travolte dal successo il giovane Bieber? Dalle feste a base di alcool e droga, agli arresti in stato di ebbrezza e le accuse per aggressione, il successo discografico di Justin è stato rimpiazzato negli ultimi anni dal gossip giudiziario sul suo stile di vita a dir poco sregolato. Con il suo ultimo album Purpose, la star ha voluto mostrare al mondo un'immagine migliore di se stesso, facendo in parte mea culpa per gli errori commessi. Ma continuano a preoccupare le condizioni di salute della giovane popstar, protagonista ancora di episodi imbarazzanti e atteggiamenti controversi.
10 – Lady Gaga
Infine, a margine di questa carrellata di artisti travagliati, non possiamo non citare Lady Gaga. Una delle icone dell'ultimo decennio, una star che ha fatto discutere tanto per la sua immagine e la crudezza spesso ostentata nei suoi video musicali. Lady Gaga è balzata agli onori della cronaca prima per i disturbi alimentari, poi per aver dichiarato di aver subito violenza sessuale quando ancora giovanissima, infine per aver rivelato di lottare da sempre contro la depressione, accentuata dall'impatto della fama sulla sua vita. Oggi la star sembra sempre più in ottima forma, dimostrando di aver trovato una sua stabilità.
Il nostro pensiero va a Michael, Whitney, ed Amy, che hanno perso la vita purtroppo, ed in parte anche per colpa della troppa fama, e la pressione mediatica costante e spesso velenosa. Artisti di grande caratura, e davvero unici ed inimitabili. A volte é bene confrontarci anche con il lato oscuro di questo music business, ed é bene che anche i fans imparino, soprattutto con l'avvento dei social, ad avere rispetto per queste persone di fama, che prima d'ogni cosa, sono esseri umani proprio come noi.
Cosa ne pensate di queste prime 10 vicende che vi abbiamo raccontato? Quali fattori incidono secondo voi? Qual'è il confine tra il cavalcare il successo, ed il diventarne una vittima?