10 Canzoni per la Festa della Donna, di grandi donne di colore Leggendarie
Seconda parte della giornata dedicata alla festa della donna, dove vi portiamo attraverso canzoni create da grandi Dive di colore Leggendarie.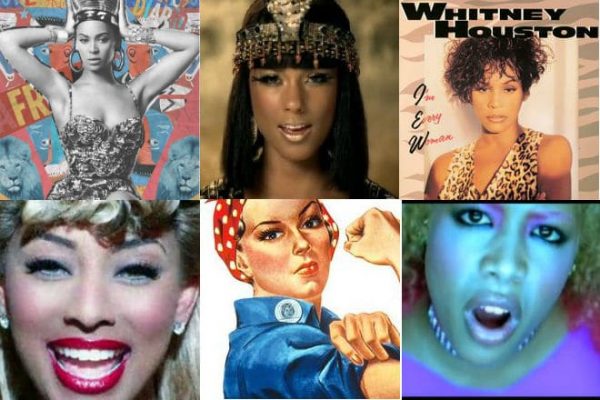 L'8 marzo mai come quest'anno sembra essere una data davvero importante. Le donne di tutto il mondo in questo ultimo anno passato, hanno alzato la testa, ancora una volta, per opporsi alle violenze, ed ai meccanismi malati che contagiano il mondo dello showbiz.
Il caso Weinstein é solo la punta dell'Iceberg, di un problema di abusi e soprusi, sempre e comunque dilagante nei confronti del genere femminile, a tutti i livello della nostra società.
Non solo, le donne proprio in questi anni, hanno un ruolo sempre meno preponderante nel mondo della musica, spesso escluse da grandi nominations.
Lo si vede in maniera evidente nelle classifiche, ed anche ai Grammy Awards, dove ha scatenato polemiche la presa di posizione del boss di questa prestigiosa manifestazione musicale.
In questa situazione desolante, ancora di più pagano le donne di colore, oramai scomparse quasi tutte dai piani alti delle classifiche che contano, in una crisi che attanaglia donne black della musica R&B da innumerevoli anni!
Noi vogliamo dedicare questa lista alle donne di colore, fiere di esserlo, con grandi voci, dal passato al presente, con brani spesso co-scritti dal loro stesse, dedicati proprio alla fierezza femminile, o alla condizione femminile.
Ecco le nostre 10 canzoni  selezionate per la festa della donna 2018
Beyoncé – Grown Woman
Non c'è bisogno del permesso di nessuno per fare ciò che si vuole. Questo il canto liberatorio di Beyoncé in "Grown Woman", brano piuttosto recente della sua carriera, che riprende delle sonorità etniche molto forti.
Lei, una delle poche grandi leggende, e donna tra le più potenti al mondo, ha sempre lottato a fianco delle donne, ed ha forgiato diversi brani che trattano il tema, ricordiamo anche "Run The World (Girls)", o "Pretty Hurts".
Whitney Houston – I'm Every Woman
Non ha bisogno di introduzioni la leggendaria Whitney Houston. La cantante scomparsa anzitempo, grazie alla sua voce (la più bella del mondo), riprese nel 1992 un grande classico della musica di Chaka Khan, "I'm Every Woman"!
Un classico strepitoso, ed uno dei brani dedicati alla donna tra i più iconici di sempre. Ci manca Whitney, ma ci mancano da matti anche quegli anni, dove le donne di colore non avevano problemi a diventare regine della musica, senza impedimenti, e con il pieno favore e promozione delle label, oggi sempre più razziste.
Mary J. Blige – Strenght Of A Woman
Una delle esponenti più impegnate nell'affermazione delle donne di colore sicuramente é Mary J. Blige! La cantante ha dedicato un sacco di brani nella sua carriera alla condizione femminile. Dei veri e propri inni femminili.
Di recente ha pubblicato il disco "Strenght Of A Woman", dal quale vi proponiamo la title track. Di certo non si tratta del suo miglior brano, ma il testo e forte e d'impatto, perfetto per la giornata di oggi!
È forse però "Take Me As I Am", uno dei brani che più mi hanno colpito nella sia discografia, che parla sempre di donne, che devono essere amate per quello che sono.
Jazmine Sullivan – Masterpiece (Mona Lisa)
Voce tra le più criminalmente sottovalutate dei nostri giorni. Jazmine Sullivan é una donna grandiosa, che ha confezionato una discografia davvero pregevole.
Tra i brani di spicco c'è "Masterpiece Mona Lisa", davvero da brividi, una canzone che parla delle imperfezioni, di una donna, che però guardandosi allo specchio, trova dentro di se un capolavoro. Le donne devono alzarsi, guardarsi allo specchio, e credere in loro stesse, ognuna di esse come un vero capolavoro.
Un brano non propriamente dedicato al femminismo, ma che lascia i brividi alla schiena per il messaggio e l'esecuzione.
Keri Hilson – Pretty Girl Rock
Qualcosa di più leggero con questa hit di Keri Hilson di qualche anno fa. Si chiamava "Pretty Girl Rock", e la cantautrice americana di colore, nel video rendeva omaggio a grandi donne del passato della musica.
Non odiatemi perché sono bella, una canzone leggera per una donna davvero forte, che stiamo aspettando da tanto tempo con il suo terzo album. Speriamo che arrivi presto!
Toni Braxton – Woman
Altra grande voce che non ha bisogno di presentazioni. Stiamo parlando di Toni Braxton, una cantante che con la sua voce ha incantato il mondo grazie a tantissime hit, e che presto pubblicherà il suo nuovo album "Sex And Cigarettes".
Dal suo album "Pulse" c'è questa ballata strepitosa intitolata semplicemente "Woman", dove si parla di una donna, con le sue fragilità, e con la sua immancabile voglia di essere apprezzata ed amata.
Janet Jackson – What About
Dal suo capolavoro "The Velvet Rope", uscirono delle prospettive inedite della grande leggenda Janet Jackson. Il brano "What About", oltre ad essere atipico per la sua discografia precedente, fu un brano acclamatissimo.
Un brano che portava alla luce il problema degli abusi nei confronti delle donne. Un grido di rabbia pura, verso l'uomo, che troppo spesso utilizza le donne, e le sottomette.
Un tema attualissimo in questa festa della donna, che ci fa rendere conto come ancora nel 2018, ci sia ancora molto da lavorare per arrivare alla parità dei generi.
Alicia Keys – Superwoman
Come possiamo escludere da questa lista una delle artiste più grandiose che gli ultimi 20 anni ci hanno regalato? Alicia Keys aveva estratto come singolo "Superwoman" nel 2009, un brano che più femminista non si può. Fatto di delicatezza, classe, voce e pianoforte. Stupendo riaverlo ascoltato in questa giornata dedicata a tutte le "SuperWomen"!
Ciara – One Woman Army
Torniamo nel passato più recente. Nel 2015 Ciara pubblicava l'album "Jackie". Un disco che non ebbe molta fortuna a livello commerciale. Al suo interno una uptempo frizzante, e piena di grinta.
Il titolo? "One Woman Army" dove la cantante porta con se tutto il suo potere femminista, che aveva proposto nella splendida "Like A Boy".
Questa canzone che fa venire voglia di ballare, ed alzare il pugno al cielo, é un inno alle donne forti che non cambiano la loro attitudine per volere dell'uomo.
Kelis – Caught Out There
Tornate ad urlare donne! Kelis aveva creato un inno di rabbia e rivalsa, si chiamava "Caught Out There", che per molti é rimasto in testa per il ritornello "I hate You So Much Right Now".
Tradita, sbeffeggiata, e umiliata dal proprio uomo, Kelis buttava tutta la sua rabbia in questo grande pezzo dalla produzione sincopata ed avveniristica. Una vera bomba in faccia.
---
Potremmo elencare altre migliaia di canzoni dedicate alla donna, alla sua condizione, in negativo e positivo, potremmo andare avanti all'infinità ad elencare i capolavori create da donne grandiose, che perdipiù fanno parte di una minoranza razziale, in un paese che sta prendendo una deriva razzista davvero molto preoccupante.
Il messaggio però é sempre il solito! Le donne devono urlare, parlare, reagire, farsi valere, ed hanno ogni giorno da combattere molte più battaglie di quanto facciano gli uomini.
Speriamo che con questi brani, forse, in qualche modo, siamo riusciti a muoversi, a farvi riflettere.