10 duetti avvenuti sul palco ma mai registrati in studio | prima parte
10 duetti di grandi cantanti, che sono avvenuti solamente sul palco, e mai in studio di registrazione.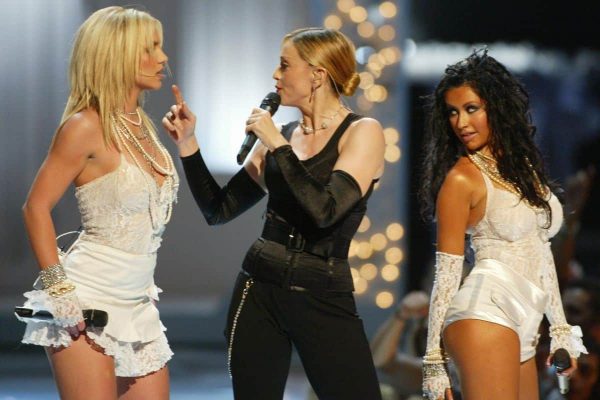 Oltre al proporre cover, un'altra attività molto comune nel mondo della musica è quella di duettare con altri artisti.
Tra grandissime superstar che collaborano tra di loro creando brani storici, artisti emergenti che duettano per aiutarsi a vicenda e grandi del passato che collaborano con artisti più giovani per conquistare le nuove generazioni o per aiutare l'altro ad emergere.
Sono davvero tanti i duetti che vengono pubblicati ogni anno, al punto che quasi tutti i cantanti che conosciamo hanno rilasciato almeno una volta nella loro carriera una collabo con un altro artista.
Esiste anche in questo campo un caso eccezionale: capita infatti che alcuni artisti propongano un duetto dal vivo senza poi pubblicare una versione studio.
Diamo ora un'occhiata ad alcuni esempi, cercando anche questa volta di prendere in esame casi diversi ma tutti memorabili per ragioni differenti.
Britney Spears feat Christina Aguilera: Like A Virgin
Uno dei momenti più iconici nella storia di MTV è senza alcun dubbio la performance a 4 delle grandissime Madonna, Britney Spears, Christina Aguilera e Missy Elliott. Esibizione volta soprattutto a celebrare la grande carriera di Madge e ricordata in particolare per i baci saffici che la regina diede a coloro che in quegli anni sembravano essere le sue uniche eredi, c'è da ricordare questo live anche per un altro importantissimo motivo: il duetto tra due popstar che i media non facevano altro che mettere l'una contro l'altra.
Britney e Christina, nonostante la loro amicizia d'infanzia, erano viste come rivali fin dal loro debutto musicale, e proprio per questo il loro duetto sulle note di "Like A Virgin" fu accolto da un grandissimo clamore.
In quest'occasione, le due ragazzacce del pop riuscirono a proporre entrambe una performance ottima da ogni punto di vista, senza che la prima provasse ad oscurare la seconda sul piano scenico (sul quale, all'epoca, la Spears primeggiava assolutamente) né che la seconda facesse lo stesso sul piano vocale, in cui la sua superiorità di Xtina rispetto alla Britta è tuttora un dato oggettivo. Riguardiamo insieme questo grande pezzo di storia della musica e dello spettacolo.
Goo Goo Dolls feat Avril Lavigne – Iris
Un altro evento che oggi ricordiamo principalmente per un grande duetto proposto al suo interno è il Fashion Rock del 2004. In questa occasione, tra le varie band storiche che cavalcavano il palco, a spiccare fra tutti furono i Goo Goo Dolls i quali, durante la performance del loro grande classico "Iris", decisero di sorprendere il pubblico ospitando una cantante pop-rock che in quegli anni viveva il suo periodo d'oro: Avril Lavigne.
Con una grinta da vendere ed una voce molto migliorata rispetto al periodo di promozione del suo primo album "Let Go", Avril riuscì così a duettare con un mito della sua infanzia ed a donare una delle sue performance migliori. Allo stesso modo, i Goo Goo Dolls dimostrarono come, a differenza di tante altre rockband, loro non avessero certo pregiudizi verso le nuove frontiere della musica, e grazie a questo atteggiamento d'apertura sono riusciti a creare un altro momento iconico nella loro carriera.
Justin Timberlake feat Janet Jackson: Rock Your Body
Passiamo ora ad un altro momento iconico, anche se spesso viene ricordato per motivi tutt'altro che positivi. Siamo sempre nel 2004, ed a Janet Jackson viene affidato un compito molto importante:
quello di occuparsi dell'Halftime Show del Super Bowl di quell'anno. Dopo ben 10 minuti di assoluto dominio sul palco, Janet fu raggiunta da un altro grande artista che in quegli anni iniziava la sua carriera da solista: Justin Timberlake.
I due hanno tenuto insieme il palco per i restanti due minuti, in cui Justin cantò la sua hit "Rock Your Body", il tutto senza che Janet cantasse insieme a lui ma comunque in sua compagnia sul palco, il che rese il tutto molto d'effetto sul piano scenico facendo quasi sembrare che la canzone fosse dedicata a lei.
Purtroppo, con un gesto poco avveduto, Justin scoprì un seno della Jackson, scatenando un'immensa bufera mediatica che compromise con dei ban la carriera di questa grande donna, un avvenimento assurdo (come può un secondo di televisione valere di più di anni e anni di musica?), ma che purtroppo è accaduto, evidenziando anche un certo maschilismo e razzismo, visto che l'unica a subire delle assurde conseguenze fu Janet.
Katy Perry feat Taylor Swift – Hot'n'Cold
Tra le interpreti che amano maggiormente proporre duetti dal vivo con colleghi con i quali non hanno mai duettato in studio non possiamo non citare Taylor Swift. La cantante in tutti i suoi tour ha spesso ospitato colleghi celebri per cantare insieme a loro una tra le loro maggiori hit e, tra i vari ospiti che ha portato sul suo palco, c'è incredibilmente anche quella che da lì a qualche anno sarebbe diventata la sua più acerrima nemica: Katy Perry.
Durante una delle tappe del "Fearless Tour", Taylor iniziò a cantare l'energica "Hot'n'Cold" per poi annunciare, subito dopo il primo ritornello, la presenza all'interno dello show della collega.
Immediatamente Katy si unì alla sua ex amica, esibendosi fianco a fianco con lei e mandando in visibilio un pubblico che mai si sarebbe aspettato un loro litigio. Tra i vari duetti/sorpresa proposti di Tay questo non sarà forse il migliore tecnicamente, ma senza alcun dubbio, col senno di poi, esso risulta un qualcosa di incredibile considerando le numerose frecciatine che le due si stanno lanciando da un anno a questa parte.
Beyoncé feat Tina Tuner: Proud Mary
Ma torniamo a momenti davvero epici per la storia della musica e dello spettacolo. Correva l'anno 2008 e, durante i Grammy Awards, due vere dive cavalcarono insieme il palco: sto parlando di Tina Turner e Beyoncé. Dopo una presentazione davvero memorabile in cui Bey omaggiò anche altre grandissime dive del passato dalle quali ha tratto ispirazione nel corso della sua carriera, fece il suo ingresso sul palco proprio la grandissima Tina, quell'anno giunta a quota 50 anni di carriera.
Consce entrambe del loro incredibile talento, queste due donne hanno saputo dominare il palco senza competizione ma unendo le loro forze per creare davvero qualcosa di dannatamente epico, una performance destinata ad essere ricordata per anni e anni non solo grazie all'importanza dei due nomi coinvolti, ma proprio per via della grande qualità dello spettacolo proposto, una vera perla che spiccò luminosa in quella grande serata.
Kelly Clarkson feat Demi Lovato: Have Yourself A Merry Little Christmas
Passiamo ora ad un caso completamente diverso, ad un'esibizione forse non iconica ma che ci insegna come a volte i nostri sogni più grandi possano davvero avverarsi. Chi segue Demi Lovato sa che, la popstar di origine disneyana, ha sempre indicato come la sua più grande ispirazione la vincitrice di American Idol Kelly Clarkson.
La star è sempre stata fortemente ammirata da Demi che fin da piccola ha sognato di poter duettare con lei, sperando che un giorno ciò potesse avvenire. Ebbene, dopo solo pochi anni di carriera, l'interprete di "Skyscraper" ha potuto avverare questo sogno.
Durante il Jingle Ball del 2011, Kelly decise di ospitare Demi durante la sua performance intonando insieme a lei la splendida "Have Yourself A Merry Little Christmas".
Il grande classico natalizio è stato arricchito divinamente grazie al connubio tra queste due splendide voci, entrambe potenti ed incisive e rese ancora più d'impatto dalla grande emozione provata in particolare dalla Lovato che, finalmente, riusciva a duettare con il suo mito.
Questo è, a mio avviso, un evento sicuramente memorabile soprattutto per il messaggio che ne scaturisce: non smettete mai di sognare, perché a volte i vostri sogni possono davvero diventare realtà.
Elthon Jonh feat Ed Sheeran – The A Team
Torniamo ora ai Grammy con una performance che nel 2013 costituì uno dei momenti più belli dell'intera serata. Durante l'evento, una delle più grandi leggende viventi della musica decise di collaborare assieme alla più grande rivelazione musicale che avevamo avuto durante l'annata precedente: il cantautore britannico Ed Sheeran. Il passato ed il presente del pop d'oltremanica unirono le loro forze sulle note di uno dei successi di Ed: "The A-Team".
Con un'intesa che raramente si vede tra due uomini divisi da una così grande differenza d'età, i due artisti proposero una performance veramente bella, un'esibizione in cui a farla da padrone furono soltanto il talento e l'artisticità di questi due grandi della musica britannica, i quali oltre che cantare si occuparono anche del suono di chitarra e pianoforte. Un altro momento indimenticabile per gli Oscar della musica, che si spera possano regalarci anche quest'anno qualcosa di simile.
Celine Dion feat Anastacia – You Shook Me All Night Long
Ora facciamo un passo indietro di qualche anno quando, durante un concerto, Celine Dion ospitò una sua illustre collega: la grandiosa Anastacia. Le due popstar, entrambe dotate di strumenti vocali incredibili e sopraffini, molto diversi tra loro, decisero di unire la loro forza e le loro grandiose capacità per proporre una canzone storica della storia della musica rock: "You Shook Me All Night Long" degli AC/DC.
In questa occasione, queste due grandi donne si trasformarono in due grandissime rockstar, in due fenomeni capaci di trasmettere grinta ed energia con ogni singola nota ed ogni singola movenza, il tutto per una performance che non lasciò spazio nemmeno alla più minuscola imperfezione tra acuti mozzafiato e movimenti da vere rocker.
Ci troviamo davanti ad un'altra performance meravigliosa che a mio avviso dovrebbe essere presa come esempio da tutte le popstar che provano a fare rock, visto che ben poche sono davvero riuscite in questo scopo senza fare grosse figuracce.
Mariah Carey feat Micheal Bublé: All I Want for Christmas Is You
Torniamo ora a qualcosa di molto recente per parlare di una delle festività che ispirano maggiormente dalle star musicali: il Natale. Sebbene siano davvero molti i cantanti che nella propria carriera hanno rilasciato almeno un singolo natalizio, solo pochi sono riusciti ad entrare nell'immaginario collettivo come grandi interpreti della musica natalizia. Tra di loro vanno sicuramente citati anche Mariah Carey e Micheal Bublé. Questi due grandi artisti, durante uno speciale natalizio di qualche anno fa, unirono le loro forze sulle note del classico di Mariah  "All I Want For Christmas Is You".
Dotati di due strumenti vocali portentosi e nel contempo molto diversi tra di loro, Mimi e Micheal riuscirono a proporre uno spettacolo davvero molto piacevole all'ascolto che entra di diritto nella lista delle migliori performance natalizie di sempre, un momento che davvero incarna il vero spirito del natale e lo esplica attraverso il bel canto. Sebbene questa versione non possa comunque reggere il paragone con quella interpretata da Mariah nel bel mezzo degli anni 90, ci troviamo comunque davanti ad un'esibizione ottima, una delle migliori proposte da entrambi negli ultimi anni.
Alicia Keys feat Jamie Foxx: Georgia On My Mind
Concludiamo questo post con un'ennesima performance proposta durante i Grammy Awards. In questa occasione la protagonista era Alicia Keys, la quale in quel periodo promuoveva uno dei brani più conosciuti della sua splendida discografia: "If I Ain't Got You". Subito dopo una potentissima performance della sua hit, in cui ci fece venire i brividi grazie alla sua splendida voce, Alicia fu raggiunga dal collega Jamie Foxx assieme al quale propose una versione live di "Georgia on my Mind".
Entrambi armati soltanto delle loro grandissime voci e dei loro rispettivi talenti da pianisti, Jamie e Alicia proposero un duetto meraviglioso, unendo le loro ugole in un tutt'uno e facendoci assaggiare le loro note migliori senza la minima collaborazione, ma solo con la voglia di esprimere la loro arte per allietare il pubblico che li stava seguendo, il tutto per un altro momento molto bello che merita di essere ricordato in questa sede.
https://www.youtube.com/watch?v=S9_oYk15OCY
Che cosa ne dite di queste performance?
Se vi viene in mente qualche altro caso simile potete scriverlo nei commenti! Continuate a seguirci e commentarci su Rnbjunk.com, la vostra presenza è la nostra forza!