10 duetti fra grandi superstar ed artisti molto meno noti
Non sempre le grandissime superstar decidono di collaborare solo fra di loro per creare dei singoli/evento che possano attirare le masse e vendere milioni di copie. A volte, infatti, i duetti nascono per il semplice volere di congiungere l'artisticità di due persone, oppure per uno scopo pur sempre commerciale ma sicuramente più nobile del precedente: quello di lanciare dei nuovi talenti nel musicbiz.
A volte, queste collaborazioni riescono a far affermare nuove star (pensate ad esempio a Kesha), ma non sempre raggiungono il risultato sperato. Quasi sempre, però, impongono la presenza di un nome nuovo nel musicbiz, ed è inevitabile che quantomeno per un po' di tempo questo nuovo arrivato possa far parlare di sé ed attirare le attenzioni dei veri amanti della musica, anzi qualche volta capita pure che questi ottenga qualche hit per conto proprio.
In questo post vorrei raccontarvi di questi atti di presunta generosità di grandi superstar, atti che a volte sono serviti di più, a volte sono serviti di meno, ma che pur non avendo creato delle popstar dal successo mondiale ci hanno fatto conoscere dei nomi nuovi spesso di grande talento. Diamo inizio alle danze!
Britney Spears feat Sabi – (Drop Dead) Beautiful
C'è forse bisogno di qualche presentazione per Britney Spears? Parliamo di una delle cantanti pop che hanno venduto di più nella storia della musica, di una diva celebre in tutto il mondo, un tempo conosciuta per il suo grande carisma e per performance mozzafiato, una che in passato ci ha proposto dei veri gioielli del pop. Negli ultimi anni, tuttavia, la star è sembrata concentrarsi principalmente su un sottogenere del pop: la dance-pop. Ciò è avvenuto soprattutto con il suo settimo album "Femme Fatale".
E' proprio in questo disco che avvenne l'incontro con Sabi, una giovane rapper e cantante che poteva tranquillamente esplodere sia come femmcee che come cantante pop. Messa sotto contratto dalla Kemosebe e dalla Warner Bross, l'artista aveva già in programma di rilasciare il suo singolo di debutto "Wild Heart" prima di questo fortunato incontro, ma per pubblicarlo aspettò di racimolare un po' di seguito in più in questo modo. Fu dunque per via della sua presenza in un album della principessa del pop che il nome di Sabi entrò a far parte del mainstream della musica.
Il duetto tra le due donne era "(Drop Dead) Beautiful", una traccia dance-pop dalla produzione incalzante ma non molto originale ed in cui la voce di Britney era resa assolutamente irriconoscibile da una eccessiva dose di autotune. Come in ogni brano di questo tipo, ad una rapper come Sabi veniva assegnato il bridge della traccia. "Drop Dead" a mio avviso non è una bella canzone, ma è potente, perfetta per le mode musicali di allora e poteva essere tranquillamente essere estratta come singolo. Pensate che Britney la mise perfino il lizza per essere il quarto singolo, ma il suo pubblico preferì "Criminal" e votò dunque quella traccia al sondaggio creato per l'occasione.
Dopo essersi fatta conoscere con Britney, Sabi riuscì finalmente ad ottenere una forte hit con "You Make Me Feel", duetto con i Cobra Spaceship che scalò le classifiche di tutti i paesi anglofoni imponendosi in tutte le top 10 più rilevanti (tra cui anche quella della Billboard Hot 100). Purtroppo, questo fu l'inizio e la fine del successo di Sabi: l'artista propose poi materiale di ottima qualità, nulla a che vedere con i brani già citati, ma i suoi singoli non ottennero risultati rilevanti, e così l'artista è riuscita a pubblicare solo un mixtape. Dal repertorio della ragazza vi facciamo ascoltare "Cali Love", in collaborazione con Tyga.
Christina Aguilera feat Peaches – My Girls
Tra le popstar di fine anni 90/inizio anni 2000, un'altra che non ha sicuramente bisogno di presentazioni è Christina Aguilera: anche lei ha ottenuto per anni un successo stratosferico e può contare su due doti grandiose, due caratteristiche fondamentali del suo modo di essere che l'hanno imposta come grande popstar: una voce potentissima, che a lei piace modulare con fare grintoso e prorompente, ed una grande camaleonticità, che le ha permesso di cambiare stile per ogni disco senza risultare poco coerente con se stessa.
Per fare questo, Xtina ha sempre collaborato con esperti dei settori in cui si è lanciata: ad esempio, per il suo album "Bionic", l'artista ha deciso di rivolgersi ad interpreti e produttori specializzati nel genere elettronico, scegliendo anche personalità non per forza mainstream. Tra coloro che furono contattati da Christina troviamo anche Peaches, artista underground di musica elettronica che prima della release di Bionic aveva pubblicato ben 6 album, i quali o non erano entrati in alcuna classifica o comunque si erano mantenuti in posizioni molto basse. Questo repertorio l'ha resa dunque celebre verso un pubblico settoriale, ma sconosciuta verso quello generalista.
Da questa collaborazione venne fuori "My Girls", una delle canzoni (appunto) meno mainstream e più sperimentali dell'intero Bionic. Si tratta di una delle rare tracce in cui lo stile di Christina non è predominante, e questo anche per via di una dose di autotune che modifica pesantemente il suo bellissimo strumento, alterandone il timbro. Lo stile che prevale è dunque quello di Peaches, la quale si occupa del bridge e della produzione.
Forse proprio perché così sperimentale e particolare, "Bionic" non fu capito dal pubblico, che come dice Christina non era ancora pronto ad un lavoro del genere. La carriera di Peaches non ha dunque subito alcun colpo di scena dopo questa collaborazione stellare, e l'artista ha continuato a lavorare nella sua nicchia, che tuttora la sostiene. Difatti, il suo ultimo album "Rub" (2015, l'unico rilasciato dopo "Bionic") ha ottenuto risultati simili a quelli dei predecessori. In caso qualcuno volesse approfondire, vi postiamo il primo singolo "Light in Places". Trattandosi di un'artista molto esplicita, You Tube consente la visione solo ad un pubblico maggiorenne.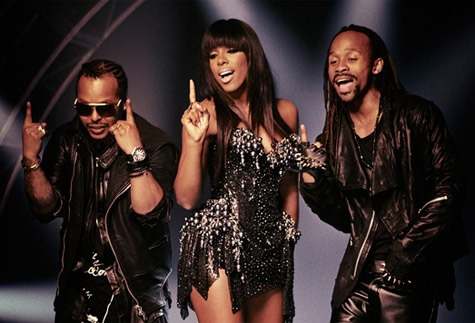 Non avrà mai raggiunto il livello di fama della cugina Beyoncé, ma Kelly Rowland non si può certo definire come una pivella! Parte fondamentale delle Destiny's Child (il gruppo femminile che ha venduto di più della storia della musica) in entrambe le formazioni della band, la ragazza iniziò la sua carriera da solista con la smash hit "Dilemma" e la proseguì con i discreti successi internazionali di album come "Simply Deep" e "Mrs Kelly" e di svariate altre hit come "Stole", "Work", "When Love Takes Over" e "Motivation", facendosi strada in un mercato internazionale che pur non esaltandola mai a vera diva le ha permesso di rimanere sempre a galla.
Da sempre molto disponibile per duetti e collaborazioni di ogni genere, Kelly accettò anche la richiesta di essere coinvolta nel lancio di un duo electropop/hip hop proveniente dal mercato norvegese: i Madcon. I due avevano già un grosso successo in patria, ma volevano esportarlo anche all'estero e così il loro manager propose a Kelly di fare da featured artist nel singolo "One Life". Nonostante fosse nel pieno della promozione del suo quarto album "Talk a Good Game", la Rowland accettò di buon grado.
Il risultato fu una piacevole canzone R&B dal sound molto internazionale ed armonico, in cui la voce femminile di Kelly e quelle maschili dei ragazzi venivano mescolate alla perfezione affinché dessero vita alla hit perfetta, ad un brano di qualità, ben interpretato e dotato di un testo che potesse dare un messaggio concreto al pubblico. La formula funzionò alla perfezione, il brano fu una grande hit in tutta l'Europa del Nord e, soprattutto, aprì al gruppo la strada del successo in un mercato importantissimo che fino ad allora li aveva snobbati: la Germania.
In definitiva, possiamo definire i Madon come il caso più fortunato di questa lista: già di successo in patria, dopo questo duetto i due sono esplosi in tutto il Nord Europa, dove sono riusciti ad avere una carriera tutto sommato stabile negli ultimi anni. I ragazzi non sono però riusciti ad esplodere a livello mondiale, ed in particolare non hanno avuto alcuna possibilità negli States, ambiente in cui perfezionando l'aspetto urban della loro musica avrebbero potuto fare bene. Nel frattempo, comunque, i Madcon sono riusciti ad avere una hit estiva perfino in Italia, ve la ricordate?
Alyxx Dione feat Jason Derulo – Chingalinga
Jason Derulo è sicuramente uno dei più grandi hitmaker della nostra generazione: da quando "Watcha Say" raggiunse la 1 nella Billboard Hot 100 nel 2008, il ragazzo è stato sempre al top con i singoli, ed ha dato luce ad un altissimo numero di smash hit planetarie che hanno governato le classifiche e le playlist radiofoniche con un'insistenza davvero invidiabile. Certo, questo non è servito a vendere molti album, eppure il ragazzo è riuscito comunque a mostrare al mondo tutto il suo talento e ad ottenere successo muovendosi in un range musicale che comprende pop, urban e dance.
Mentre JD era nel pieno del successo della sua ultima hit "Want to Want Me", qualcun'altro ha provato a cavalcare l'onda di questa fama così prorompente. Sto parlando della giovane esordiente Alyxx Dione, una ragazza che ha tuttora tutte le qualità che servono per puntare a diventare una nuova stella del pop/urban. La giovane aveva già pubblicato altri brani da indipendente, tuttavia per il suo debutto mainstream i suoi manager hanno preferito coinvolgere qualcuno che potesse garantirle un po' di visibilità in più. Per questo Jason fu scelto come featured artist in "Chingalinga".
Il brano è una frizzante up tempo urban/pop perfetta per conquistare le radio: la produzione, l'hook, il modo in cui vengono combinate le voci dei due interpreti, tutto è armonizzato in maniera tale da rendere il brano irresistibile e perfetto per le radio. Nulla impediva a questa splendida canzone di diventare una hit, se non un elemento che forse è stato sottovalutato: il fatto che "Want to Want Me" fosse ancora onnipresente nelle playlist. Forse è proprio per questo motivo che la canzone è passata praticamente inosservata nelle radio e non è dunque riuscita ad esplodere in alcun modo.
Visto il flop disastroso di questa canzone, purtroppo per ora Alyxx non ha avuto l'opportunità di rilasciare nessun'altra traccia  attraverso una major. Ciononostante, la ragazza non sembra essersi persa d'animo e continua a farci ascoltare musica attraverso il suo canale You Tube personale, quello slegato da VEVO. L'ultimo esempio è quello della bellissima canzone natalizia "The Christmas Song", la quale mette in evidenza le sue ottime doti vocali. Peccato che in pochissimi abbiano ascoltato la canzone…
Sevyn Streeter feat Chris Brown – It Won't Stop
Un altro artista che ha bisogno di poche presentazioni è Chris Brown: hitmaker sia in ambito R&B che in ambito dance, artefice di album di buon successo (tra cui anche il recentissimo Royalty) ma soprattutto uno dei cantanti/ballerini più bravi di sempre ed un artista talmente poliedrico da occuparsi di ogni aspetto che riguardi le sue ultime Ere discografiche, dalla regia dei video alla creazione delle cover. Tutte queste doti hanno reso Brown senza alcun dubbio l'artista maschile urban di maggior successo degli ultimi 10 anni, eppure Chris ha sempre continuato a sostenere gli emergenti ed a collaborare con loro.
In particolare, l'emergente a cui Chris ha concesso un sostegno maggiore è Sevyn Streeter. Anche lei cantante e ballerina R&B molto talentuosa, Sevyn aveva militato in ben 2 girlband nello scorso decennio, ma nonostante alcuni ingaggi di rilievo ciò non le era mai bastato per imporre la sua presenza nel mainstream del musicbiz. Tutto ciò che la ragazza riuscì a fare fu scrivere per alcuni grandi della musica black, e tra di loro troviamo anche Chris il quale, resosi conto del suo potenziale, decise di aiutarla ad esplodere collaborando con lei nel singolo "It Won't Stop".
Splendida mid tempo R&B dal sound sexy e seducente, il brano è sicuramente una delle migliori collaborazioni R&B degli ultimi anni, e riuscì ad attirare finalmente le attenzioni su questa brava interprete, che insieme a Chris riusciva a mettere su un'interpretazione solida e convincente seppur senza strafare. Il pubblico black fu mandato letteralmente in estasi da questa bellissima canzone, per cui le permise di arrampicarsi fino alla no.30 della Billboard Hot 100 e di ottenere la certificazione gold.
Purtroppo, quest'ottima partenza non assicurò una semplice ascesa a Sevyn, che nonostante il sostegno costante di Chris non riuscì ad ottenere successo né con gli altri singoli né con gli EP rilasciati. E' per questa ragione che l'artista deve ancora rilasciare il suo debut album… fortuna che quantomeno Chris continua a collaborare con lei per la scrittura e per i background vocals! A questo punto, riascoltiamo insieme un brano che forse avrete già sentito mentre guardavate il film "Fast and Furious 7", la bellissima "How Bad Do You Want It".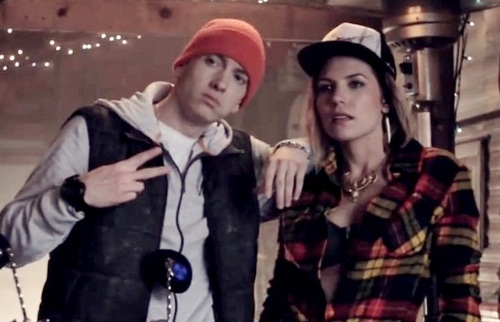 Eminem & Dr. Dre feat Skylar Grey – I Need a Doctor
Restiamo nel mondo della musica black ma spostiamoci nel continente hip-hop per parlare di due grandiosi mostri sacri del genere. Eminem e Dr. Dre sono sicuramente due dei più grandi MC mai esistiti, da ogni punto di vista: sia per il loro flow ed il loro talento nella scrittura, caratteristiche che han permesso loro di creare delle perle intramontabili, che per il loro successo. Molti fra gli album ed i singoli hip hop più venduti della storia della musica sono stati infatti lanciati da questi due uomini, i quali possono vantare delle carriere incredibili alle loro spalle.
Nel momento in cui questi due macigni decisero di creare una mega collabo, i due scelsero di dar vita ad una miscelanza tra canto e rap in cui i ritornelli fossero interpretati da una cantante femminile. Per questo progetto, i due decisero di aiutare una cantante emergente a raggiungere il successo. L'interprete di cui sto parlando è Skylar Grey, cantautrice che ai tempi aveva già rilasciato un album senza riuscire a farsi notare minimamente. Oltre a fare ciò, l'artista aveva tuttavia collaborato collaborato alla scrittura di brani per tanti artisti già affermati, e tra di questi troviamo anche la hit di Eminem e Rihanna "Love The Way You Lie". Eminem decide dunque di restituirle il favore con questo brano.
Il pezzo è una mid tempo dal sound molto new school in cui i due divi dell'hip hop si scatenano in tutto il loro talento dando vita a delle strofe graffianti e potenti, dei versi taglienti che trasudano rabbia da ogni singola parola e riescono a conquistare chiunque, sia gli amanti dell'hip hop che gli ascoltatori più generalisti, ed è forse anche per questo che il brano fu un grande successo, soprattutto in USA. In tale contesto si inserisce alla grande in contributo di Skylar, che con il suo timbro delicato costituisce il mezzo giusto per spezzare tra una strofa e l'altra.
Immediatamente dopo, Skylar non ha perso tempo ed ha provato ad imporsi attraverso un secondo album che l'ha vista collaborare ancora una volta con grandi nomi. La qualità c'era, eccome se c'era, tuttavia il grande pubblico non ha recepito come si deve il progetto, ed il disco non è così riuscito a lanciare Skylar in quanto nuova frontiera della musica internazionale. Ciononostante, la cantante ha continuato a collaborare alla scrittura di grandi brani ed a duettare con rapper del calibro di Nicki Minaj e T.I. Lo scorso anno, l'artista ha collaborato alla soundtrack di "50 Shades of Grey" e rilasciato il suo ultimo singolo "Cannonball", per la colonna sonora di FIFA.
Will.I.Am feat Cody WIse – It's My Birthday
Passiamo ora ad un artista nato anche lui nell'urban ma che negli ultimi anni ha sperimentato molto anche con la dance. Will.I.Am nasce come leader dei Black Eyed Peas ed è proprio con tale gruppo che diventa una superstar mondiale: del resto, stiamo parlando di una delle band di maggior successo di sempre, nonché di un gruppo che (con i suoi primi progetti!) ha dato vita a vere perle. In realtà, il suo primo tentativo di affermarsi da solista fu fallimentare tuttavia, dopo l'enorme successo ottenuto con la svolta dance dei BEP, Will è riuscito ad avere delle hit anche fuori dal gruppo, sebbene si sia trattato di brani che lo hanno snaturato completamente rispetto a quelle che erano le sue radici.
Resosi conto che lo stile dance/truzzo di "This Is Love" e "Scream & Shout" portava a grandi hit ma gli donava poca credibilità artistica, Will decise di pubblicare finalmente un singolo urban, per quanto contraddistinto comunque da un sound elettronico: "It's My Birthday". Per tale brano, l'artista chiamò in causa il debuttante Cody Wise, un ragazzino da lui stesso scoperto che debuttò in questo modo subito dopo aver firmato un contratto con la Interscope.
Il brano può contare su un beat molto orientale, che ammicca fortemente alla musica indiana, creando l'atmosfera perfetta per far scatenare l'ascoltatore medio. In questo contesto, le voci dei due artisti si mescolano alla perfezione, e tutto è impostato in maniera tale da puntare i riflettori proprio sulla voce e sul talento di Cody, il quale tra l'altro nel video può far notare molto bene quale bravo ballerino egli sia. Sul piano commerciale, la canzone fu una hit fortissima nel Regno Unito e in Australia, tuttavia si fece notare poco altrove.
Questo successo è stato, però, l'inizio è la fine della carriera di Cody: vincolato con una label storicamente interessata solo e le vendite, il flop di una nuova collabo e dell'UNICO singolo da solista che gli fu permesso di rilasciare furono sufficienti perché il ragazzo venisse completamente abbandonato. Che dire, il potenziale c'era tutto, ma nel momento in cui lavori con persone interessate solo ai soldi, c'è molto poco da fare. Noi vi riproponiamo, ovviamente, il suo unico singolo "Love Like This".
Who Is Fancy feat Ariana Grande & Meghan Trainor – Boys Like You
Ariana Grande e Meghan Trainor sono sicuramente due delle popstar più famose per quanto riguarda l'ultima generazione di interpreti. Entrambe dotate di ottimi talenti vocali (Meghan anche di un'immagine riuscitissima), le ragazze hanno ottenuto un successo enorme con le loro ultime Ere discografiche. Questo sia a livello di album che, soprattutto, a livello di singoli, tant'è che entrambe hanno avuto 4 potentissime hit una di seguito all'altra e delle collaborazioni altrettanto fortunate, il tutto per un successo molto fiorente raggiunto nell'ultimo periodo.
Visto l'enorme popolarità delle due cantanti, i discografici che le gestiscono hanno deciso di coinvolgerle nel lancio di un nuovo artista: il cantante pop "Who Is Fancy". Messo in pista con un'immagine da perfetto prototipo di gay effeminato (uno stereotipo che a mio avviso andrebbe combattuto, non pubblicizzato), l'artista si era già fatto conoscere per aver aperto i tour di ambedue le cantanti, attività che gli ha permesso anche di lanciare il suo singolo di debutto "Goodbye". Ma il brano su cui si puntava per lanciare la carriera dell'interprete avviene proprio grazie ad una mega collabo con le due donne, "Boys Like You".
Brano pop molto orecchiabile e dal retrogusto un po' retrò, si tratta di una canzone spumeggiante e frizzante, un brano estremamente godibile e strutturato in maniera tale da fare breccia soprattutto nei cuori del pubblico gay, sia per quanto riguarda il testo che le sonorità proposte. Del resto, vista l'immagine di Fancy, non potrebbe essere altrimenti, e di per sé l'idea non è tanto malvagia se consideriamo che il pubblico gay è praticamente il principale artefice delle classifiche. Peccato che la traccia si stia rivelando un flop colossale.
I risultati del brano sono talmente negativi che ancora non è neppure entrato nella Billboard Hot 100! Pensate che Fancy ha fatto meglio con il precedente singolo da solista "Goodbye", che quantomeno è entrato nella celeberrima classifica americana. Ora come ora, non sappiamo quali saranno le prossime mosse dell'artista, e nel dubbio torniamo ad ascoltare il suo singolo di debutto, un brano a mio avviso molto migliore rispetto a "Boys Like You" sia grazie ad una produzione più introspettiva che al magnifico utilizzo della voce dell'interprete.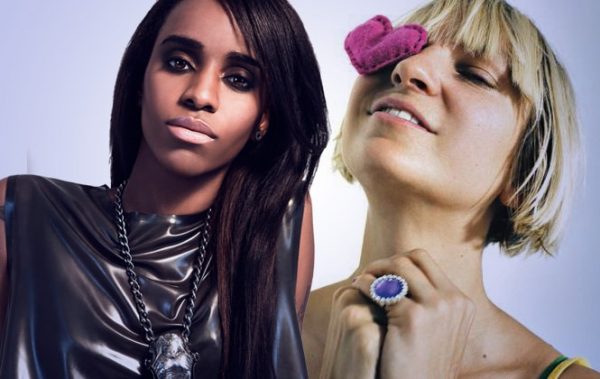 Angel Haze feat Sia – Battle Cry
Siamo agli inizi del 2014. Sia non ha ancora rilasciato "Chandelier", tutto ciò che ne sarebbe conseguito non è ancora avvenuto, eppure l'artista può essere già considerata una star della musica mondiale: i featuring con David Guetta e (in, misura minore, Flo Rida) hanno ottenuto grandioso, ed in particolare "Tinanium" aveva già fatto si che la voce di questa artista entrasse nel cuore del grande pubblico senza poterne più uscire. Come se non bastasse, la sua penna stava già dietro a tante grandi hit mondiali, ed il pubblico era sempre più affezionato al talento di questa cantautrice.
Il 2014 è un anno particolare anche per via delle battaglie fra rapper donne che si sono scatenate in quella annata, e nel triangolo generato da Nicki Minaj, Iggy Azalea ed Azealia Banks ha provato ad inserirsi anche una ragazza forse troppo concentrata sul fare buona musica per avere successo in questo contesto: Angel Haze. L'artista aveva già rilasciato 2 singoli senza ottenere alcun riscontro, e dunque per lanciare la sua carriera puntò tutto su "Battle Cry", brano il cui ritornello era cantato proprio da Sia.
Il brano era una splendida composizione hip hop sulla quale Angel rappava concentrandosi su violenze subite e sui suoi traumi infantili, un racconto doloroso ma dal quale traspare un forte senso di speranza. Da ciò viene fuori un messaggio bellissimo che l'artista vuole indirizzare a tutti coloro che si trovano in una situazione simile a quella narrata, un messaggio che viene fortificato dalla bellissima voce di Sia, la quale riesce a spiccare nel ritornello e ad aggiungere la ciliegina giusta per trasformare questa torta in un capolavoro. Peccato che tutto ciò non sia bastato affinché la traccia non passasse inosservata…
Dopo questa canzone, Angel è riuscita a pubblicare un solo album e svariati altri singoli, EP e mixtape, ma nulla è servito perché il pubblico si accorgesse di lei. Forse se l'artista avesse voluto inserirsi nel teatrino degli ultimi anni le cose sarebbero andate diversamente, ma ripeto: in questo musicbiz, purtroppo, il talento conta poco o nulla nella scalata verso il successo. Nella speranza che Angel possa prima o poi farcela, vi postiamo il suo ultimo singolo "Moonrise Kingdom". in cui il suo ruolo non è proprio quello di rapper…
E in caso qualcuno abbia voglia di ascoltarsi il suo ultimo mixtape…
Rihanna feat Mikky Ekko – Stay
Per il gran finale abbiamo deciso di concludere il post così come l'abbiamo cominciato, con una superstar famosissima che non ha bisogno di alcuna presentazione. Rihanna è sicuramente una delle star più note al mondo, una hitmaker di quelle con cui pochi possono competere: le sue performance nelle classifiche hanno segnato in un modo indelebile gli ultimi 10 anni del mondo musicale, e tra gli album "A Good Girl Gone Bad" e "Unapologetic" l'artista ha portato avanti la sua carriera con un ritmo incredibile, diventando una vera macchina da guerra!
E' proprio durante la sessione creativa per il suo ultimo album che l'artista fa il suo incontro con un uomo allora davvero sconosciuto ai più, ma che dentro di sé nascondeva un talento incredibile. Il suo nome è Mikky Ekko, ed allora aveva già rilasciato alcuni singoli e qualche collaborazione, senza ottenere però alcun riscontro positivo. Nell'incontro che poteva cambiargli la vita, Mikky propose a Rihanna ed al suo management "Stay", una ballad che si trasformò sorprendentemente in un duetto tra i due artist.
"Stay" è una ballad intensa, trascinante e romantica, una canzone davvero ben scritta e ben prodotta in cui i due artisti riescono a lasciarsi andare in un'interpretazione struggente al punto giusto, che di sicuro non lascia indifferente l'ascoltatore ma nemmeno scade nel mieloso e nel depressivo. Il risultato è un brano perfetto per conquistare tutti, sia il fanbase di Rihanna che gli amanti della buona musica, tant'è vero che la canzone è per ora l'ultima vera smash hit della popstar barbadiana.
In seguito a questa collaborazione stellare, il buon Mikky non è però riuscito a conservare un successo stabile: copiose nuove collaborazioni e nuovi singoli di ottima qualità sono venuti fuori dal suo cilindro, eppure nessuno di questi è riuscito a diventare un successo. Per questa ragione, la strada di Mikky verso la pubblicazione del suo primo album è stata un vero calvario, ma alla fine il disco "Time" è stato comunque rilasciato nel 2015. Per Mikky vi postiamo un'altra collaborazione stellare, quella col produttore italiano Giorgio Moroder in "Don't Let Go".
Cosa ne pensate di questi duetti? E dei brani da solisti che vi abbiamo proposto?