10 motivi per cui ricordare positivamente il 2013 in musica
Mancano una decina di giorni alla fine del 2013 e come ogni fine anno si iniziano fare i bilanci riguardo i dodici mesi appena trascorsi. Dal punto di vista musicale sono succcesse tante cose e ho voluto raccogliere in una classifica dieci episodi, performances, personaggi, canzoni per cui penso che il 2013 possa essere ricordato positivamente.
10. "Red" live ai CMA. Taylor Swift con "Red" ha dato prova di essere capace di uscire dal suo mondo del country-pop per sperimentare nuovi generi: dal pop ("We are never ever getting back together") alla dubstep ("I knew you were trouble") passando per il rock ("State of grace", "The last Time"), chiaramente ciò ha portato molti a ritenere che la sua anima più intima e country fosse ormai persa per sempre.  Taylor ha saputo dimostrare che questo non è successo con una splendida performance ai Country Music Awards (dove ha anche ricebuto il prestigioso Pinnacle Award), dove ha cantato la sua platinum-hit "Red" insieme  a tante stelle della musica country dando prova di poter essere allo stesso tempo sia una stella del country che del pop.
9. Macklemore & Ryan Lewis. Loro sono il duo che si è fatto più valere durante quest'anno. Due singoli in vetta alla Hot 100, un singolo con un buon riscontro "Same love" e un quarto estratto che sta andando bene. Sono stati uno dei personaggi più importanti del momento anche negli eventi: dai VMA's aglii Youtube Music Awards fino al Grammy Nominations concert dove hanno ottenuto una nomination come migliore album dell'anno. Per un duo emergente cosa si può volere di più?
8. Rap God. 15 ottobre. Esce senza nessun preavviso un singolo promozionale di Eminem che riesce fin da subito a conquiestare tutta l'attenzione mediatica. Si chaima "Rap God". Una canzone che colpisce in tutto: nella base pazzesca, nel flow di Eminem, nel testo…. L'Mc  si chiede perchè essere il re del Rap quando si può essere il Dio. E poi tanti riferimenti a persone e cose come Bill Clinton, alle persone che più l'hanno ispirato (Tupac, Shahbaz, W.N, Cube, Doc, Ren, Yella, Eazy), il conflitto tra Fabuolus e Ray J, The walking dead, Heavy D & The Boys ed inoltre qualche frase controversa nei confronti della comunità omosessuale. Ma il brano verrà ricordato soprattutto per quelle 101 parole rappate nel giro di 16 secondi che rappresentano il climx del pezzo. Personalmente ritengo che sia la traccia migliore di "The Marshall Mathers Lp 2" e non lo penso solo io visto che la canzone è riuscita ad avere un successo enorme che ancora continua anche grazie all'uscita del video ufficiale, pieno zeppo di riferimenti da decifrare.
7. Royals. Una delle canzoni più particolari e di sucesso di quest'anno è sicuramente "Royals" della giovanissima Lorde. Il brano alternative pop ha diviso i tanti che apprezzano il singolo e un folto gruppo che invece lo odia. Personalmente faccio parte del primo gruppo, ritengo  che il singolo sia veramente apprezzabile per quanto sia intrigante, enigmatico ed originale, inoltre col passare dei mesi non stanca. Anche qui siamo di fronte ad un successo pazzesco: nove settimane alla 1 della Billboard Hot 100 ed un ottimo biglietto da visita per il futuro per la cantante neozelandese.
6. Performance Aguilera-Gaga. Questo è stato sicuramente l'anno delle cose annunciate all'ultimo minuto (come vedremo salendo nella classifica…), tra queste spicca il duetto tra due cantanti: Lady Gaga e Christina Aguilera. Le due nel corso dell'ultimo quinquennio non si sono risparmiate commenti acidi l'una sull'altra e attacchi di varia natura. Ora tutto è finito. Il 17 dicembre le due stars hanno duettato sulle note dell'ultimo singolo di Gaga sorprendendo tutti per l'affiatamento mostrato. Ed ora si parla pure di un possibile remix del pezzo… Con la fine della loro rivalità finisce fortunatamente anche la sfida tra i loro fan -base. Ci sarà solo una persona dispiaciuta di tutto ciò: Perez Hilton, ma  non c'importa.
5.Duetti…..Boom. L'unione fa la forza anche nella musica. E così dopo un 2012 dove si erano già contraddistinti featuring di successo ("Somebody that I used to know", "We are Young", "Payphone") quest'anno si è andati oltre. Infatti tutti i cantanti più famosi hanno fatto importanti duetti tra i quali ricordiamo: "Justin Give me areason" Pink ft Nate Reuss, "Timber" Pitbull ft Kesha, "The Monster" Eminem ft Rihanna, "Holy Grail" Jay z ft Justin Timberlake, "Do what U want" Lady Gaga ft R. Kelly, "#that power" Will-I-am ft Justin Bieber, "Dark Horse" Katy Perry ft Juicy J, "Everything has changed" Taylor Swift ft Ed Sheeran", "Stay" Rihanna ft Mikky Ekko, "Suit and Tie" Justin Timberlake ft Jay Z. Ma tra i featuring di successo spiccano soprattutto "Blurred lines" Robin Thicke ft T.I. & Pharell Williams, "Get Lucky" Daft Punk ft Pharell Williams, "Thrift Shop" Macklemore & Ryan Lewis ft Wanz, "Can't hold us" Macklemore & Ryan Lewis ft. Ray Dalton.  Meritano una citazione anche "True Love", "Cruise Remix", "23", "Hold on We're going home" e tanti altri.
4. Pharrell Williams. Dopo alcuni anni non brillanti, Pharrell è tornato alla ribalta nel 2013 e lo ha fatto mettendo la sua firma (o meglio dire il suo featuring)  nel primo e nel terzo maggior successo dell'anno: "Blurred Lines" e Get Lucky". Con questi due fenomenali singoli, Pharrell ha raggiunto un record incredibile, è infatti diventato uno dei pochissimi artisti nella storia ad avere nello stesso momento due suoi singoli alla 1 ed alla 2 della Billboard Hot 100. Ma durante l'anno non si è limitato solo a questo, infatti ha prodotto diversi brani per gli album più attesi del 2013 tra i quali: 3 canzoni dall'album "Talk a good game" di Kelly Rowland, due brani di "Magna Carta…holy Grail" di Jay-Z, 4 pezzi di "Bangerz" di Miley Cyruse due canzoni di "Beyoncè". Infine è arrivato pure il suo nuovo singolo "Happy". Insomma un anno da incorniciare in attesa di un 2014 che potrebbe andare altrettanto ( o quasi) bene.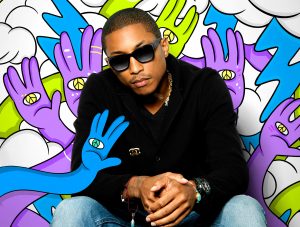 3. Duello Katy vs Gaga. Quando ad inizio agosto sono state ufficializzate le release date di "Roar" e "Prism" si è capito che tra Katy Perry e Lady Gaga ci sarebbe stato uno scontro frontale, il che ha nel bene e nel male  acceso (ed infiammato) l'autunno musicale.  Prima con la sfida diretta "Roar"-"Applause" con la prima che ha superato la seconda e poi con le attese esibizioni ai VMA. A settembre ed ad ottobre abbiamo visto "Roar" infrangere record mentre intanto "Applause" resisteva  più o meno nelle classifiche.  Con le release degli album "Prism" e "ARTPOP" (il primo con un debutto migliore negli USA, il secondo con un debutto migliore mondialmente) è continuata "la sfida" ed infine  tra i secondi singoli  "Do what U want" sta andando meglio di  "Unconditionally". In definitiva questo duello ha alzato i riflettori su un 2013 musicale che senza di loro  sarebbe stato deicsamente più spento. Va apprezzato anche che nessuna delle due ha scagliato qualche colpo basso contro l'altra.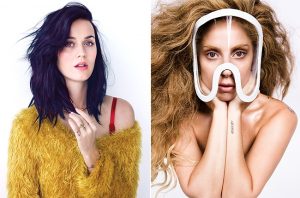 2. Il ritorno shock di Beyoncè. Quest'anno era inziato per Beyoncè con la performance all'Halftime Show del SuperBowl, tutti speravano in un nuovo singolo ed invece niente. C'è stato l'annuncio del tour e così si è pensato ad un album in concomitanza ma nulla è stato pubblicato ed i mesi sono passati inesorabili fino a raggiungere il 13 dicembre. Con una mossa che definire sorprendente è riduttivo, Beyoncè ha pubblicato quel giorno il suo omonimo album compiendo delle scelte enormemente richiose. "Beyoncè" è infatti stato pubblicato solo su iTunes, senza promozione, peraltro di venerdì. Nonostante ciò, Bee ha saputo attirare su di sè l'attenzione mediatica, il che ha sicuramente contribuito nel successo neanche minimamente pronosticabile dell'album. Tanti complimenti a lei per la temerarietà della scelta che ha ripagato notevolmente.
1. Il comeback di Justin Timberlake. Se c'è una persona senza di cui il 2013 musicale sarebbe stato diverso ( è molto più povero) quello è sicuramente il presidente del pop (cit. Jimmy Fallon) Justin Timberlake.  Era il 13 gennaio quando fu annunciato che il giorno dopo sarebbe uscito il nuovo singolo di JT in collaborazione con Jay Z. La traccia ha subito riscosso un enorme successo nelle classifiche e nelle radio, un boom che adesso può apparire scontato ma che in realtà non lo era per niente considerando la lunga assenza di Timberlake dalle scene musicali.
Dopo "Suit and Tie" è arrivata "Mirrors", senz'altro uno dei brani migliori del 2013 e  quindi "The 20/20 experience" album che personalmente considero il migliore dell'anno. Il disco è peraltro il più venduto mondialmente tra quelli usciti nel 2013 (3.74 mln).  Intanto JT ci ha incantato con peformances sempre impeccabili tra le quali ricordiamo quella ai Grammy, quelle da Jimmy Fallon e l'esibizione di 15 minuti ai VMA dove all'artista è stato conferito il Vanguard award.
Poi la The 20/20 experience Era è stata completata con la release della seconda parte, meno fortunata della prima ma che comunque è stata apprezzata da tanti fans. Il music Biz ha sicuramente bisogno di personaggi come lui che abbiano un appeal multigenerazionale e che sappiano far parlare di sè per solo per la loro musica. Speriamo anche per questo che Justin non attenda molti anni prima di tornare con un nuovo album.
Dopo aver letto (e spero apprezzato) la mia personale top 10 del meglio di questo 2013, aspettatevi per dopo Natale una top ten sul peggio di quest'anno….