10 (video) ragioni per cui Kanye West merita il VMA Video Vanguard Award
Lo merita o no? Su questo sito abbiamo lanciato un sondaggio se è giusto che a Kanye West sia dato meritatamente il Video Vanguard Award. Partiamo dalla premessa che esso è conferito agli artisti che hanno influenzato positivamente la musica. Abbiamo predecessori che comprendono tutti i generi: dal rock di David Bowie, Beatles, Rolling Stones, Guns 'N' Roses, Bon Jovi, R.E.M. e Red Hot Chilli Peppers; al pop di Madonna, Michael Jackson, Janet Jackson, George Michael, Duran Duran, U2, Britney Spears, Justin Timberlake e Beyoncé; fino a qualche rapper come LL Cool J e i Beastie Boys. Persino un regista, Hype Williams! Dal 1991 il premio è stato rinominato "Michael Jackson Video Vanguard Award", ma non si vuole solo ringraziare chi ha influenzato la musica pop.
Tornando alla domanda originale, il Video Vanguard Award va dato a Yeezy? La mia risposta è "assolutamente sì" e voglio dimostrare le mie ragioni con dei video che meritano di essere visti. Potrei dire molto per ogni video, perchè quasi tutti hanno degli elementi originali, che non abbiamo ritrovato altrove. E potremmo anche parlare delle performance, spesso uniche: commoventi come quelle di "Hey Mama" e "Only One" o letteralmente "fiammeggianti" come quelle di "Otis" con Jay Z e di "All Day".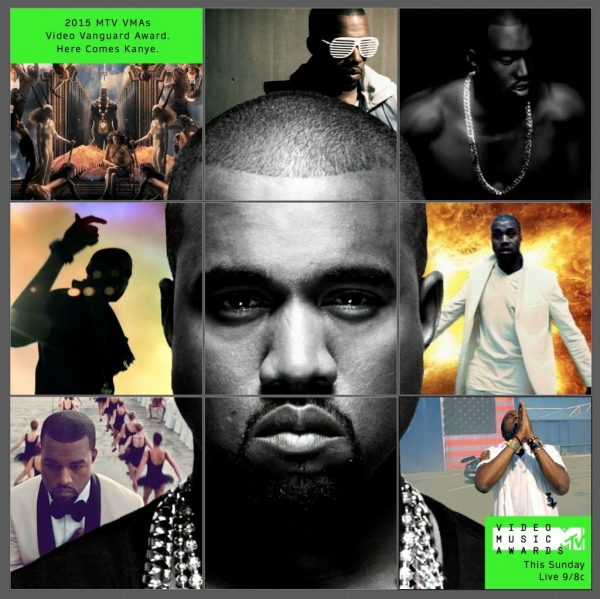 Ma, di nuovo, il premio non si ferma ai soli video. Tuttavia, capisco che non tutti riescono ad ascoltare troppe tracce hip-hop di seguito, quindi mi fermerò a 10. Sono disposte in ordine cronologico, dimostrando come è cambiato lo stile musicale di 'Ye e perchè è davvero "all'avanguardia".
Jesus Walks (The College Dropout, 2004)
Sapevate che Kanye ha fatto resuscitare Gesù e l'ha fatto camminare di nuovo tra noi? Ma sapete a fianco di chi cammina? "To the hustlers, killers, murderers, drug dealers, even the scrippers, to the victims of welfare for we livin' in Hell here", cioè accanto "a chi fa soldi in qualunque modo, killer, assassini, spacciatori, perfino le spogliarelliste, alle vittime del welfare perchè viviamo all'Inferno qui". Il razzismo è al centro del video: tutti indossano vestiti "bianchi" e a chi pensa di "onorare" Dio (vedi il membro del Ku Klux Klan), in realtà la croce tenta di scappare preferendo gettarsi dal dirupo. Curiosità sui video: ci sono ben 3 diverse versioni di questo video (qui la prima e la terza, mentre la seconda è quella di sopra), ciascuna delle quali mostra uno degli aspetti su cui è incentrata la canzone.
New Workout Plan (The College Dropout, 2004)
Tantissima ironia in questo video dove il messaggio è: davvero volete giudicare le donne solo per il loro corpo e gli uomini per il loro conto in banca? Personalmente, ho sempre riso di gusto quando parla la signora con il marcato accento francese.
Gold Digger (Late Registration, 2005)
A parte il fatto che Kanye è riuscito a samplare nelle sue produzioni i generi musicali e gli artisti più disparati, questo video diretto da Hype Williams ci mostra la celebre "danza di Kanye", davvero trascinante. Siete ancora convinti che il twerking e il ballo di Bobby Shmurda in "Hot Nigga"siano migliori? Beh, l'unica precauzione da prendere qui è di non esagerare troppo con il collo!
Diamonds From Sierra Leone (Late Registration, 2005)
"I diamanti sono per sempre" e, notoriamente, "i diamanti sono i migliori amici delle donne", cantavano rispettivamente Shirley Bassey e Marilyn Monroe. Però "poco si sa della Sierra Leone e di come sia collegata con i diamanti che indossiamo". La denuncia che non può essere fatta nel testo, viene portata avanti tramite il video, diretto ancora da Hype Williams. Poichè dopo aver inciso la canzone Mr. West si informò meglio dello sfruttamento dei bambini nelle miniere di diamanti, sull'argomento Kanye fece un remix della canzone con un verso aggiuntivo del suo mentore Jay Z.
Good Morning (Graduation, 2007)
Solo per il video, dovrebbe essere l'inno dello studente universitario. Tutte le difficoltà che si trovano con lezioni, professori ed esami, fino al giorno della laurea sono ripercorse da Dropout Bear, mascotte di Kanye. E poi, se non ci sentiamo ancora dentro, ecco i miei versi preferiti, assolutamente poco lontani dalla realtà: "Spaventato dal futuro mentre salgo sulla DeLorean, spaventato dall'affrontare il mondo, sono compiaciuto della carriera da studente. Alcune persone si laureano, ma sono ancora stupide. Ti dicono: leggi questo; mangia questo; non guardarti intorno, dacci un'occhiata; pastore, insegnaci, Dio!" (in inglese, forse fa anche più effetto per le rime: "Scared of the future while I hop in the DeLorean / Scared to face the world, complacent career student / Some people graduate, but be still stupid / They tell you read this, eat this, don't look around / Just peep this, preachers, teach us, Jesus!").  Per chi non si sente incluso, apprezzerà sicuramente il cartone animato disegnato da Takashi Murakami.
Coldest Winter (808s & Heartbreak, 2010)
Non vorrei parlare troppo, ma una piccola premessa per questa canzone va fatta. L'album "808s & Heartbreak" si sviluppa in un momento particolare della vita di 'Ye: la madre Donda muore e si lascia con l'allora ragazza Alexis Phifer. Da questo "heartbreak", cuore infranto, nasce l'album ed anche "Coldest Winter", dedicato a queste due figure. Ombre scure e minacciose inseguono una donna in abito da sposa, ma il regista Nabil Elderkin ammise che non voleva girare un video troppo aderente al testo, visto che era molto personale. Eppure catturò l'essenza dei sentimenti di Kanye.
Power (My Beautiful Dark Twisted Fantasy, 2010)
Qui ci scontriamo con le manie di perfezionismo di Yeezy, ma anche con la genialità in fatto video. L'idea era di un quadro di movimento e quest'idea viene resa benissimo. L'unico problema è che non abbiamo il video intero, ma dovremo accontentarci (speriamo non per sempre) del lungo snippet da oltre un minuto e mezzo. Non dite che questa non è Arte! Marco Brambilla, regista italiano DOC, intercedi per noi!
Runaway  (My Beautiful Dark Twisted Fantasy, 2010)
In occasione della pubblicazione di "My Beautiful Dark Twisted Fantasy", Kanye girò un breve film intitolato "Runaway". Tutto ruota attorno ad una nuova ragazza che il protagonista presenta ai suoi amici. La ragazza è metà umana e metà fenice e Griffin (West) spera che questi possano accettarla. Non andrà così e Griffin, disgustato, canterà "Runaway" con "un brindisi per gli stron*i, un brindisi per i cogli**i, un brindisi per i cazz**i, tutti quelli che conosco, un brindisi per i rompipa**e". All'armoniosità del pianoforte della danza delle ballerine si contrapporrano le parole di rabbia del rapper.
Niggas In Paris (Watch The Throne, 2011)
Jay Z e Kanye West hanno iniziato un sodalizio di successo che solo pochi altri possono vantare. Il culmine si è avuto con l'album "Watch The Throne", ricco di potenti tracce prodotte da Kanye (solo 4 non portano la sua firma) e rappate da entrambi. Questa traccia è stato un successo internazionale ed è stata cantata nei concerti anche fino a 20 volte di seguito. Questo video, proveniente dalla performance a Los Angeles, è stato montato dallo stesso Kanye. Sublimemente direi!
New Slaves (Yeezus, 2013)
"Yeezus", per ora ultimo album di Kanye, è un album musicalmente complesso, non apprezzato da tutti. A brani conscious si alternano brani abbastanza insulsi, tutti legati da una "protesta verso la musica", e, ammettiamolo, anche vero i Grammy Awards che non hanno riconosciuto "My Beautiful Dark Twisted Fantasy" come miglior album del 2010 (scusa Adele!). "New Slaves" è estremamente conscious e per la sua promozione West fece qualcosa di unico: il video fu proiettato senza largo presavviso su 66 strutture. Purtroppo non è mai stato rilasciato il video ufficiale, ma questo video è una delle proiezioni. Credo che questa sia Arte e definitivamente una delle 10 ragioni per cui Kanye merita il "Michael Jackson Video Vanguard Award".