22 look di Lady Gaga che ti hanno letteralmente scioccato!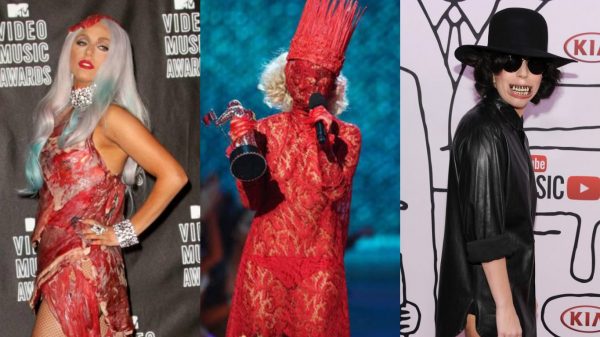 Lady Gaga è conosciuta al mondo intero per il suo modo di vestire appariscente e stravagante. La cantante italo americana ha sempre avuto come obiettivo quello di creare un connubio perfetto tra la sua musica (eclettica e stupefacente) e il fashion, con risultati a dir poco sensazionali.
Prendendo spunto da Buzzfeed.com, che ha raccolto 22 occasioni in cui gli outfits di Lady Gaga ci hanno letteralmente lasciati senza parole, abbiamo voluto fare lo stesso, scegliendo altrettanti look iconici con i quali la popstar si è presentata agli eventi mondani nel corso della sua carriera. Ecco la nostra carrellata di abbinamenti stravaganti, e spesso scioccanti, indossati da Miss Germanotta . Qual è il vostro preferito?
Gli MTV Video Music Award, 2009 

Il lancio di V61, 2009

Gli Ace Awards, 2009

I Grammy Awards, 2010

I BRIT Awards, 2010

Gli MTV Video Music Awards, 2010

Berlino, première ARTPOP, 2013


Nevermind Nightclub (Sidney), 2011

Gli MTV Video Music Award, 2011

Gli MTV Europe Music Awards, 2011

I Bambi Awards, 2011

Il lancio del suo profumo Fame, 2012

Gli Youtube Music Awards, 2013

I Glamour Women Of The Year Awards, 2013

Il Roseland Ballroom, 2014

Bristol Hotel, Parigi 2014

Londra, Monster Ball Tour Party, 2010

I Grammy Awards 2016

Jingle Bell Ball, Londra 2013


Roseland Ballroom, New York, 2014

Il Met Gala, 2016


I Grammy Awards, 2017
Si sa, quando Gaga è sul red carpet non ci si annoia mai: d'altronde da una popstar che ha nel suo repertorio brani come Black Jesus † Amen Fashion, Fashion Of His Love e Fashion! non potevamo aspettarci di meglio.
Potremmo continuare all'infinito viste le innumerevoli mise bizzarre che negli anni ha sfoggiato l'artista. Quali secondo voi quali andranno assolutamente inserite nella seconda parte di questa lista a tema?