5 Seconds of Summer: rilasciato il VIDEO di Girls Talk Boys
Impegnati come siamo a monitorare la situazione in classifica dei nuovi singoli di Britney Spears e Katy Perry non dobbiamo comunque dimenticare di un altro enorme boom esploso nelle classifiche in queste ore, un boom di sicuro molto più sorprendente rispetto a quello delle due dive del pop, il cui successo nell'arco delle prime 24h era scontato come i saldi ad agosto. Oltre a questi due pezzi, un'altra canzone che sta ottenendo un successo enorme in queste ore è "Girls Like Boys", brano dei 5 Seconds of Summer incluso nella soundtrack del film "Ghostbusters 2016".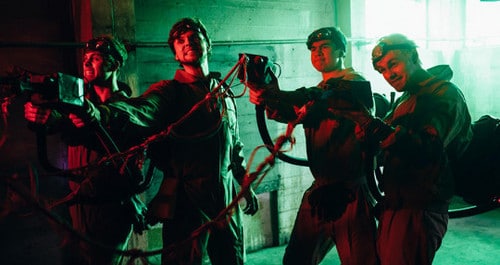 Ci troviamo davanti ad un bel pezzo che unisce sonorità rock e pop a suoni funky, con un utilizzo delle voci perfetto per la produzione, soprattutto nelle parti in cui i ragazzi sfoggiano i falsetti. Un ritmo potente, orecchiabile, che ammicca a stili musicali abbastanza retrò, effetto sicuramente voluto dato che si tratta di un brano inserito nella soundtrack del reboot di un cult cinematografico dei gloriosi anni '80. La qualità della canzone è molto elevata, come del resto lo era in generale quella dell'ultimo album del gruppo, più vicino al rock che al pop, e questo per adesso sembra premiarli in classifica.
Ebbene, l'inossidabile permanenza al terzo posto della classifica di iTunes dietro ai due titani del pop su nominati ha permesso alla band australiana di portasi a casa un ingresso trionfale nelle classifiche con 21k vendute solo in USA in 24h, e questo con un brano che per adesso non è stato nemmeno scelto come singolo! Boom enorme per una semplice album track dunque, che a questo punto sicuramente sarà lanciata come singolo a tutti gli effetti per la promozione del film.
Di seguito l'audio del brano, cosa ne pensate?
Rilasciato anche il video.
https://www.youtube.com/watch?v=0MXldocLfu4&feature=youtu.be
Testo
When the girls, when the girls talk
When the girls talk boys
Oh, when the girls, when the girls talk
When the girls talk boys, hey
When you're talking to your girls
Do you talk about me?
Do you say that I'm a sweetheart?
Do you say that I'm a freak?
Do you tell them white lies?
Do you tell 'em the truth?
Do you tell 'em that you love me
The way I been lovin' you?
Cause every night you and I find ourselves
Kissing and touching like no one else
Falling and falling until I fell
For you
Cause I been talking to my friends
The way you take away my breath
It's something bigger than myself
It's something I don't understand
No, no
I know we're young and people change
And we may never feel the same
So baby tell me what you say
When the girls, when the girls talk
When the girls talk boys
I can hear 'em talking
Oh, when the girls
When the girls
When the girls talk
When the girls talk boys, hey
When you're talking to your girls
Do you talk about me?
Do you tell I'm your lover?
That I'm all that you need?
Do you tell 'em white lies?
Do you tell 'em the truth?
(Do you tell 'em that you love me
The way that I've been loving you?)
Cause every night you and I find ourselves
Kissing and touching like no one else
Falling and falling until I fell
For you
Cause I been talking to my friends
The way you take away my breath
It's something bigger than myself
It's something I don't understand
No, no
I know we're young and people change
And we may never feel the same
So baby tell me what you say
When the girls, when the girls talk
When the girls talk boys
I can hear 'em talking
Oh, when the girls, when the girls talk
When the girls talk boys, hey
When the girls talk boys
When the girls
Talk talk talk talk
Talk talk talk talk, hey