I 6 grandi duetti di Britney: vota il migliore!
E' ormai passata una settimana dall'uscita del nuovo singolo di Britney Spears, Make Me, brano che farà parte del suo nono album discografico, di cui ancora non è stato svelato il titolo. Come spesso accade al momento dei comeback di grandi nomi della musica Pop, anche questa volta il pubblico si è nettamente diviso: una parte dei fan ha visto nella track una potenziale hit dal sound che calcava le orme dei successi passati di Britney, altri invece hanno ritenuto Make Me un singolo molto debole, inferiore agli standard e poco "rischioso" rispetto alla portata innovativa che molti lead singles della Spears avevano in passato.
Parte da non dimenticare del nuovo singolo di Britney è senz'altro il featuring del giovane rapper G-Eazy, che, come la canzone intera, ha ricevuto opinioni contrastanti, tra chi lo ha ritenuto un degno completamento delle lyrics della cantante e chi, invece, l'ha ritenuto una parte decisamente trascurabile. Ovviamente, però, nella carriera quasi ventennale che la Spears ha intrapreso con il suo grandissimo successo Baby One More Time, questo non è il primo featuring. I duetti e le collaborazioni sono stati piuttosto frequenti, e hanno visto Britney affiancata non soltanto a rapper e personalità di spicco dell'Hip Hop, ma anche a grandissime popstar e nuove leve. Con risultati alterni tra critica e pubblico, in quanto alcuni hanno ricevuto il plauso dell'una e la critica dell'altro, o viceversa.
Oggi quello che faremo in questo articolo sarà proprio scovare nell'intera carriera di Britney 6 dei suoi duetti più rappresentativi (anche non come lead artist), e a decidere il migliore sarete voi! Volete scoprire quali sono state le nostre scelte? Continuate a leggere e lo scoprirete!
1. Boys (The Co-Ed Remix) feat. Pharrell Williams – dall'album Britney, 2001
La nostra lista di oggi parte da Boys, un brano che, all'inizio, non doveva far parte del terzo album di Britney Spears (intitolato Britney proprio per via della maggior rispondenza a quello che la popstar sentiva di essere), ma che, invece, era stato scritto dai Neptunes (celebre duo di produttori Hip Hop composto da Pharrell Williams e Chad Hugo) per All For You di Janet Jackson, ormai pietra miliare dell'R&B contemporaneo. Rifiutato dalla cantante, il brano fu ceduto a Britney, che volle comunque mantenere le forti influenze R&B e Funk della track.
Con un'Era discografica di minor successo rispetto alle due precedenti (nonostante brani molto rappresentativi della sua carriera come I'm a Slave 4 U e Overprotected) e in dirittura d'arrivo, Britney decise di chiudere la fase promozionale del suo terzo lavoro proprio con Boys, che era stato scelto come brano della colonna sonora di Austin Powers in Goldmember, terzo capitolo della parodia di 007 e degli spy-movie inglesi che nella pellicola precedente aveva visto la partecipazione di Madonna con Beautiful Stranger. Per l'uscita del film e del singolo il brano fu completamente remixato: non solo il sound divenne più moderno e sincopato, ma una parte del testo venne modificata e cantata da Pharrell Williams, produttore della traccia.
Boys è un brano che, con il suo testo dedicato alle storie d'amore tra ragazze e ragazzi e i suoi profondi richiami al Funk anni '70 (che si avvertono anche nel Co-Ed Remix), risulta uno dei featuring meglio riusciti di Britney, con la giusta alternanza tra le due voci che, non accavallandosi mai, creano un mix conturbante di fascino e sensualità e che si sposano perfettamente con le tastiere liquide e le percussioni esotiche tipiche dei Neptunes. Assolutamente un brano che, a 14 anni di distanza, va riscoperto e riascoltato, anche grazie al videoclip che fonde il sex appeal di Britney con una buona dose di ironia.
2. Me Against The Music feat. Madonna – dall'album In The Zone, 2003
All'alba del suo ritorno sulle scene con il suo quarto album in studio In The Zone (che vedrà la luce a novembre 2003), il 28 agosto dello stesso anno Britney si esibì all'inizio degli MTV Video Music Awards assieme alla collega Christina Aguilera e alla grande icona della musica Madonna, intonando prima la celebre hit degli anni '80 Like a Virgin, poi duettando con la Regina del Pop sulle note del nuovo singolo di quest'ultima Hollywood.
L'esibizione passò alla storia per il momento (che ormai tutti conoscono) in cui Madonna scambiò con Britney Spears un bacio sulle labbra. L'inquadratura della loro effusione sul palco dei VMA fece il giro del mondo e destò notevole scalpore. A quel punto però, il pubblico iniziò a pensare che tra le due cantanti si fosse creato qualcosa di più che un'alchimia temporanea, e, come svelò la Spears alcuni mesi dopo, non si era certo sbagliato: Britney e Madonna erano entrate in sala di registrazione per incidere il loro duetto, Me Against The Music, di cui la principessa del Pop aveva fatto ascoltare a Miss Ciccone una demo e che venne rilasciato come primo singolo da In The Zone ad ottobre del 2003.
Me Against The Music è un brano R&B di ottima fattura e piuttosto inusuale per gli anni Duemila, con un veloce tappeto ritmico che scorre tra percussioni sincopate e chitarre acustiche funkeggianti dal gusto anni '70. Il testo, che parla del metaforico scontro di Britney con il mondo della musica, viene completato dalle lyrics cariche di esortazione di Madonna, che, secondo le speculazioni dei media dell'epoca, sembrava in procinto di "cedere la sua corona" alla popstar della Louisiana. Il featuring tra voci sovrapposte e volutamente un po' dissonanti venne completato da un video (ad oggi uno dei più celebri della Spears) in cui le due cantanti eseguono a turno, quasi sfidandosi in un hide and seek continuo, passi conturbanti a ritmo di musica, regalandoci con il loro carisma una delle clip migliori di tutto lo scorso decennio.
3. Scream & Shout (Will.I.Am feat. Britney Spears) – dall'album willpower, 2013
Negli anni successivi Britney tornerà molto più di rado a cantare affiancata da altri artisti: al di là di (I Got That) Boom Boom, album track da In The Zone realizzata assieme agli Ying Yang Twins, l'unico featuring di spicco per la Spears arriverà soltanto nel 2011. Rihanna, infatti, la vorrà per un remix a due voci del suo singolo S&M (brano il cui video è stato a lungo tempo bloccato da YouTube), con cui le due popstar si esibirono all'inizio dei Billboard Music Awards di quell'anno.
Sempre nel 2011, però, Britney incominciò il suo sodalizio artistico con un grande cantante e produttore dell'Hip Hop anni Duemila che nei primi anni del nuovo decennio aveva incominciato a lanciarsi nel campo dell'Electro House e con cui lavorerà due anni dopo alla creazione del suo ottavo album in studio. Ovviamente parliamo di Will.I.Am, il lead artist dei Black Eyed Peas, che per Britney registrò la sperimentalissima track Big Fat Bass, inclusa in Femme Fatale. Per ricambiare il favore, la Principessa del Pop decise di aiutare il ritorno in scena del cantante duettando con lui nella famosissima club hit Scream & Shout.
Scream & Shout è un singolo molto vicino allo stile dei più recenti Black Eyed Peas, in cui i sintetizzatori dal suono deciso si alternano alle percussioni tipicamente House delle strofe. Questo brano, nonostante all'epoca fosse piuttosto criticato per via dell'eccessiva saturazione della Dance nel mercato musicale e nonostante un video e un testo non proprio originalissimi, riesce a far sposare bene i due timbri vocali di Will.I.Am e Britney Spears, che grazie a questo pezzo non solo riuscì ad essere consacrata come una delle regine della Dance contemporanea, ma sfoderò anche una vocalità un po' insolita (la critica e il pubblico, infatti, parlarono del rap di Britney paragonandolo a Madonna e Nicki Minaj con un tocco di british accent) Insomma un featuring che, per quanto possa sembrare scontato, si è rivelato prezioso e inedito per la popstar, consentendole di rilanciare a pieno la sua popolarità a livello mondiale.
4. SMS (Bangerz) (Miley Cyrus feat. Britney Spears) – dall'album Bangerz, 2013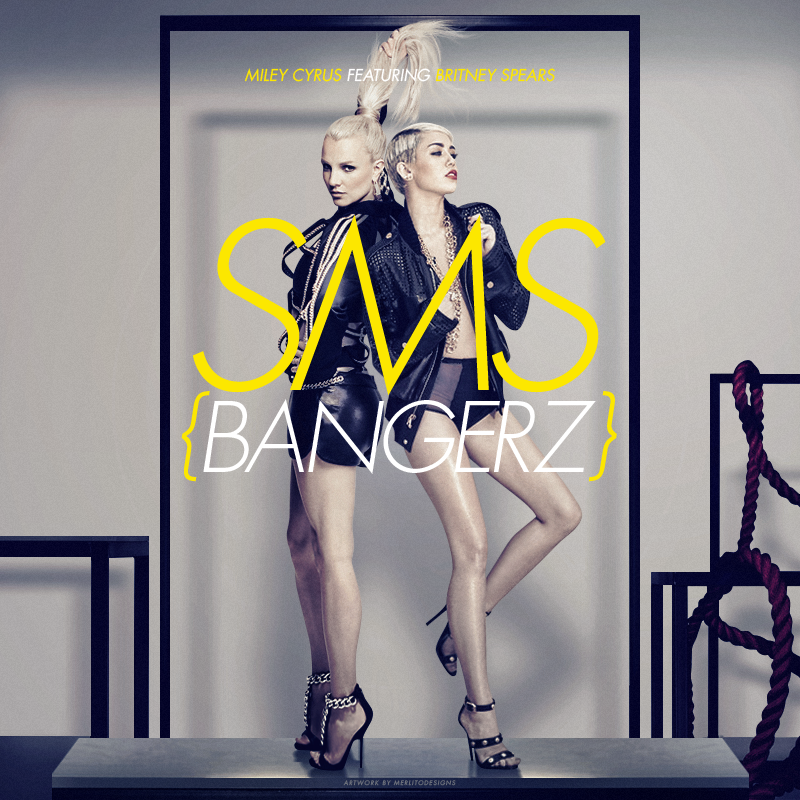 Ad ormai 15 anni dal suo debutto e con un nuovo album in studio vicino alla pubblicazione, nel 2013 Britney Spears decise che era arrivato il momento di fare da mentore ad una popstar delle nuove generazioni, ossia Miley Cyrus. L'ex stella della Disney, ormai smessi i panni della ragazza acqua e sapone di Hannah Montana, si era data per il suo comeback un'immagine stravolta rispetto al passato, molto più spinta e provocante, con cui si era presentata nella scandalosa performance degli MTV Video Music Awards di quell'anno, rubando la scena alle esibizioni di Lady Gaga e Katy Perry e rilasciando, alcuni giorni dopo, il video della sua famosissima hit Wrecking Ball.
Miley, in uscita con il suo quarto lavoro discografico Bangerz, per la title track del suo album cercava una voce che la potesse affiancare, e la trovò in Britney Spears, che registrò i suoi versi all'interno della demo del brano già pronta. Il contributo della principessa del Pop alla track della Cyrus è piuttosto ridotto, anche se, stando alle parole di Miley, Britney era l'unica con cui volesse duettare nel suo album (data comunque la grande influenza e la forza ispiratrice che la popstar della Louisiana aveva avuto su di lei fin da quando era bambina).
SMS (Bangerz) è un brano che, seppur guardato dal testo possa sembrare banale, recupera molto del suo potenziale nella base musicale, un concentrato di suoni elettronici e filtri vocali che rimandano un po' all'Hip Hop anni '80 (ispirazione piuttosto insolita in un panorama Pop dominato ancora dall'House, con alcune incursioni Trap che già si stavano facendo avanti) e che, secondo uno degli autori della track, Sean Garrett, è un vero e proprio inno femminile che ricorda i pezzi delle Salt-n-Pepa. Duetto sulla carta piuttosto succoso che è stato premiato dai fan delle due cantanti. Infatti SMS (Bangerz), pur non essendo mai stato rilasciato come singolo, è riuscito a raggiungere, grazie ai download digitali, la decima posizione della Bubbling Under Hot 100 Singles (un risultato da non sottovalutare per una semplice album track), diventando, anche grazie all'aiuto prezioso di Britney, una delle canzoni più popolari dell'album.
http://www.youtube.com/watch?v=rKPV3N2hNd8
5. Pretty Girls feat. Iggy Azalea – non-album single, 2015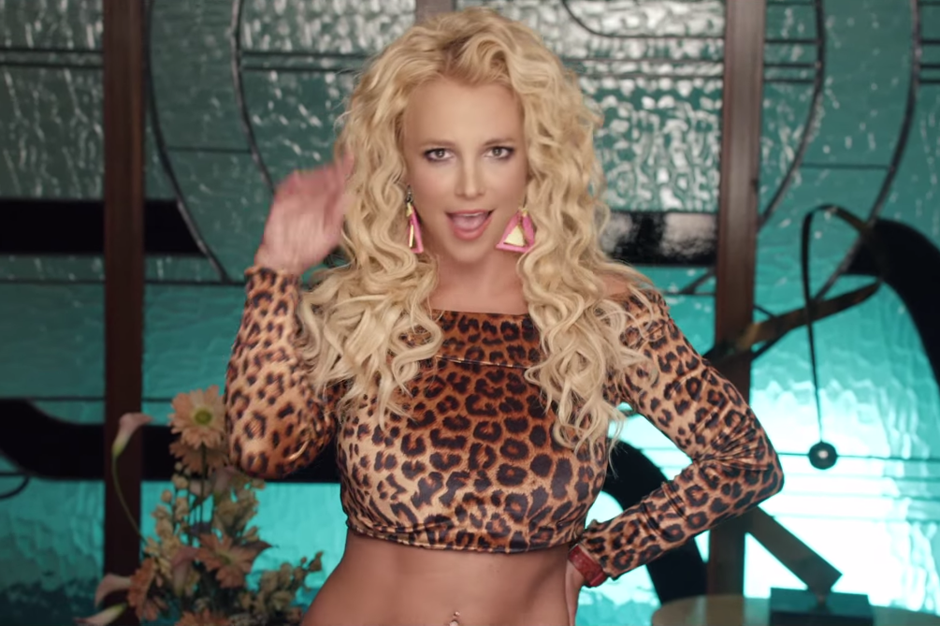 Dopo il grande flop commerciale di Britney Jean, Britney decise di chiudere anticipatamente la sua ottava Era discografica per rimettersi al lavoro con un nuovo album in studio e ritrovare la formula del successo con una nuova hit. Ispirata da una delle rapper più popolari del momento, Iggy Azalea (che, pur con il solo album in studio The New Classic, aveva all'attivo successi discreti come Bounce e Black Widow, ma soprattutto la grandissima hit mondiale Fancy, che aveva cantato assieme alla popstar Charli XCX), la principessa del Pop chiese all'artista australiana di incidere con lei un nuovo singolo, confermato poi dalla stessa Azalea per il 2015.
Il risultato che emerse dalla loro collaborazione fu Pretty Girls, un pezzo scritto, tra gli altri, anche dalle britanniche Little Mix, e in cui erano riconoscibilissimi i tratti delle canzoni di Iggy (tra cui le influenze Trap e la vicinanza al sound Hip Hop anni '80, come del resto in Fancy, prodotta dallo stesso team degli Invisible Men). Il singolo, che forse era una delle release più attese dello scorso anno, si è rivelato tuttavia un nuovo buco nell'acqua per la carriera di entrambe le cantanti.
Il testo poco originale del singolo, la pochissima promozione del brano (l'unica esibizione live della Spears e dell'Azalea è stata quella dei Billboard Music Awards dello scorso anno) e la somiglianza eccessiva con singoli del passato (tra cui la già citata Fancy o un classico dell'Hip Hop contemporaneo come Hollaback Girl) hanno fermato una possibile scalata di Pretty Girls in tutto il mondo, nonostante l'originale videoclip (ispirato agli anni '80 e al film Earth Girls Are Easy con Geena Davis) sia arrivato in poco tempo alla certificazione Vevo. Insomma, un featuring da dimenticare per Britney, forse anche per il sound, troppo snaturato e lontano da quello a cui i fan della popstar erano abituati ad ascoltare nella sua carriera.
6. Make Me feat. G-Eazy – da B9, 2016
Ed eccoci arrivati alla fine della nostra lista con il nuovissimo singolo di Britney, rilasciato lo scorso 15 luglio come primo singolo della sua nona Era discografica. Brano attesissimo, confermato già dallo scorso aprile e che ha subito numerosi slittamenti e leak, Make Me è una canzone in cui alcuni fan hanno ravvisato elementi del passato della Spears (su tutti influenze di Britney e In The Zone), e in cui altri hanno ritrovato un tentativo di inseguire le tendenze Alternative attuali senza riuscire a creare un singolo carismatico e di spicco. C'è da dire, comunque, che Make Me è stato una vera e propria sorpresa per il pubblico (tanto in positivo quanto in negativo) e che è si è rivelato un pezzo davvero inatteso (soprattutto per il sound, di cui la critica ha apprezzato le chitarre Soft Rock anni '80 spalmate lungo tutta la canzone).
Inoltre il featuring di G-Eazy, rapper che è emerso nel mercato mainstream grazie al singolo Me, Myself & I, ha messo in maggior evidenza le sfumature vicine all'Hip Hop del nuovo brano di Britney. Il contributo dell'artista statunitense al brano non sembra molto evidente (se non nelle lyrics), ma il riscontro più affidabile per questo duetto arriverà con i primi dati sulle vendite settimanali e con il video, che dovrebbe uscire a breve e potrebbe anche influenzare diversamente le opinioni del pubblico.
Arrivati alla fine della nostra panoramica, è ora del verdetto finale! Qual è, secondo voi, il migliore tra questi featuring di Britney Spears che vi abbiamo proposto oggi?