Adele e Justin Bieber stravolgono la Billboard Hot 100
Adele sbaraglia tutto e tutti nella Billboard Hot 100. Il singolo "Hello" debutta in vetta alla classifica americana vendendo 1.112.000 downloads. In questo modo Adele ha frantumato il record di vendita che apparteneva a Flo Rida e Kesha con "Right Round" (636.000 downloads). E non solo! Adele ha ottenuto 61,6 mln di streams, secondo risultato di sempre dietro solo al record (103 mln) di "Harlem Shake". Il 58% degli streams deriva dal video di Youtube, il 30% deriva da Spotify.
"Hello" è alla 1 anche alla On Demand Songs Chart con 20,4 mln di On-demand streams. Nelle radio "Hello" ottiene 73 mln di audience, nella radio songs chart è già alla 9.
Justin Bieber debutta alla 2 con "Sorry" (e se non ci fosse stata Adele avrebbe ottenuto una seconda No.1). Il singolo vende 277.000 downloads, ed ha avuto 34 mln di audience e 23,1 mln di streams. Adele e Justin Bieber entrano in un certo modo insieme nella storia della musica perchè era successo una sola volta in passato (nel 2003) che due canzoni debuttassero nella stessa settimana alla 1 e alla 2 Justin Bieber ha anche un altro singolo in top 5: "What Do You Mean" alla 5.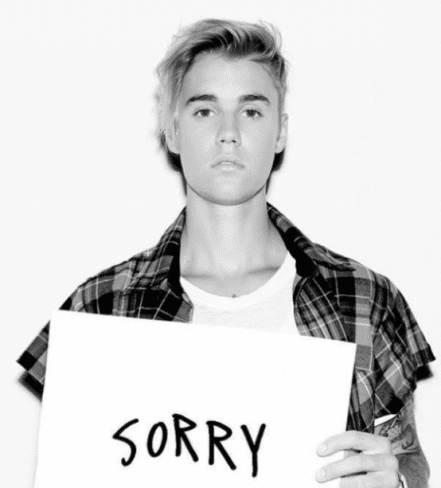 Alla 3 troviamo Drake con "Hotline Bling", Dtake ha avuto la sfortuna di superare The Weeknd e la sua "The Hills" con una settimana di ritardo. Ora come ora con "Hello" e "Sorry", non ha pià chances di arrivare alla 1. "Hotline Bling" peraltro rimpiazza "The Hills" nella R&B/Hip Hop Songs chart.  Si tratta della 13esima no.1 in questa classifica per il rapper/cantante.
Scendono di due posti sia Shawn Mendes con "Stitches"  che Taylor Swift con "Wildest Dreams". Quest'ultima è voalta in vetta alle radio americane con 150 mln di audience (+2%). questa è al sesta No.1 radiofonica nella carriera della Swift (quarto brano alla 1 di "1989"). Nel resto della top 10 troviamo "679" di Fetty Wap ft Remy Boyz. Alla 9 segue "Locked Away" di R.City ft Adam Levine. Infine alla 10 c'è "Can't Feel My Face"
Fuori dalla top 10 è da tenere d'occhio Elle King in ascesa con "Ex's & Oh's" (15->12). Subito sotto troviamo Meghan Trainor con "Like I'm Gonna Lose You". Entra in top 15 Alessia Cara con "Here". Brutto calo dalla 10 alla 29 per "Perfect" degli One Direction. Scendono "Confident", "Shut Up And Dance" e "Strip It Down" di Luke Bryan.
Sale alla 62 "Lay It All On Me" di Rudimental ft Ed Sheeran. Debutto alla 84 per "Used To Love You" di Gwen Stefani.
1- Hello – Adele
2-  Sorry – Justin Bieber
3-   Hotline Bling – Drake
4 The Hills – The Weeknd
5-  What Do You Mean – Justin  Bieber
6-  Stitches – Shawn Mendes
7- Wildest Dreams – Taylor Swift
8- 679 – Fetty Wap ft Remy Boyz
9- Locked Away – R.City ft Adam Levine
10- Can't Feel My Face – The Weeknd
11- Watch Me – Silento
12-Ex's & Oh's – Elle King
13- Like I'm Gonna Lose You – Meghan Trainor ft John Legend
14- Jumpman – Drake & Future
15 Here – Alessia Cara
16-Downtown – Macklemore & Ryan Lewis
17- Lean On – Major Lazer ft Mo & DJ Snake
18- Same Old Love – Selena Gomez
19- On My Mind – Ellie Goulding
20-  Renegades X Ambassadors
21- Good For You – Selena Gomez ft ASAP Rocky
22- Hit The Quan – iHeartMemphis
23-Trap Queen – Fetty Wap
24-Drag Me Down – One Direction
25- Cheerleader – Omi
26- Photograph – Ed Sheeran
27- How Deep Is Your Love – Calvin Harris ft Disciples
28-My Way – Fetty Wap ft Monty
29- Perfect – One Direction
30-See You Again – Wiz Khalifa ft Charlie Puth