Alicia Keys live per la finale della Champions League: ecco la performance!
Buone notizie per i fan di Alicia Keys: dopo aver annunciato qualche giorno fa il suo imminente ritorno sulle scene, arriva come un fulmine a ciel sereno un altro inaspettato annuncio che riguarda la superstar.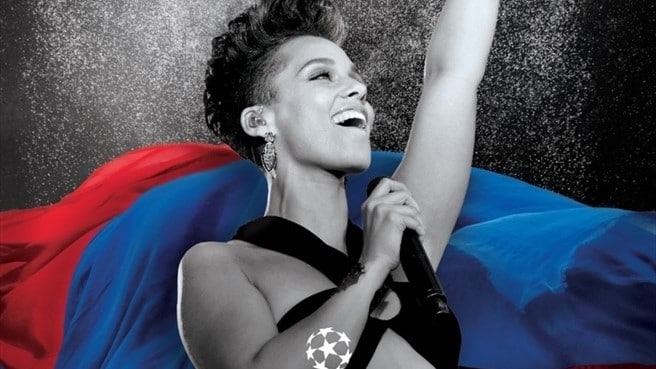 Negli Stati Uniti i due eventi sportivi più seguiti dell'anno, Superbowl e Nba All Star Game, come ben sappiamo, sono accompagnati da uno spettacolo musicale che fa parlare di sé prima e dopo lo show. A partire da quest'anno pare proprio che anche l'Europa avrà il suo speciale "half-time show", in occasione della finale di Champions League che per il 2016 si terrà il 28 maggio allo stadio San Siro di Milano.
La finale di Champions League è seguita da più di 200 nazioni nel mondo, per un numero di spettatori che mediamente si aggira attorno ai 180 milioni. Visto questo incredibile appeal l'organizzazione ha ben pensato di organizzare uno show-concerto d'apertura,novità assoluta per la finale di tale competizione calcistica.
Ad inaugurare questa scelta sarà un'artista di tutto rispetto, che dal 2000 ad oggi ha lasciato un segno indelebile nel panorama musicale.
Come avrete abbondantemente capito la star in questione sarà niente meno che la grande Alicia Keys.
Lo spettacolo sarà firmato Filmmaster Events (la stessa società che in estate produrrà le cerimonie di Rio 2016 e quelle degli Europei 2016) ed è sponsorizzata dalla Pepsi, stesso sponsor del già citato Superbowl, cosa che ci fa ben sperare per quanto riguarda la "costruzione" dell'esibizione. La Keys ha ufficializzato la sua partecipazione con un tweet che dice semplicemente "Ciao MILANO!!!", e, oltre a dirsi veramente emozionata, ha confermato che nel corso della performance presenterà materiale inedito!
Ciao, MILANO!!! 🇮🇹 pic.twitter.com/klRIaEifQ1

— Alicia Keys (@aliciakeys) April 27, 2016
"Sono molto emozionata all'idea di condividere i miei nuovi brani durante la finale di Champions League. Sarà un evento celebrato in ogni parte del mondo, un momento storico, in cui condivideremo tutto ciò che ci rende simili a prescindere da dove viviamo e da chi siamo. Sono onorata di avere un ruolo speciale".
La partecipazione di una cantante del suo calibro darà sicuramente ulteriore attrattiva alla partita e permetterà di raggiungere un'audience ancora maggiore a livello mondiale, e non solo degli appassionati dello sport in sé.
Per il momento la scaletta è ancora top-secret, ma siamo sicuri che Alicia saprà sorprenderci. Voi quali canzoni (oltre agli inediti) vorreste ascoltare?
---
La diva si è esibita nell'importantissimo evento nostrano con un glorioso medley fra due dei suoi più grandi successi ("Girl on Fire" e "Empire State of Mind") ed il nuovo singolo "In Common", il tutto circondata da una corpo di ballo enorme. Come sempre, Alicia non ha deluso dimostrandosi una performer di altissimo livello e mettendo in scena una performance perfetta da tutti i punti di vista. Davvero incredibile il carisma mostrato sulle note di "In Common". Da notare la dedica speciale a Milano sulle note di "Empire State of Mind".

Alicia Keys Performs "Girl On Fire" at UEFA… di NBATOPHIGHTLIGHT