Ariana Grande – Dangerous Woman | Recensione Album
Ecco la recensione album di "Dangerous Woman", terzo album in studio della cantante americana Ariana Grande.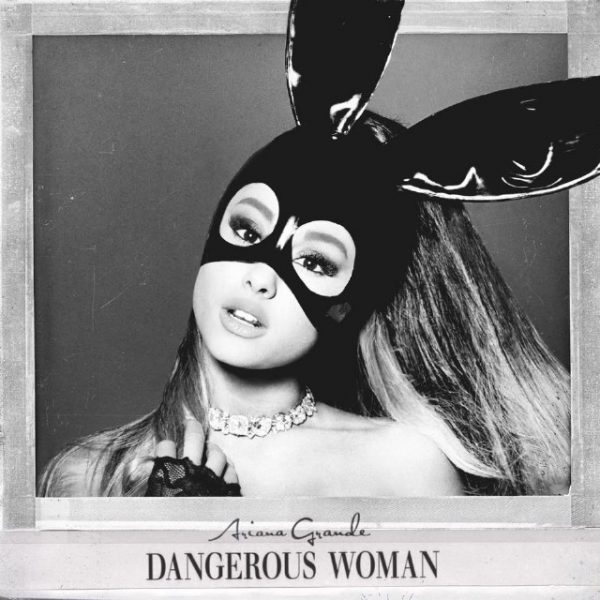 Ariana Grande a soli 22 anni può vantare un curriculum di tutto rispetto, una carriera iniziata come attrice in svariate serie tv per ragazzi per arrivare ad essere oggi una delle nuove leve più vocalmente dotate del panorama musicale. Nata in Florida da una famiglia di origini abruzzesi e siciliane, Ariana ha palesato fin da piccola il suo interesse per canto, ballo e recitazione, tanto che il suo primo ruolo televisivo risale al 1998, quando Nickelodeon la sceglie per una parte secondaria in All That.
Nel 2009 crea un canale youtube nel quale carica cover delle sue canzoni preferite ed è in questo periodo che arriva la svolta vera e propria verso il grande pubblico. Ottiene il ruolo della buffa Cat Valentine nella sit-com Victorious (con protagonista Victoria Justice), per la quale partecipa anche alla colonna sonora. Victorious prosegue per quattro stagioni e viene poi cancellato; Cat Valentine, il personaggio della Grande, diventa protagonista di una nuova serie, Sam & Cat, che Nickelodeon annuncia ufficialmente nel 2012.
Sam & Cat ha un grande seguito tra i giovanissimi spettatori, Ariana ormai è un volto conosciuto ed inizia a formarsi intorno a lei un bel numero di seguaci. Tra il set, lavori teatrali ed un'esperienza come doppiatrice, l'attrice sente che è giunto il momento per lei di buttarsi seriamente nel mondo della musica e inizia a registrare il suo primo album, Yours Truly, che esce nel settembre 2013.
La notorietà ottenuta grazie al piccolo schermo e una voce di tutto rispetto fanno sì che il disco si riveli un buon successo, debuttando direttamente alla 1 nella Billboard 200. Dopo una sola stagione Sam & Cat viene cancellato, motivo per cui Ariana decide di dedicarsi (quasi) unicamente alla carriera da cantante, tornando in studio per registrare il suo secondo progetto discografico, anticipato dal singolo Problem (feat. Iggy Azalea).
Problem si rivela un successo mondiale e, ad oggi, anche il maggior successo dell'artista, avendo venduto più di 9 milioni di copie.
Trascinato dal lead single e dal secondo estratto Break Free, ad agosto 2014 esce My Everything, accolto abbastanza positivamente dalla critica. Il successo dei singoli successivi (Love Me Harder e One Last Time) e della collaborazione in Bang Bang con Jessie J e Nicki Minaj, portano inevitabilmente Ariana Grande ad essere uno dei personaggi musicali dell'anno.
Nel 2015 parte l'Honeymoon Tour, primo tour mondiale della ragazza per un totale di 88 date.
Non perde tempo Ariana Grande e tra tour, apparizioni televisive e cinematografiche trova il tempo per registrare il terzo album, Dangerous Woman.
Dangerous Woman, anticipato dall'eponima canzone, è arrivato negli store il 20 maggio con delle previsioni di vendita a quanto pare ottime. Il disco che ora andremo a recensire rappresenta certamente una svolta dal punto di vista stilistico e anche per quanto riguarda l'immagine della cantante, che attraverso le tracce vuole fare "un ritratto di sé come persona forte e dar forza ai fans", come lei stessa ha ammesso. Doveva intitolarsi Moonlight ma è la stessa Grande a spiegare perché poi ha cambiato idea sul titolo:
"Moonlight è una canzone dolce ed un titolo dolce. E' molto romantico e sicuramente legherebbe bene insieme la vecchia musica con quella nuova. Ma Dangerous Woman è molto più forte…per me una dangerous woman è qualcuna che non ha paura di prendere una posizione, di essere sé stessa ed onesta".
Ariana Grande ha intrapreso un percorso più sensuale e maturo, volendo chiaramente offrire il suo lato di donna unito ad una sperimentazione che sicuramente si nota. Ma quale sarà il risultato? Scopriamolo subito; ecco la recensione di Dangerous Woman track by track.
MOONLIGHT:
l'album si apre con questa traccia che in origine avrebbe dovuto dare il nome all'intero progetto. Partenza tutt'altro che positiva con una canzone che si rivela essere una delle più deboli dell'album.
Downtempo smielata che a tratti prende le sembianze di una vera e propria ninna nanna; nulla da dire sulla performance vocale di Ariana certamente in grado di fare della sua voce uno strumento capace di (quasi) tutto, fatto sta che questa produzione non le rende giustizia e, anzi, ci fa aspettare solo la fine.
Tematica che troveremo spesso nel corso dell'album: amore come sentimento che sfocia in passione e fisicità. Il testo di per sé non è sfacciato o volgare, ma svolge la tematica in maniera, se così vogliamo definirla, elegante.
"And the movie's playing, But we won't be watching tonight" (il film sta andando Avanti ma noi non lo guarderemo stasera), canta l'artista senza bisogno di dire altro. Diciamo che se con Dangerous Woman voleva dimostrarsi donna predatrice-pantera, questa produzione la fa sembrare più un gattino. Per fortuna l'album ci riserva ben altro…
DANGEROUS WOMAN:
per questo lead single è stato chiamato niente meno che l'uomo dalle mille hit Max Martin, e sentiamo subito la differenza tra questa traccia e quella precedente. Midtempo pop/r&b dalle sonorità rock, resa graffiante e sensuale dal suono inconfondibile della chitarra elettrica. Produzione esplosiva che, unita alla voce potente della Grande, crea un mix perfetto che sfocia in una delle migliori canzoni dell'album.
Qui il testo è decisamente più in linea con il ritmo aggressivo e rockeggiante, tutto gira intorno alla sensualità e alla passione più sfrenata tanto che Ariana canta "Somethin' 'bout you Makes me wanna do things that I shouldn't" (qualcosa di te mi fa voler fare cose che non dovrei).
Il livello di passione è arrivato ad un punto tale che la ragazza stessa non si pone limiti, il suo uomo la fa sentire una "donna pericolosa", una cattiva ragazza che "vive per il pericolo".
Questo brano ha avuto una sfilza infinita di recensioni positive e, in effetti, è ottimo in tutto e per tutto tanto di meritare il ruolo di apripista dell'intera fatica discografica. L'immagine di pantera dominatrice voluta dalla Grande e confermata attraverso il video sarà credibile per la sua carriera? Per ora esperimento riuscito.
BE ALRIGHT:
rilasciata lo scorso 18 marzo come singolo promozionale, traccia scritta tra gli altri da Ariana e Tommy Brown e prodotta dai Twice as Nice (Needed Me – Rihanna).Midtempo pop/r&b con sonorità deep house anni '90. Il tono graffiante e acuto dello strumento vocale dell'artista lascia spazio al registro più caldo e dolce.
Non si può certo dire che sia una delle tracce migliori di Dangerous Woman, anzi; inizialmente colpisce la particolarità del sound (inconfondibile la marimba), ma poi quella curiosità che attira all'inizio prosegue in maniera piatta per tutta la durata del brano , risultato: traccia noiosa e ripetitiva.
Il testo trasmette un messaggio positivo in linea con l'empowerment dell'album, non bisogna mai lasciarsi buttar giù perché le cose prima o poi torneranno apposto, "tutte le lacrime vanno e vengono".  La "donna pericolosa" sa anche essere dolce. Nel complesso?….per fortuna dura solo 2:57.
INTO YOU:
rilasciata il 6 maggio come secondo singolo ufficiale del progetto, traccia scritta e prodotta da Max Martin (tra gli altri).
Per ora l'album ha alternato una canzone debole con una forte e anche Into You conferma questo trend.
Decisamente più travolgente ed esplosiva questa uptempo electro/dance dal ritmo sensuale e provocatorio. Un beat forte che dimostra quanto la voce di Ariana sia versatile e ottima anche per questo tipo di sonorità electro-friendly. Coinvolgente e molto radiofonico il ritornello che potrebbe davvero permettere alla canzone di far bene a livello commerciale.
Testo sensuale e malizioso, la Grande fa la parte di una donna che sa quello che vuole e lo fa capire in maniera decisa e schietta "A little less conversation, and a little more touch my body" (un po' meno conversazione, un po' più di "azione"). Versi in linea con la svolta sexy intrapresa.
Ricordiamo che Ariana dovrebbe cantare Into You proprio in Italia ai Wind Music Awards che andranno in scena all'arena di Verona.
dopo l'incredibile successo della hit Bang Bang di due anni fa e Get On Your Knees, Ariana Grande torna a collaborare con la prorompente rapper Nicki Minaj per questa traccia prodotta nuovamente da Martin.
Midtempo raggae-pop fresca e ballabile, perfetta per la stagione estiva che si avvicina. Un sound completamente nuovo per la Grande, che si dimostra ancora una volta a proprio agio con ogni qual tipo di genere che gli si presenta di fronte.
Per quanto la sua parte non sia del tutto a fuoco con la canzone, la Minaj si fa riconoscere per la solita sfacciataggine dei suoi versi "I'm the queen of rap, young Ariana run pop" (sono la regina del rap, la giovane Ariana comanda il pop) e poi "If you wanna menage I got a tricycle" (se voi un menage à trois ho un triciclo). Testo volutamente sfacciato e provocatorio e, vista la presenza della Minaj, non poteva essere altrimenti.
Fra le collaborazioni finora proposte da queste due donne, questa è sicuramente la meno forte, ma comunque ci troviamo davanti ad un brano di buona qualità che riesce a stupire grazie al tipo di sound scelto. Non crediamo possa però ottenere il successo di "Bang Bang".
LET ME LOVE YOU (feat. Lil Wayne):
traccia scritta dalla Grande e dallo stesso Lil Wayne e prodotta da Tommy Brown.
Si tratta di una midtempo più introspettiva dei pezzi precedentemente ascoltati, brano prevalentemente r&b con sfumature electro-pop che danno una lettura più moderna al genere. Melodia matura ed ipnotica, una produzione raffinata che mescola alla perfezione la voce limpida di Ariana con il timbro inimitabile di Weezy.
Un featuring interessante e riuscito che si inserisce alla perfezione alla linea stilistica e tematica intrapresa dall'album.
Tratta di una storia d'amore da poco finita e della ragazza che, dopo essersene fatta una ragione, è pronta a lasciarsi andare ed innamorarsi di un nuovo ragazzo semmai questo dovesse presentarsi. "I just broke up with my ex, Now I'm out here single, I don't really know what's next" (ho appena rotto col mio ex, ora sono single e non so proprio cosa succederà poi). Giusta la scelta di utilizzarlo come "solo" singolo promozionale.
GREEDY:
quando c'è lo zampino di Max Martin alla produzione il risultato è sempre di un altro livello. Una delle tracce più infettive e coinvolgenti di Dangerous Woman è proprio questa uptempo funky disco-pop super ritmata e ballabile dal groove contagioso.
Senza ombra di dubbio uno dei pezzi forti del disco, almeno per quanto riguarda le potenzialità radiofoniche e l'appeal catchy. La perfromance vocale della Grande è ottima, specie nelle parti acute dei cori e del pre-ritornello, dove la sua voce viene portata a toccare note davvero notevoli.Greedy è stata cantata da Ariana recentemente a Good Morning America ed il risultato è stato quasi alla pari della versione studio.
Greedy significa "avido, goloso", e si tratta di una golosità dal punto di vista passionale/fisica. Testo decisamente sexy e provocatorio, torna la "dangerous woman" versione predatrice. "I ain't talking money, I'm just physically obsessed, And I'm greedy" (non sto parlando di soldi, sono solo fisicamente ossessionata, sono golosa).
Questa traccia ha tutte le carte in regola per essere estratta come futuro singolo ed è anche una di quelle meglio accolte finora dai fans. Un sound catchy che potrebbe far davvero bene in radio, magari dando finalmente la possibilità ad Ariana di creare un video come si deve e non a risparmio come gli ultimi.
LEAVE ME LONELY (feat. Macy Gray):
indubbiamente il featuring più sorprendere e inaspettato del disco. Ariana ha la possibilità e l'onore di duettare con una grande voce del panorama soul/r&b, che negli ultimi anni si è purtroppo un po' persa per strada. Certamente per una nuova voce dell'r&b come Ariana duettare con Macy Gray si sarà rivelato un grande onore ma anche un grande motivo di ispirazione.
Leave Me Lonely è una midtempo r&b/soul resa ancora più ricca dalle sfumature gospel, una produzione impeccabile, molto coinvolgente ed evocativa, a tratti ipnotica. La voce pulita di Ariana va a toccare il timbro graffiato di Macy Gray e insieme formano un connubio tanto curioso quanto azzeccato. Grazie a questa canzone si arriva a capire la maturazione artistica intrapresa da Ariana tra il primo disco e questo, ci troviamo di fronte ad uno dei pezzi più maturi e di qualità della sua intera carriera, e bisogna dargliene atto.
La traccia parla di una relazione malata che ha bisogno di essere chiusa per sempre perché non porta altro che dolore, anche se non è facile. "So when you walk out that door, Don't you come back no more, My heart has had enough of the give and take" (quando esci dalla porta vedi di non tornare più…il mio cuore ne ha abbastanza di essere preso e lasciato).
Va dato merito ad Ariana per questa traccia, davvero notevole.
EVERYDAY (feat. Future):
quarta ed ultima collaborazione dell'album, questa volta con il rapper Future, che partecipa insieme alla ragazza alla stesura del testo.
Ci troviamo dinnanzi ad una midtempo electro-pop abbastanza convincente, forse a tratti un po' troppo "rude" per la tonalità di voce di Ariana. La base decisamente rumorosa è la protagonista del pezzo e la voce dell'artista passa quasi in secondo piano per tutto il brano, per poi riprendersi il ruolo principali verso la fine. Buona la parte rappata di Future, che si ripete anche nel refrain "Everyday, everyday, everyday", che entra in testa e rimbomba in modo martellante. Nel complesso una traccia più che sufficiente, le manca quel qualcosa in più che non la faccia sapere di "già sentito".
Dal punto di vista tematico parla ancora di una storia problematica, un tira e molla basato su un sentimento così forte e passionale che rende impossibile dire addio. Secondo molti Everyday è tra le papabili candidate a diventare futuro singolo…potrebbe avere qualche chance di far bene? L'unione dei due nomi dice di si, ma nel disco c'è di meglio!
SOMETIMES:
tra gli scrittori accreditati per questa traccia spicca Peter Svensson, già autore della hit Love Me Harder. Una down tempo r&b senza alcuna contaminazione di tipo elettronico come accaduto nelle tracce precedenti, probabilmente la traccia più "vecchio stile" Ariana. Sound sensuale e caldo, ottima l'interpretazione dell'artista che in questo tipo di pezzi si trova ovviamente a proprio agio. Per quanto sia una produzione raffinata e delicata è innegabile che le manchi quell'appeal radiofonico della potenziale hit.
Nel complesso rende bene all'interno di Dangerous Woman, anche il tema riprende la questione relazione problematica e fisica in maniera non troppo originale. "Is it love? Is it lust? Is it fear? But it's hard to breathe when you're touching me there, Hard to breathe when you're kissing me there, Hard to breathe when you're not here" (E' amore? E' lussuria? E' paura? Ma è difficile respirare quando mi tocchi lì, difficile respirare quando mi baci lì, difficile respirare quando non sei qui).
I DON'T CARE:
questa è l'ultima traccia della standard edition di Dangerous Woman, prodotta nuovamente da Tommy Brown. Un assolo di archi introduce questa ballad r&b in linea con l'Ariana che si diverte a destreggiarsi in vocalizzi alla Mariah Carey. Base di chitarra molto sensuale e calda, I Don't Care è una traccia completamente diversa dal resto del progetto.
Inutile ribadire quanto sia brava a cantare Ariana Grande, ormai è una cosa appurata; per quanto però il suo talento sia innegabile e anche in questa canzone esca, nel complesso non è una traccia memorabile, anzi, fa fatica a farsi notare in confronto alle altre. Probabilmente era meglio inserirla nella versione deluxe, visto che, come vedremo, ci sarebbero state almeno due tracce più a fuoco con il progetto.
Pezzo troppo poco incisivo, sicuramente impensabile che possa essere scelto come singolo, specie vista la sorte già non troppo buona di altri ben più forti, ma è comunque una traccia di buona qualità. Il testo è ben più interessante invece, un inno dedicato all'amor proprio e alla fiducia in sé stessi. "And what he thinks and what they think, But I love me,I don't care about it anymore, oh" (e qualsiasi cosa pensi, qualsiasi cosa pensiate, io mi amo, non mi importa più nulla).
DELUXE EDITION: sono 4 le tracce che vanno a comporre l'edizione deluxe di Dangerous Woman.
Bad Decision è una midtempo pop/r&b con un ritornello carino e immediato per un amore paragonato a quello leggendario di Bonnie & Clyde.
Touch It l'avrei tranquillamente inserita nella standard edition al posto di I Don't Care. Si tratta di una midtempo synthpop molto potente e coinvolgente basata sulle emozioni dell'amore. Probabilmente una delle tracce più potenti di tutto il disco, ancora un esempio di come spesso la deluxe delition nasconda canzoni che meritano.
Knew Better /Forever Boy sono due canzoni in una e il risultato non è che una traccia fastidiosa e caotica, 5 minuti interminabili. Con Thinking About You in un certo senso si fa perdonare lo strazio precedente, essendo una ballad malinconica e nostalgica che fa risaltare al meglio (non senza molto autotune) l'ottimo strumento della Grande.
Terminata anche questa recensione avrete capito che dal mio punto di vista Dangerous Woman presenta un livello qualitativo molto buono. La strada più matura e meno commerciale intrapresa da Ariana Grande per questo progetto è estremamente coraggiosa sia dal punto di vista artistico che personale.
L'artista ha voluto approcciarsi in modo differente alla musica, sperimentando vari generi pur sempre mettendo all'interno di ogni traccia la volontà di apparire sé stessa, libera e senza freni.
Molti hanno giudicato questo cambio di rotta da ragazza a donna sexy-dominatrice un po' troppo forzato, e in alcuni tratti è impossibile negare che in effetti è così.
Nel complesso comunque Dangerous Woman questa nuova immagine non pesa, i testi sono sì molto provocatori e sensuali ma nulla di esagerato o volgare, semplicemente esce la volontà di Ariana di mostrarsi più matura. Di volgare nel mondo della musica c'è ben altro…
Dal punto di vista della produzione i brani che spiccano sono quelli toccati dal grande ed indiscutibile Max Martin, mentre quelle più deboli presentano il marchio di Tommy Brown (tranne i duetti con Macy Gray e Lil Wayne).
Un bel mix stilistico che ci permette di apprezzare la Grande da varie sfaccettature, con un picco qualitativo toccato con Leave Me Lonely che meglio di tutte dimostra che la strada intrapresa ha iniziato a portare i suoi frutti.
Se proprio devo trovare un punto di debolezza a Dangerous Woman questo è molto probabilmente la mancanza di una hit in grado di imitare il successo di Problem…se pensiamo che neanche la title track è riuscita a far centro concretamente non ci sono molti altri brani possibili smash-hit.
My Everything è sicuramente più immediato, questo disco necessita di più ascolti per arrivare ad apprezzarlo appieno.
E' un buon prodotto di transito che sicuramente le è servito per arrivare alla piena maturità artistica magari da raggiungere già con il prossimo lavoro, perché il talento c'è, carattere e carisma pure.
Cosa ne pensate voi di Dangerous Woman? Diteci la vostra.