Ariana Grande confusa sulla cyclette in Side To Side: "Rappresenta il ca**o?"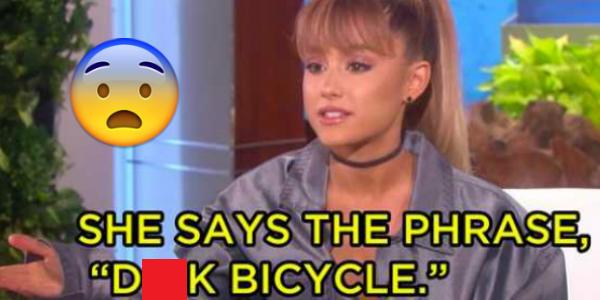 Come ben saprete è Side To Side il nuovo singolo estratto dall'album Dangerous Woman di Ariana Grande, una mid-tempo raggae-pop estremamente radiofonica che vede la collaborazione della rapper Nicki Minaj, con la quale la Grande aveva già lavorato nella smash hit Bang Bang. Le due artiste hanno eseguito il pezzo sul palco dei VMAs il 28 agosto scorso ed il giorno seguente è stato pubblicato il videoclip di Side To Side (QUI per visionarlo) che, come la performance offerta nel corso dell'evento, vede un elemento che fa da filo conduttore al tutto: la cyclette.
Ariana è infatti protagonista di un allenamento in palestra e, tra le altre cose, si lascia andare in una sensuale pedalata mentre intona i suoi versi. Una tematica che ha incuriosito la simpatica giornalista Ellen DeGeneres la quale, durante l'intervista che la popstar le ha concesso (QUI per vedere l'esecuzione live proposta durante lo show), non ha potuto non domandarle il perché della scelta della bicicletta/cyclette sia ai VMAs che nel video.
Il botta e risposta che ne esce è alquanto esilarante: Ellen è visibilmente divertita dal porre certe domande mentre la ragazza, a tratti imbarazzata, non sa cosa rispondere. Vediamo insieme i passaggi in cui parlano della questione:
E: Cosa ci dici dei VMAs, hai cambiato abitudini cantando live su una cyclette, e hai cantato per davvero…adoro quando le persone cantano live.
A: Grazie! Bé, cantare sulla cyclette è stato davvero stancante ma sai cosa? Ne è valsa la pena! Avevo bisogno di essere su una bicicletta…mi sono presa l'impegno, ero fissata con questa cosa. Ho avuto l'idea della bici la prima volta che ho ascoltato il verso di Nicki e lei dice la frase: – un ca**o bicicletta – e lì l'idea è nata e mi sono ripromessa di farlo.
E: Cosa?
A: Sì, c'è una parte del testo che dice – un ca**o bicicletta –
E: E cosa significa? Davvero non capisco…è come una sedia fatta a banana?
A: Ehm, una specie, in realtà non lo so.
E: Dovresti saperlo
A: Sai, ero sulla bici, ho cantato, è successo
E: Questa intervista è totalmente diversa da quella con Hillary (Clinton)
A: Eh sì, sarebbe bello se la prossima volta che la vedi lo chiedessi a lei, sarebbe favoloso
Un siparietto divertente che dimostra ancora una volta quanto l'Ellen Show rimanga, stagione dopo stagione, uno dei programmi più spontanei e imperdibili della tv americana. E quanto a volte nemmeno gli artisti sappiano che cosa stanno dicendo al pubblico con le loro canzoni.
Che ne pensate?