Ariana Grande: la canzone per Trolls finisce online! (AUDIO)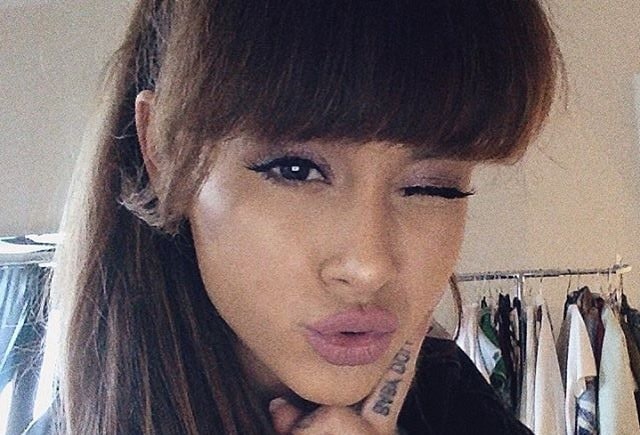 Ariana Grande ha pubblicato da pochi mesi il suo ultimo album "Dangerous Woman" ed attualmente sembra aver lanciato il singolo più forte del disco sul piano commerciale, la hit "Side to Side", eppure ultimamente ci sta facendo ascoltare un sacco di canzoni inedite che, almeno in un primo momento, non erano state inserite in questo progetto. Prima abbiamo potuto ascoltare la versione intera di un brano incluso solo per metà in "Dangerous Woman", "Knew Better" (QUI per ascoltarlo), poi abbiamo potuto ascoltare una nuova bonus track, "Jason Song's" (QUI per ascoltarla), traccia alla quale Ariana ha ammesso di tenere molto (QUI per approfondire).
Ora ecco invece arrivare una traccia completamente slegata da tale progetto. Il brano è "They Don't Know" ed è una canzone inclusa nella soundtrack di "Trolls", un disco che è stato pubblicato proprio domani nei negozi, per quanto il brano sia comunque arrivato online con una decina di ore di anticipo. Si tratta di una up tempo dal sound scanzonato tipico della musica da cartoon, un pezzo leggero in cui Ariana può far ascoltare il suo timbro squillante con fare divertente, il tutto mentre un hook cantato da una voce maschile rende ancora più scanzonata l'atmosfera.
Un brano sicuramente molto adatto al contesto in cui va a calarsi, e potrebbe tranquillamente essere usato come singolo, pur essendo comunque molto meno potente della hit di Justin Timberlake "Can't Stop The Feeling", hit che ha fatto da lead single a questa soundtrack, oltre a mostrare ancora una volta il potere commerciale di Timberlake.
Eccovi la canzone, che ne pensate?
[testo]
[Intro]
Mmmm, watch me
Hey, woo
One, two, three…watch me
[Verse 1]
I walked over got this sunlight
Ain't got time to listen to any shade, yeah
The wind on my pony, top-down, alright
Ain't got time to let them darken my flame, that's right
[Pre-Chorus]
So light the fireworks
Sing like no one's hurt
Dance, it's us against the world
[Chorus]
Oh, they don't know, they don't know, they don't know, they don't know about us
They don't know, they don't know, they don't know, they don't know about what we do
Yeah it's true, I could have all this but I'm good if I got you
They don't know, they don't know, they don't know, they don't know about…
Mmmm, listen, watch me
[Verse 2]
You act so lonely, catch that feeling
So hold onto it for as long as you can
We could run away, to only where we know
Boy I got plans, hey
[Pre-Chorus]
So light the fireworks
Sing like no one's hurt
Dance, it's us against the world
[Chorus]
Oh, they don't know, they don't know, they don't know, they don't know about us
They don't know, they don't know, they don't know, they don't know about what we do
Yeah it's true, I could have all this but I'm good if I got you
They don't know, they don't know, they don't know, they don't know about…
[Bridge]
Hey
They don't know about, they don't know about, about, about us
Light the fireworks , let it catch fire
We gon' dance, dance 'til it hurts
When we in the clubs
We 'bout to let 'em know, know who's your girl
So put your hand in my hand
It's you and me, it's us against the world
Sing it to me one more time
It's you and me, it's us against the world
Sing it to me one more time
It's you and me, it's us against the world
I'm tryna tell you honey, it's us against the world
[Chorus]
Oh, they don't know, they don't know, they don't know, they don't know about us
They don't know, they don't know, they don't know, they don't know about what we do
Yeah it's true, I could have all this but I'm good if I got you
They don't know, they don't know, they don't know, they don't know about…
Mmmm, listen, watch me
[Outro]
(I walked over in the sunlight)
They don't know, they don't know, they don't know, they don't know about us
(Wind in my pony, top-down, alright)
They don't know, they don't know, they don't know, they don't know about what we do
Yeah it's true, I could have all this but I'm good if I got you
They don't know, they don't know, they don't know, they don't know about us
[/testo]