Austin Mahone – This Is Not The Album | rilasciato l'LP gratuito
Austin Mahone è una popstar emergente, che ha cominciato a farsi conoscere da alcuni anni a questa parte, inizialmente grazie alle cover pubblicate nel suo canale Youtube, successivamente per la release dei suoi primi singoli quali "Say Something", "Say You're Just A Friend" (feat. Flo Rida),  per poi raggiungere un buon successo con "What About Love" e "Mmm Yeah" (feat. Pitbull) sotto Cash Money.
La traccia con Pitbull riuscì ad entrare nella top 20 della classifica Statunitense e nella top 40 in Canada, Australia e Regno Unito, il suo management decise così di fargli rilasciare l' EP "The Secret" nel 2014 (QUI per la nostra recensione), che ricalcò in massima parte le sonorità tipicamente pop degli Anni '90.
L'artista è tornato questa estate più carico che mai con il nuovo singolo "Dirty Work": il brano unisce sonorità pop a quelle tipicamente funk ed old school, ed è stato accompagnato da un video molto piacevole, dove il ragazzo vestito piuttosto elegantemente, si trova nel suo ufficio e flirta con una collega. Il pezzo prodotto da The Monsters And The Strangers, già noti per aver lavorato con star del calibro di Rita Ora, Jason Derulo e Chris Brown, non ottenne il successo sperato, non riuscendo ad entrare in alcuna classifica musicale.
Il giovane Austin però non demorde, e proprio ieri notte ha pubblicato via Snapchat, la nota applicazione col fantasmino, la tracklist del suo progetto "This Is Not The Album", composto da ben 19 brani, tra i quali troviamo diverse collaborazioni (tra tutte una con la sua ex-fiamma Becky G ed una con il celebre Chris Brown). Alcune di queste tracce le conosciamo già, come la bellissima "Put It On Me" con Sage The Gemini e "Do It Right" con Rob Villa, che Mahone ha già rilasciato in questi mesi. Il progetto sarà in download gratuito, mentre il primo album ufficiale di Austin vedrà la luce nel 2016: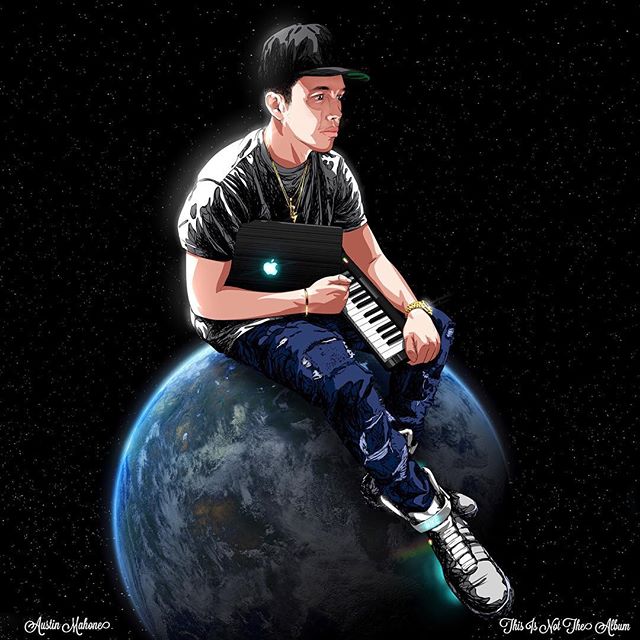 Put It On Me ft. Sage The Gemini
Same Girl ft. Palin and Myles
Bran New
Do It Right ft. Rob Villa
Rollin ft. Becky G
On Your Way ft. KYLE
Caught Up
Something So Real
Love You Anyways ft. Rob Villa
Red Lights ft. Chris Brown
What It Do
Deep End
Hate To Let You Go
Apology
Who's Gonna Love You Now
Hold It Against Me
If I Ain't Got You ft. Kyle Dion and Jessica Sanchez
Not Far
Dirty Work (Remix) ft. T-Pain
Il download dovrebbe essere concesso a breve, vi terremo informati! 
---
Aggiornamento: ecco il duetto con Chris Brown. La canzone è "Red Lights", e la avevamo già ascoltata nel mixtape di Chris "Before The Party" in solo version:
---
Il mixtape è stato rilasciato ufficialmente: