Ad ognuno i suoi premi! Anche l'emittente BBC radio 1 ha consegnato i suoi premi ai talenti più meritevoli.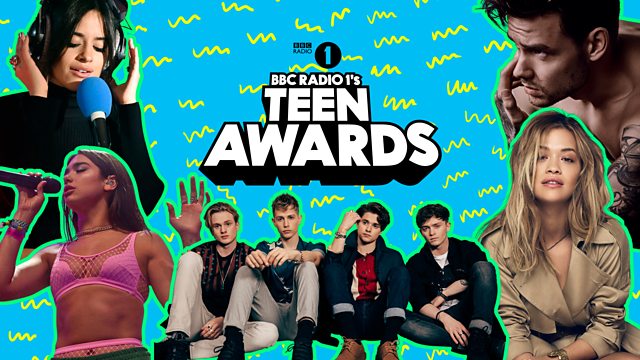 Co-presentati dalla tutto-fare Rita Ora, che ha aperto lo show con un medley di Your Song, Lonely Together e Anywhere, sono andati in scena questo pomeriggio dalla SSE Arena Wembley di Londra i BBC Radio 1's Teen Awards.
Protagonisti dell'evento, oltre ai presentatori Rita Ora e Nick Grimshaw, i giovani artisti del panorama pop internazionale Dua Lipa, Liam Payne, Camila Cabello e The Vamps.
BEST BRITISH GROUP:
Bastille
Clean Bandit


Little Mix


The Vamps
The 1975
BEST BRITISH SOLO ARTIST:
Dua Lipa


Ed Sheeran


Harry Styles
Rag'n'bone Man
Stormzy
BEST INTERNATIONAL SOLO ARTIST:


Ariana Grande


Drake
Justin Bieber
Katy Perry
Shawn Mendes
BEST INTERNATIONAL GROUP:
Imagine Dragon
Migos
Major Lazer
The Chainsmokers
Paramore
BEST SINGLE:
New Rules – Dua Lipa
MOST ENTERTAINING CELEB:




Stormzy
---
A QUESTO link trovate tutte le performances. 
Say You Won't Let Go gets us at the best of times, but a @JamesArthur23 and @camila_cabello duet… ❤️ #R1TeenAwards pic.twitter.com/VQwdV56iBc

— BBC Radio 1 (@BBCR1) 22 ottobre 2017
Those high notes, @camila_cabello! 🎶 👌 #R1TeenAwards pic.twitter.com/Y6ONIXlvM9

— BBC Radio 1 (@BBCR1) 22 ottobre 2017
"Ain't no crying in the club" 😥🚫@camila_cabello is owning our stage right now.#R1TeenAwards pic.twitter.com/xR8SPEflPs

— BBC Radio 1 (@BBCR1) 22 ottobre 2017
🌴 Ooh na-na ay! 🌴
We'll happily come on a trip to Havana anytime, @camila_cabello! 😚#R1TeenAwards pic.twitter.com/cZT9LmSAzK

— BBC Radio 1 (@BBCR1) 22 ottobre 2017
GET LOW…GET LOW!
Yes, @liampayne!#R1TeenAwards pic.twitter.com/nX4OZJsrh0

— BBC Radio 1 (@BBCR1) 22 ottobre 2017
"I just wanna have fun and get rowdy!"
We're loving @liampayne at the #R1TeenAwards. pic.twitter.com/CqzQxVw5Jl

— BBC Radio 1 (@BBCR1) 22 ottobre 2017
🙌🙌 #R1TeenAwards, let me see your hands up! 🙌🙌 (@dualipa) pic.twitter.com/sJfN1sFIj1

— BBC Radio 1 (@BBCR1) 22 ottobre 2017
💁🏻@dualipa's bringing 100% sass to our stage with New Rules#R1TeenAwards pic.twitter.com/isKrh4pNiN

— BBC Radio 1 (@BBCR1) 22 ottobre 2017
💕 @ritaora has kicked off the show with 'Anywhere'! HOW amazing is that outfit? 😮 #R1TeenAwards pic.twitter.com/2UbzyFIlqP

— BBC Radio 1 (@BBCR1) 22 ottobre 2017