BOOM! Bebe Rexha regina del deserto nel nuovo video di "I Got You"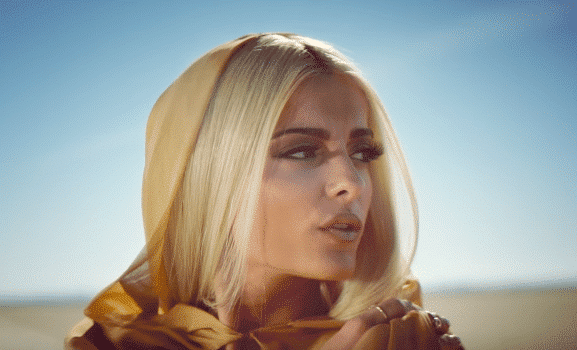 Quando il proprio album di debutto è ad un passo dalla pubblicazione, qualunque artista sfodera tutti gli assi nella manica a sua disposizione per attrarre il pubblico. E' così ha fatto Bebe Rexha che, per assicurare la vetta delle classifiche al suo All Your Fault, in uscita a Gennaio, ha creato una clip eccezionale per il suo secondo estratto, I Got You.
Il brano, uscito ufficialmente il 28 Ottobre 2016 (riuscendo in pochi mesi a raggiungere più di 30 milioni di visualizzazioni su Spotify), si discosta dal sound urban della precedente hit della cantante, No Broken Hearts feat. Nicki Minaj, abbracciando invece il genere synth-pop, già sperimentato nella fortunatissima collaborazione con il dj Martin Garrix In The Name of Love, il tutto arricchito da sonorità orientaleggianti e da un ritornello fortemente catchy.
Il video ufficiale, uscito ieri e già preannunciato sui social con alcuni teasers, mostra una sensualissima Bebe Rexha dominare il deserto californiano, con splendidi outfits svolazzanti e brillanti (alcuni dei quali già indossati dalla collega Selena Gomez). La clip è arricchita da panorami mozzafiato, come tramonti e volte stellate, che creano un'atmosfera intrigante per l'intera durata del video. La bellezza di Bebe risalta maggiormente nelle immagini finali quando, avvolta dalle fiamme, danza con un costume dal retrogusto shakiriano (ricordando a tratti però una Kylie Jenner biondo platino) davanti ad un albero infuocato dal sapore quasi biblico.
Possiamo dirci quindi soddisfatti di questa clip che, pur non brillando per originalità, riesce a far risaltare il pezzo, donandogli carattere e mostrandone l'anima sexy. Purtroppo non possiamo dirci altrettanto soddisfatti dal cambio di rotta che lo stile di Bebe ha subito nell'ultimo anno: è evidente, infatti, che la bella newyorchese dal timbro graffiante e dall'ottima capacità testuale sia stata costretta a piegarsi alle leggi del mercato discografico, diventando una "semplice" hit maker.
Ci auguriamo infine che il sound del suo album di debutto conservi le caratteristiche peculiari dei suoi lavori precedenti che tanto abbiamo apprezzato (primi tra questi la splendida Starlight e la suggestiva Cry Wolf),  sperando che questo non sia un semplice agglomerato di ritmi martellanti e testi vacui.
In basso trovate il video ufficiale di I Got You: