Beyonce – I Am… Sasha Fierce (Recensione CD)
CD della settimana: Beyoncé Knowles – I Am Sasha Fierce, recensione CD! (potete ascoltare il CD sul MySpace della Diva)

Dopo tutto questo parlare, ecco finalmente uno dei ritorni più attesi di questo 2008! Sto parlando di Miss Diva Knowles, ex frontwoman delle Destiny's Child e solista di gran successo!
Del suo CD se n'è parlato abbondantemente prima della release, si vociferava di una Bee completamente differente, che sperimenta generi e nuovi campi musicali, e Sasha Fierce è proprio così… un CD rischioso per Bee, ma che "serve" anche a trovare nuovi fans fuori dal fanbase Urban che oramai la segue ovunque!
Il disco è strategicamente ben studiato per vendere molto, infatti ci sono due versioni, una "Standard" con 12 canzoni divise in 2 CD, e una "Deluxe" con 16 pezzi, sempre spalmati su due dischi ben distinti! Il CD1 (I Am….) ha il sapore pop, farcito di ballate che evidenziano una voce in costante crescita, mentre il CD2 (Sasha Fierce) è contraddistinto da canzoni mid ed uptempo che spaziano dal sound Urban-Beyoncettiano al Pop/Dance che sembra essere il genere più in voga negli ultimi tempi.
I due primi singoli estratti sono stati la ballata pop "If I Were A Boy" super-hit internazionale e la simil-getmebodied "Single Ladies", uptempo che sta facendo impazzire per il video carico e pieno d'energia! Pianta dunque le unghie nelle classifiche senza problemi con questo inizio Era, ma lascia forse un po' disorientati i suoi fans più Urban/R&B…
"Ego" ed "Halo" sono invece pianificati per essere i "secondi singoli", la prima è una midtempo appena leakkata del quale abbiamo fatto già una recensione, la seconda è sempre una ballata pop in stile "Leona Lewis", creata dapprima proprio per la giovane artista UK, ma poi passata da Ryan Tedder alla diva Texana! "Halo" ha sicuramente le potenzialità per diventare un'altro successone in tutto il mondo, a detta di molti junkies del forum si tratta del più bel pezzo del disco, ma mi trovano in disaccordo. Certo si tratta di un buon pezzo, ma effettivamente lo vedo poco sulle corde della Beyoncé che amo…, vi dirò in seguito qual'è il pezzo che preferisco!
"Diva" è una sorta di "A Milli" al femminile, qua Bee tira fuori tutta la tamarraggine che ha dentro, da buona texana! Ce l'aveva nascosta dai tempi di "Soldier" questa tamarraggine hiphop al femminile, e questa Uptempo tra l'R&B ed azzarderei il Crunk, è di certo il mio pezzo favorito di quelli di "Sasha Fierce"! Me la vedo già in un video bello potente, con una coreografia "femminile" come sa fare lei… successo assicurato, almeno per quanto riguarda il mercato Statunitense!
"Radio" è un'altra uptempo con una base drum'n'bass, produzione stupenda, e Bee che utilizza la voce come la sua più giovane collega "Rihanna"! Proprio per il suo flavour pop/garage/drum'n'bass la vedo bene come release per il mercato UK/EU! Tuttavia il pezzo mi infastidisce proprio per la voce di Bee, forse devo solo prenderci la mano?!
"Sweet Dreams"! Vi pare di averla già sentita? Bravissimi.. si tratta di Beautiful Nightmare che leakko mesi e mesi fa, ma la canzone uptempo è talmente bella che non potevano non inserirla nel disco, semplicemente è stata rimasterizzata e rinominata come "Sweet Dreams"! Per quanto ricca ed originale sia questo pezzo, ho dei dubbi sulla sua release come singolo in quanto già da tempo gli internauti l'hanno sentita!
"Video Phone" è molto B-Day, trovo che sia tra le canzoni più orribili di tutta la carriera di Beyoncé, il beat del pezzo vuole provare ad essere uptempo, ma ci riesce molto male, nei club la gente rimarrebbe immobile… inoltre stride la voce, troppo contorta e fastidiosa.. bocciata… "Hello" è una mitempo, ma mi lascia veramente poco, il ritornello è una cantilena lagnosa "hello… hello… hello…" ed aggiungerei "ella… ella.. eh…" LOL! "Ego" invece è una midtempo più  piacevole, com già detto è stata scelta come secondo singolo della parte "Sasha Fierce"… ha secondo me poco potenziale ed avrei preferito un secondo singolo più ritmato, a tratti mi ricorda la Bee di "Me, Myself and I"..
"Scared Of Lonley" chiude il secondo disco in versione deluxe! La mid prodotta da Rodney "Darkchild" Jerkins è sicuramente un bellissimo regalo fatto dal producer alla Knowles, il pezzo è molto carino, malinconico, ed ha veramente l'aria di essere un probabile hit. Spero che venga scelta anch'essa come singolo! Stupenda!
Passiamo al CD1, oltre alla citata "If I Were a Boy" che trovo sia una delle canzoni più belle del 2008, ed "Halo" che sicuramente la rimpinzerà di premi, c'è la canzone, a mio modo di vedere, più bella di tutto questo lavoro, si tratta di "Broken-Hearted Girl"!
Se mi leggete spesso sapete che sono allergico alle produzioni Stargate, ma stavolta hanno riservato per la nostra Bee una vera e propria meraviglia di canzone, "Broken Hearted Girl" si sposa divinamente alla voce di Beyoncé, lei non strilla e non esagera con i suoi proverbiali giochetti vocali, semplice, diretta, è una ballata che valorizza appieno la diva che un tempo era  solo R&B! Il potenziale ce l'ha tutto questa canzone, per bissare se non mettere al muro la grande "Irreplaceable", che rimase alla numero uno per innumerevoli settimane! Bee è veramente eccellente quando deve cantare sulla base delle produzioni Stargate o NeYose :)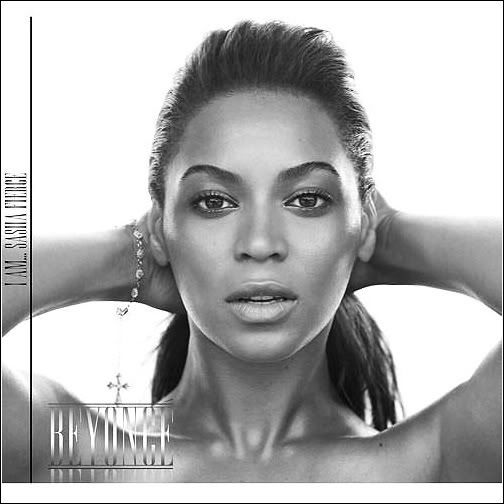 In "Ave Maria" Bee da tutta la sua voce, e dimostra al mondo che tutto sto successo se l'è meritato, senza se ne ma! Bel pezzo, commuovente e profondo, ottimo sarebbe rilasciarlo sotto le feste! Tuttavia troppo innocente e verginale secondo me per rientrare in un disco "non natalizio"! È di certo tra le canzoni lente più potenti del disco…, ma un po' "paccoso".
"Dissapear", quando si ascolta questo pezzo che inizia con una chitarra acustica, di certo non viene in mente la Beyoncé che scuoteva il culo nel video di "Bootylicious"… forse un po' troppo alternativa, e veramente lontana anni luce alla tradizione R&B… mi lascia un po' indifferente. Sempre per la serie "un po' noiosetta" ci metterei anche la traccia "Smash Into You"  e "That's Why You're Beautiful" che appaiono solo nella versione per i più facoltosi :P
"Sattelites" è un pezzo anch'esso altamente alternativo-acustico, che fa un po' viaggiare con la fantasia, provate ad ascoltarla ad occhi chiusi, e sarete trasportati in una dimensione tutta particolare.. un viaggio nello spazio? o un viaggio nella vostra anima?
Nel complesso, questo ultimo sforzo di Beyoncé è veramente inaspettato, lascia di certo molto spiazzati quelli cresciuti a pane e destiny's, ma di certo affermerà Beyoncé come un'artista poliedrica, che sa cantare ed interpretare non solo canzoni R&B, Funk, ma anche Pop, Acustiche e Alternative…  senza aver nulla da invidiare alle colleghe bianche del Pop!
Il disco mi piace molto di più rispetto a B-Day, che sapete bene, per me è stato un CD malriuscito, non superà però "Dangerously In Love", pezzi come "Speechless", "Crazy In Love" e "Baby Boy" sono irraggiungibili per me, era per me la Beyonce pura all'ennesima potenza, fresca ancora, e saporita di Destiny's Child!
A tratti il CD1 "I Am…" può risultare polpettoso e forse un po' troppo alternativo, c'avrei magari cacciato una qualche ballata più "tradizionale" per le sue corde, ma rimane assolutamente uno dei dischi più performanti a livello vocale della sua intera carriera con e senza DC.
Il CD2 "Sasha Fierce" doveva essere un po' la parte più "uptempo" e su alcuni pezzi non tradisce le aspettative degli amanti della musica R&B (nello specifico in "Diva" e "Single Ladies"), esplora ed osa nel pop, ma riuscendoci perfettamente con "Sweet Dreams", un po' meno con "Radio"… ma anche qua.. avrei ficcato qualche pezzo in più, in stile "Upgrade U"…
Grande assente di questo terzo lavoro solista di Bee, sono le collaborazioni, ma forse questo per un desiderio personale di Beyoncé di affermarsi,… le malelingue dicevano che senza Jay-Z, le sue ex colleghe, o la Shakira di turno, Beyoncé non sarebbe riuscita a tirar fuori niente di grandioso, ma così non è… la ragazza può farcela tranquillamente da sola e lo dimostreranno le cifre!
Per quanto riguarda l'acquisto! Il CD come detto in precedenza esce in due versioni, una più ricca e l'altra base, ma questa strategia mi pare una grande ruberia, un modo per far più soldi, e penso che sia dettato dalla etichetta Sony che sta chiudendo un 2008 in grave perdita, e punta pertanto moltissimo in questo "I Am Sasha Fierce". I pezzi che valgono della versione deluxe a mio modo di vedere sono "Scared Of Lonley" ed "Ego" il resto è altamente soporifero e non aggiunge granchè al resto del disco!
Spero che faccia uscire "Broken-Hearted Girl", il pezzo mi piace veramente moltissimo, e mi auguro anche per un bel video "Diva" per il quale la mia fantasia corre su moltissimi binari per il video-concept!
Non fatevi mancare questo disco, nonostante non sia la tradizionale Bee urban, ha veramente tanto da dare, in certi punti mi ha trasmesso moltissimo la sua voce, cosa che la "vecchia" Bee non riusciva a fare! Di certo non è l'acquisto per chi cerca ritmi incalzanti e divertenti, per quello aspettate "Circus" e "Fantasy Ride".
Applauso per Beyoncé che con questo passo matura ulteriormente, e che sono certo conquisterà un fanbase tutto nuovo, sperando che non perda nelle sue fila quello Urban che l'ha sempre sostenuta dai tempi di "No No No"!
Oltre alla mia recensione, potete trovare le recensioni dei Junkies, sul nostro forum dedicato a Ms.Knowles! Cliccate qua!
R&B Junk rating:
Tracklist del CD I Am Sasha Fierce, versione Deluxe:
Disc 1: I Am…
1.If I Were a Boy
2.Halo
3.Disappear
4.Broken-Hearted Girl
5.Ave Maria
6.Smash Into You
7.Satellites
8.That's Why You're Beautiful
Disc 2: Sasha Fierce
1.Single Ladies (Put a Ring on It)
2.Radio
3.Diva
4.Sweet Dreams
5Video Phone
6.Hello
7.Ego
8.Scared of Lonely