Beyoncé e Jay-Z: spuntano le prime date del joint tour!
Il secondo joint tour dei coniugi Carte si farà! Ecco quelle che dovrebbero essere le prime date ufficiali
Dopo tutti gli indizi di cui vi abbiamo parlato negli aggiornamenti qui sotto, ieri nella pagina facebook di Beyoncé per qualche minuto sono apparsi due eventi di un tour denominato On The Run 2, poi cancellati.
Quanto vorranno tenerci ancora sulle spine prima di ufficializzare quello che ormai tutti hanno capito?
---
Beyoncé e Jay-Z sarebbero pronti per un Joint Tour!
Da diversi mesi ci sono dei rumors riguardo ad un joint tour, e c'è chi sospetta anche di un loro disco a sorpresa insieme.
https://twitter.com/theyoncehub/status/966332131130650624
Su Ticketmaster USA, é stata rilasciata (forse per sbaglio), una pagina di pre-sale di biglietti per un ipotetico tour della coppia, che però é stata prontamente tolta.
Certamente qualcosa sta bruciando sotto la brace, ed i due sembrano davvero intenzionati a non rimanere troppo a lungo lontani dalle scene.
Proprio con Jay-Z, Beyoncé firmò il suo più grande successo nella canzone "Crazy In Love", e da allora, a parte qualche litigio dovuto a presunti tradimenti di Jay-Z, nulla sembra essere cambiato tra loro. Oggi sono anche genitori di Blue Ivy, già una piccola Diva, e dei gemelli Rumi e Sir, che al momento non hanno ancora compiuto 1 anno di vita.
Una situazione famigliare che forse ha fatto slittare il progetto di tour, ma anche un ipotetico comeback di Beyoncé, che siamo certi, si dedicherà ancora qualche mese ai suoi piccoli.
Noi speriamo sempre in nuova musica da parte di Bee, e speriamo in un disco classico, non a sorpresa, contenente finalmente delle hits vere! Ci manca molto la Beyoncé dell'Era 4, e I Am Sasha Fierce.
Voi cosa ne dite?
---
Un disco congiunto tra Beyoncé e Jay-Z esiste eccome! Lemonade e 4:44 potrebbero semplicemente aver rallentato i lavori…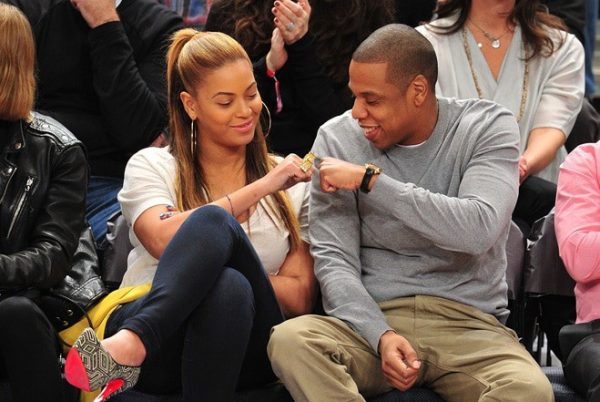 Uniti nella vita e nel lavoro, sempre di più. Il periodo difficile raccontato in Lemonade e 4:44 è ormai acqua passata ed ora la coppia più invidiata del musicbiz sembra essere più in sintonia che mai. Da tempo si parlava addirittura di un possibile joint album tra i coniugi e, finalmente, Jay-Z sulle pagine del New York Times chiarisce questo mistero.
Il rapper ha confermato l'esistenza di musica congiunta, registrata nello stesso periodo in cui sono stati partorite le loro ultime fortunate fatiche discografiche:
"Abbiamo usato la nostra arte quasi come una terapia di coppia e abbiamo iniziato a fare musica assieme. Siccome la musica a cui stava lavorando all'epoca era in fase avanzata quindi è uscito al posto del joint album. Ero lì tutto il tempo, sentivo che lei dovesse prima di tutto andare e condividere le sue verità con il mondo"
Ovviamente un loro joint album sarebbe interessante da tutti i punti di vista. Abbiamo già ascoltato negli anni numerose collaborazioni tra di loro, da Crazy In Love a '03 Bonnie and Clyde, da Deja Vu a Drunk In Love, quasi sempre di ottima fattura. Dal punto di vista musicale, dunque, pochi dubbi sulla qualità, meno ancora sul potenziale commerciale e strategico di un disco con su incisi i loro nomi.
Visto che ormai questo progetto esiste ed è stato confermato dal diretto interessato, perché tenerlo nascosto ancora? Speriamo di ricevere una bella sorpresa il prossimo anno…