Billboard Hot 100: Adele regna, Selena Gomez in top 10
"Hello" è a un passo da "Rolling In The Deep". Il singolo attuale di Adele ha raggiunto la sesta settimana alla 1 e così gli manca una sola settimana per pareggiare il conto con "Rolling In The Deep".  La canzone ritorna alla 1 nelle vendite con 233.000 downloads mentre scende del 23% nello streaming a 27,5 mln. Infine in radio è prima con 166 mln in audience.
Adele riesce anche a mantenere una album track in classifica: si tratta di "When We Were Young" alla posizione 69.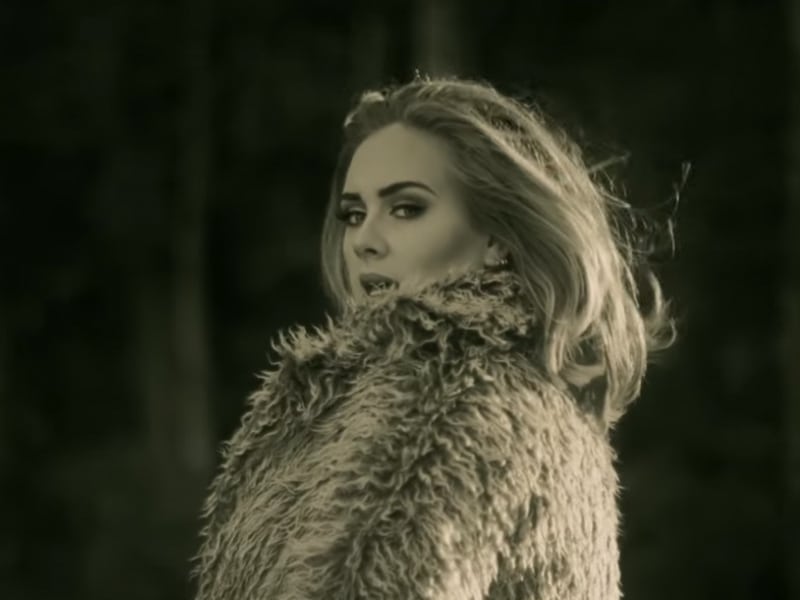 Justin Bieber è alla 2 con "Sorry": il singolo ottiene 117.000 downloads (-34%), in radio vola alla 3 con 111 mln mentre nello streaming è ad un passo dalla leader Adele con 26 mln di streams. Clamorosamente Justin mantiene un tris di singoli in top 10: "What Do You Mean" è alla 4 mentre "Love Yourself" tiene il settimo posto,
Drake è sempre alla 3 con "Hotline Bling", la canzone regna nella Hot Rap Songs da 11 settimane, Alla 5 c'è un altro canadese, The Weeknd con "The Hills". La RnB Star può festeggiare questo suo splendido 2015 con un nuovo record: The Weeknd è il cantante maschile con più settimane consecutive in top 10 nella Billboard Hot 100. Grazie ai singoli "Earned It", "Can't Feel My Face" e "The Hills", The Weeknd è in top 10 da 42 settimane. Le settimane sarebbero potute essere molte di più grazie al duetto con Ariana Grande in "Love Me Harder" ma sfortunatamente per lui sono passate un paio di settimane dall'uscita dalla top 10 di "Love Me Harder" e l'ingresso di "Earned It". Grazie al nuovo singolo "In The NIght" già alla 37 The Weeknd potrebbe puntare a superare le 48 settimane degli Ace Of Base. Katy Perry con 69 settimane è invece ancora lontana.
Il dominio Canada (sette singoli dei primi 8) è completato da Shawn Mendes alla 6 e Alessia Cara alla 8 (nuovo peak). Alla 9 troviamo invece Meghan Trainor con "Like I'm Gonna Lose You". Infine alla 10 entra per la prima volta in top 10 "Same Old Love" di Selena Gomez. Per la prima volta Selena ottiene due top 10 hit dallo stesso album (l'altra è ovviamente "Good For You"). "Same Old Love" vende 55.000 downloads mentre sale in radio a 83 mln di audience. Nello streaming entra in top 20 con 7,3 mln. Visto che la canzone sta raggiungendo ora il suo peak (è quarta su iTunes US se si escludono i singoli meteore di The Voice US), non pare sensato rilasciare ora il nuovo singolo "Hands To Myself".
Ellie Goulding sale alla 13 con "On My Mind", riuscirà a pareggiare il peak alla 11 di "Burn"?. Demi Lovato sale con "Confident". Attenti a Mariah Carey….."All I Want For Christmas Is You" è già alla 26, il peak alla 21 è battibilissimo. Risale alla 52 "Used To Love You" di Gwen Stefani, seguita dal singolo flop dei Coldplay "The Adventure Of A Lifetime".
1 Hello – Adele
2 Sorry- Justin Bieber
3 Hotline Bling – Drake
4 What Do You Mean – Justin Bieber
5 The Hills – The Weeknd
6 Stitches – Shawn Mendes
7 Love Yourself – Justin Bieber
8 Here – Alessia Cara
9 Like I'm Gonna Lose You – Meghan Trainor ft John Legend
10 Same Old Love – Selena Gomez
11 679 – Fetty Wap ft Remy Boyz
12 Ex's & Oh's – Elle King
13 On My Mind – Ellie Goulding
14 Wildest Dreams – Taylor Swift
15 Jumpman – Drake & Future
16 Can't Feel My Face – The Weeknd
17 Focus – Ariana Grande
18 Watch Me – Silento
19 Antidote – Travi$ Scott
20 Lean On Major Lazer & Dj Snake ft Mo
21 Confident – Demi Lovato
22 White Iverson – Post Malone
23 Die A Happy Man – Thomas Rhett
24 Don't – Bryson Tiller
25 Locked Away – R.City ft Adam Levine
26 All I Want For Christmas Is You – Mariah Carey
27 Perfect – One Direction
28 Trap Queen – Fetty Wap
29 Where Ya At – Future ft Drake
30 Say It – Tory Lanez