Billboard Hot 100: Justin Bieber debutta in vetta
Non poteva andare meglio di così. Justin Bieber debutta in vetta alla Hot 100 con il singolo "What Do You Mean?". Il singolo di Justin ha ottenuto 337.000 downloads, un risultato ben minore dei 521.000 downloads del debutto di "Boyfriend". Ma va detto: erano altri tempi e Bieber veniva dall'exploit del suo debut album. "What Do You Mean?" raggiunge la 1 della Hot 100 grazie ad una partenza sprint  nello streaming con 23,2 mln , oltre a questo ha ottenuto ben 10 mln di streams nei servizi On-demand.  Infine nelle radio parte con una 28esima posizione, 42 mln di audience.
Justin e la sua "What Do You Mean?" hanno ottenuto diversi riconosciementi:
-Prima No.1 in carriera per lui
-23esima canzone a debuttare in vetta alla hot 100
– Bieber diventa il più giovane artista a debuttare in vetta
– per Justin si tratta della 47esima Top 100 Hit e della settima Top 10 hit.
– Justin Bieber ha debuttato in vetta contemporaneamente negli USA e negli UK (84.000 unità tra downloads e streams convertiti)
Per chiudere il discorso Bieber, segnaliamo che il suo altro singolo "Where Are U Now" risale dalla 13 alla 10 (60.000 downloads e +58%, 10,3 mln di streams con un +24%).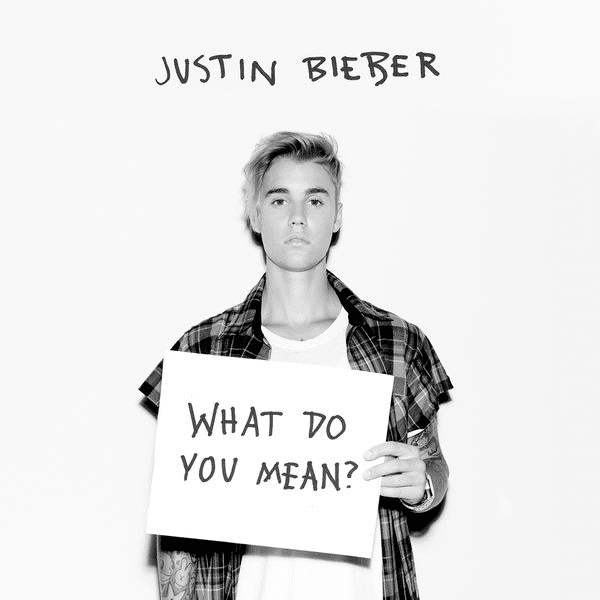 Per The Weeknd si tratta comunque di una settimana storica. La Rnb-Star piazza due hits nella top3! L'ultima ad avercela fatta era stata Taylor Swift con "Blank Space" e "Shake It Off". L'ultimo uomo lead artist in ordine di tempo è stato T.I, con i singoli "Whatever You Like" e "Live Your Life". Nel dettaglio alla 2 c'è "Can't Feel My Face" seguita da "The Hills". La prima delle due, reduce dalla performance ai VMA, sale a 126.000 downloads e 18 mln di streams. Intanto nelle radio svetta con 150 mln di audience.
"The Hills" sale alla 3 grazie a dei dati in netta salita: nelle vendite passa dalla 11 alla 5 con 87.000 downloads. Nello streaming sale del 33% a 21 mln. Nelle radio incrementa del 29% portandosi così a 79 mln di audience.
Silento continua a fare strage nella streaming songs chart con 26,2 mln di streams, +18%, la sua "Watch Me" scende alla 4. Completa la top 5 "Cheerleder" in discesa dalla 2. Major Lazer è alla 6 con "Lean On". "Good For You" scende alla 7. -1 posizione anche per Fetty Wap con "679" e "Locked Away" di R. City ft Adam Levine.
Appena fuori dalla top 10 troviamo Demi Lovato con "Cool For The Summer". Il singolo sale dalla 17 alla 11, raggiungendo così il suo nuovo peak. La performance ai VMA ha permesso alla canzone di salire del 44% nelle vendite (72.000).
Segnaliamo che alla 15 fa il suo ritorno "Wildest Dreams" d Taylor Swift. La canzone ha venduto 83.000 downloads con un aumento del 981%. Nello streaming il brano esplode con 3.584% di aumento (7,8 mln). Infine nelle radio "Wildest Dreams" parte con 43 mln di audience, +114%. Piomba dalla 94 alla 18 "Downtown" di Mackemore & Ryan Lewis. Nelle vendite è alla 4 con 95.000 downloads. Nello streaming parte con 5,7 mln. Nelle radio è a 29 mln di audience. Ricala dalla 14 alla 23 "Drag Me Down". Cali anche per "Bad Blood", "See You Again" e "Uptown Funk". Nuovo peak alla 22 per Drake con "Hotline Being".
1- What Do You Mean? – Justin Bieber
2-  Can't Feel My Face – The Weeknd
3-  The Hills – The Weeknd
4- Watch Me – Silento
5- Cheerleader – Omi
6- Lean On – Major Lazer ft Mo & Dj Snake
7-  Good For You – Selena Gomez
8- 679 – Fetty Wap ft Monty
9- Locked Away – R- City ft Adam Levine
10- Where Are U Now – Skrillex & Diplo ft Justin Bieber
11- Cool For The Summer – Demi Lovato
12- Photograph – Ed Sheeran
13- Fight Song – Rachel Platten
14- Trap Queen – Fetty Wap
15- Wildest Dreams – Taylor Swift
16- My Way – Fetty Wap ft Monty
17- Shut Up And Dance – Walk The Moon
18- Downtown – Macklemore & Ryan Lewis
19-  Stitiches – Shawn Mendes
20-  See You Again – Wiz Khalifa ft Charlie Puth
21- Bad Blood – Taylor Swift ft Kendrick Lamar
22- Hotline Being – Drake
23- Drag Me Down – One Direction
24- Hit The Quan – @IheartMemphis
25- Uptown Funk – Mark Ronson ft Bruno Mars
26- Marvin Gaye – Charlie Puth ft Meghan Trainor
27- Uma Thurman – Fall Out Boy
28- All Eyes On You – Meek Mill ft Chris Brown & Nicki Minaj
29- Worth It – Fifth Harmony
30-Classic Man – Jidenna ft Roman GianArthur