I Black Eyed Peas alla finale di Champions League, ecco lo show completo!
Aggiornamento
Potete assistere qui allo show completo del gruppo, purtroppo senza Fergie:
In precedenza su RNBJUNK.com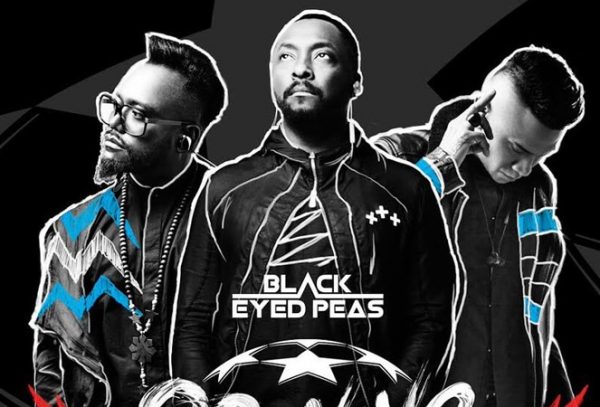 Già l'anno scorso la UEFA, affiancata dalla PEPSI, non aveva nascosto il desiderio di creare per la finale della Champions League un contorno musicale simile a quello che gli States sfoggiano ogni anno durante il Superbowl, con il celebre Halftime Show. In quel frangente, però, l'esperimento non era andato propriamente a buon fine.
Un anno fa, infatti, prima della partita disputata allo stadio San Siro di Milano era stata invitata Alicia Keys che, nonostante l'incredibile talento, non era riuscita ad animare il numeroso pubblico, vuoi perché troppo in ansia per l'imminente match, vuoi perché non troppo entusiasta dal nome invitato dagli organizzatori.
Evidentemente la UEFA ha fatto tesoro della lezione e, non a caso, questa volta ha deciso di fare affidamento su una band che sa senza dubbio come far scatenare un'enorme platea non troppo attenta all'intonazione. Dal sound più ricercato di Alicia si passerà infatti ai beat sfrenati dei Black Eyed Peas, com'è stato annunciato qualche giorno fa.
Mentre Fergie è indaffarata a risolvere le grane con la sua casa discografica (QUI per approfondire), apl.de.ap, will.i.am e Taboo si riuniranno per proporre una performance che sarà sotto il mirino di decine di milioni di spettatori da tutto il mondo. Potranno dunque contare su una visibilità notevole per questa reunion che, molto probabilmente, sarà il primo assaggio di un comeback vero e proprio che potrebbe concretizzarsi entro fine anno.
Oggi l'account ufficiale della Champions League ha pubblicato il promo, dominato dall'indimenticabile Let's Get It Started, colonna sonora della loro performance:
.@bep will be performing at the #UCLfinal opening ceremony presented by Pepsi! Let's get it started!! #PepsiMoment pic.twitter.com/G23jYWoH7O

— Champions League (@ChampionsLeague) 30 maggio 2017
Si prevede dunque un opening show scoppiettante, all'altezza di ciò che i B.E.P. hanno mostrato di saper fare live nel corso della loro carriera. Voi che setlist vorreste proponessero?