Bon Appétit: le reazioni social | Fans preoccupati per Katy Perry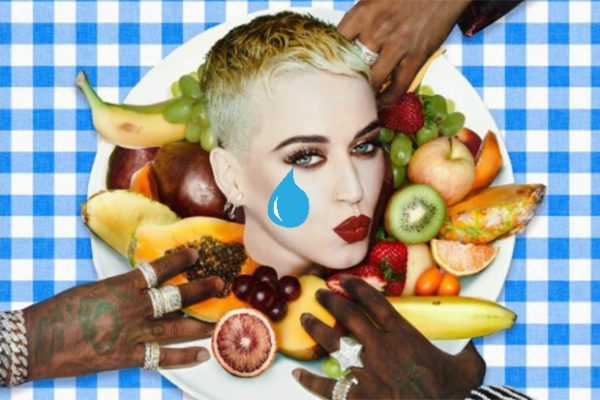 A quasi un giorno dal rilascio di Bon Appétit è già possibile tirare le prime somme…non solo per quanto concerne le vendite catastrofiche (QUI per approfondire).
Non accade spesso che il pubblico reagisca in questa maniera nei confronti di una nuova canzone. Solitamente i fronti sono divisi in maniera abbastanza proporzionale; oggi, invece, la quasi totalità delle persone ha bocciato senza riserve il nuovo singolo di Katy Perry.  I vostri giudizi rappresentano l'esempio lampante della realtà dei fatti: Bon Appétit non è piaciuta né in generale né tanto meno a molti fans della popstar, rimasti completamente spiazzati dopo che per mesi hanno atteso tutt'altro.
Fare di tutta l'erba un fascio non va mai bene ma molto probabilmente ve ne sarete resi conto da soli, spulciando tra un social e l'altro, che i commenti negativi, cattivi e addirittura offensivi nei riguardi di Bon Appétit in queste ore non si sono risparmiati, anzi. Diciamo che al momento per ogni commento positivo se ne trovano come minimo 10/15 di estremamente negativi, è sufficiente cercare #BonAppétit su twitter per avere la conferma.
Vediamone assieme alcuni:
Katy perry is probably the only contemporary pop artist that I enjoy, I like her a lot but I'm not going to pretend that I like #BonAppetit

— Raphael Ort (@fikillo) 28 aprile 2017
Why am I not in NYC right now??? It's too bad #bonappetit is complete trash. I hope the rest of KP4 is better. https://t.co/a4siGepD1X

— Danielle Kfare (@DanielleKfare) 28 aprile 2017
@katyperry your #bonappetit was more like 'Bon Floppetit'. I'm sorry my dear but you're up for elimination.

— Edgar Allan Hoe (@Zampaz) 28 aprile 2017
I don't know how to feel about #bonappetit tbh pic.twitter.com/mz9znigKhO

— Jöse (@RawrKid) 28 aprile 2017
katy perry se enterrando cada vez mais. nem os cats estão com #bonappetit pic.twitter.com/Kg2AXmyzJH

— switch (@quircos) 28 aprile 2017
Btw I'm worried about the fact that #BonAppétit didn't even reached the top 10… what happened to Katy? What ruined his power?

— music.is.theway 🍒 (@Prism_Lover) 28 aprile 2017
@katyperry i'm so sorry sweetie by your #BonAppetit is a shitty trash song 😒👎🏻

— Bitch (@bitch061988) 28 aprile 2017
Let's not kid ourselves: Katy Perry's #BonAppetit song is trash pic.twitter.com/pKLOdpUJy0

— Stanners (@cheesecakebase) 28 aprile 2017
LADIES AND GENTLEMAN, THE AWARD FOR 2017'S TRASH SONG GOES TO #BONAPPETIT BY @KATYPERRY! CONGRATS! pic.twitter.com/71HWVKTNP8

— xoxo, Anthony (@BeebeAnthony) 28 aprile 2017
i feel so bad for those katycats who took time to make a wriggly pie just for this trash #bonappetit pic.twitter.com/gvVv8TwUPu

— sad cracker (@sadcracker) 28 aprile 2017
MIGOS ARE HOMOPHOBIC TRASH BUT YALL STILL SUPPORT THEM AND LET THEM DO WHAT THEY DO BUT OKAY … also #bonappetit is the worst song of 2017 pic.twitter.com/PRO1ZVlD7B

— Dean Evangeliou (@deanevangeliou) 28 aprile 2017
I'm going to throw up my dinner. What is this trash? #BonAppetit https://t.co/Z9HoLyzHF5

— AJ🏳️‍🌈 (@heyandrewjoel) 28 aprile 2017
BonAppeshit!!!!!! #Trash #BonAppetit

— Bello_Kevy (@Bello_Kevy) 28 aprile 2017
#ChainedToTheRhythm is great. But #bonappetit is that shit even real? Sounds like a music nightmare #KatyPerry

— Daydreamer ☁️ (@franciscoercole) 28 aprile 2017
i'm so disapointing @katyperry,3 years in ur house & u come back with a shit i didn't like ur new song #bonappetit @taylorswift13 ❤the best

— Eliefan (@butthiis) 28 aprile 2017
Listening to this angel to cure my ears from the shit that katy gave me #BonAppetit pic.twitter.com/uY7b1wIJgP

— Tiam| #LP1 (@PaynoSwiftx) 28 aprile 2017
LOL WTF IS THAT SHIT? #BonAppetit 😂😂 @katyperry really?

— Eduardo (@EduaardoSantos_) 28 aprile 2017
The Migos verse in #bonappetit got me like, remix that shit out @katyperry pic.twitter.com/tJ1NJuMNw0

— Harry (@lilmonsterharry) 28 aprile 2017
Accanto a chi proprio non riesce ad apprezzare la canzone ci sono anche molti KatyKats preoccupati che questo inizio non all'altezza possa compromettere definitivamente la nuova era. Addirittura c'è chi comincia a credere che né Chained To The Rhythm né Bon Appétit entreranno a far parte di KT4. Non sarà un po' troppo presto per trarre certe conclusioni?
E' davvero possibile che la carriera della Perry sia già in fase calante come molti pensano? Non sarà invece sufficiente tornare con il giusto brano capace di travolgere il pubblico come Katy spesso ha saputo fare in passato per riprendersi la vetta delle charts? Voi che pensate?
---
Mentre molti si interrogano sulle sorti del brano e della cantante, la diretta interessata si trova a Time Square a distribuire l'ormai celebre torta di ciliegie. Che questa mossa promozionale serva a smuovere qualcosa?
Katy Perry a Times Square (NYC), NON È STUPENDA? 🍒🙌🏻 #bonappetit pic.twitter.com/RSifI2RBSE

— KATY PERRY ITALIA (@katyperryitalia) 28 aprile 2017
✨ @tasty ha pubblicato il video completo di Katy Perry mentre prepara la sua Cherry Pie! 🍒#BonAppétit https://t.co/AUkNrQTvOE. pic.twitter.com/0nMfjkS8y3

— KATY PERRY ITALIA (@katyperryitalia) 28 aprile 2017
In questo momento Katy Perry sta distribuendo Cherry Pie a tutti i fan presenti! 🍒✨ #bonappétit pic.twitter.com/1qzrvnqN6p

— KATY PERRY ITALIA (@katyperryitalia) 28 aprile 2017
🍒I'M OPEN 24🍒ที่ Time square New york #BonAppétit #KPTH pic.twitter.com/ZhTlsnLjtM

— Katy Perry Thailand (@KatyPerryThai) 28 aprile 2017
.@katyperry is here in Times Square giving us free pie. I'm shaking. What a saint. Buy #BonAppetit on iTunes. pic.twitter.com/ZXoN9QalqH

— Karla Rodriguez (@ohkarli_) 28 aprile 2017