Bridgit Mendler – "Atlantis" | Video premiere
Partire da una serie TV di successo e provare ad affermarsi nel mondo della musica può portare a due vie opposte: o si diventa superstar acclamate con folti fanbase che resistono per anni nell'industria musicale (Ariana, Miley, Demi, Hilary, Selena ecc), oppure si sparisce dalla scena rapidamente dopo aver sperimentato pochissimo successo o non averne ottenuto affatto. Finora, la cantante ed attrice Bridgit Mendler sembra proprio far parte di questa schiera di meno fortunate.
Dopo il successo ottenuto con la hit "Ready Or Not", la cantante non è riuscita ad ottenere un buon risultato commerciale con il suo album di debutto, portando così la Hollywood Records a scaricarla dopo quest'unico progetto, un caso che ricorda abbastanza quello di Zendaya, altra disneyana che ha assaporato il successo con un unico brano, "Replay" (fra l'altro meno fortunato della hit di Bridgit), per poi non riuscire più a replicarlo.
Mentre la brava Zendy, dopo l'ennesimo insuccesso ottenuto anche sotto Republic, sembra essere ritornata a rivestire i panni di attrice in maniera definitiva, Bridgit sta per concedersi una seconda possibilità, che anche nel suo caso potrebbe rivelarsi determinante sull'andazzo futuro della sua carriera.
Durante una breve intervista concessa a giugno, la ragazza aveva infatti annunciato l'arrivo di un nuovo EP sotto Neon Gold Records, un'etichetta minore ma che comunque ha rapporti con artisti abbastanza importanti (Ellie Goulding, Marina and The Diamonds, Lana Del Rey, ecc). Il disco dovrebbe arrivare a breve, ed il singolo di lancio si chiama "Atlantis". Questa la copertina: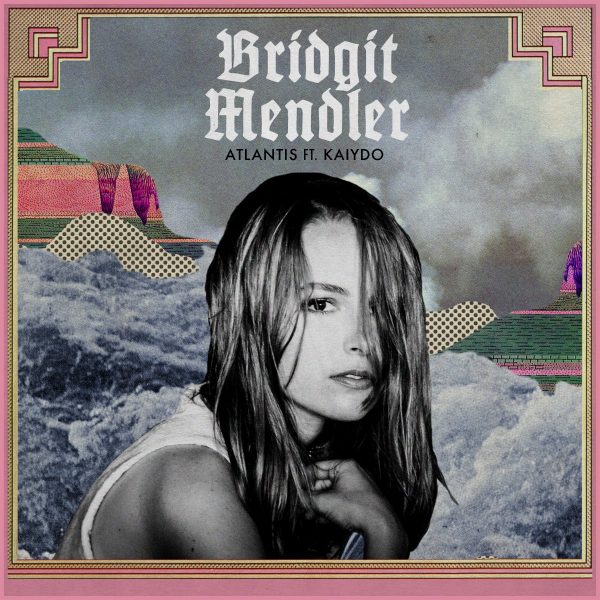 Rilasciato ufficialmente il brano. Una downtempo raffinata ma in cui la voce dell'artista viene modificata eccessivamente per poterci piacere. Ennesimo caso in cui una cantante che ha proposto piacevolissimi pezzi pop per fare l'alternativa rilascia qualcosa di inferiore.
Di seguito il video. Nella clip Bridgit ed alcune sue amiche entrano abusivamente nella casa di un ragazzo e mettono in scena un party mentre il malcapitato, in un'atmosfera decisamente surreale, continua a dormire per tutta la durata del video. Sicuramente la clip rende molto più piacevole la traccia.
https://youtu.be/JK8VoVqLXeY
Testo
[Verse 1: Bridgit Mendler]
Deep underwater
Is where I left my love
Clean at the surface
Shallow to the touch
Nothing left
He's a wreck
Buried deep in the sand
Now I don't feel a thing
When I'm holding his hand
And I'm asking myself
Will I shiver again[Chorus: Bridgit Mendler]
Oh I know how to feel
I know that love exists
But it's asleep with the fishes
Down in Atlantis
Oh my lord, where's my soul
How did we end up like this
Fast asleep with the fishes
Down in Atlantis[Verse 2: Bridgit Mendler]
Dig a little deeper
Baby hold your breath
Take a seat at the counter
Just give it a chance
Every bro
In the building
With his back to the wall
Not for me, be discreet
I should try not to yawn
I shut em' down, shut em' down
Like a sniper on call[Chorus: Bridgit Mendler]
Oh I know how to feel
I know that love exists
But it's asleep with the fishes
Down in Atlantis
Oh my lord, where's my soul
How did we end up like this
Fast asleep with the fishes
Down in Atlantis[Verse 3: Kaiydo]Hey, hey
I know sometimes we lose sight of hope
I know that you don't fall too often
When you do you grow
I know that life can have you lost
Like your compass broke
[?]
Just tryna be your rope
Oh
And I don't think they really know the rest of it
Everyday is Friday, so your calendar, irrelevant
Photobombing planets, never plan it
Take a better pic, knocking on the Lannisters
I'm surprised they let us in, let us in
I can see you working on your [?]
Working on your nerves, need a better occupation
You just say the word, and then we right back to the basis
When you out here ballin', gets you [?]
I'm just tryna [?]
We came from the bottom, I don't think you understand
I [?] high up in the sky, I guess that always was the plan
You was flying with me, I think I forgot to laugh[Chorus: Bridgit Mendler]
Oh I know how to feel
I know that love exists
But it's asleep with the fishes
Down in Atlantis
Oh my lord, where's my soul
How did we end up like this
Fast asleep with the fishes
Down in Atlantis