Britney Spears: confronto tra i suoi album + vota il tuo preferito
Britney Spears, un nome, una leggenda; tutti credono di conoscerla, ma molti in fondo sanno poco o niente di lei. In quasi 20 anni di carriera la Britta ha rilasciato 8 album tutti diversi tra loro, ha rischiato molto, dettato mode. Molta gente è stata rapita dalla sua personalità e si è concentrata maggiormente sul personaggio. Un vero peccato, perchè dentro a ciascun album (soprattutto i primi) si nascondono tante piccole perle.
La nostra lettrice Veronica Gurguis torna ad accompagnarci in questo nuovo viaggio, in cui ci presenterà in breve ma in maniera efficace gli 8 progetti discografici della Principessa del Pop.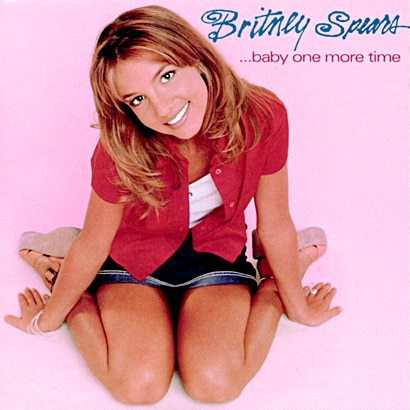 Partiamo con l'album di debutto "Baby One More Time" uscito nel 1999 dopo un anno e mezzo di lavoro tra Stati Uniti e Svezia insieme a produttori come Eric Foster White, colui che ha prodotto la maggior parte del disco, e Max Martin, entrato in scena tempo dopo.
L'album è composto da 14 canzoni: 6 canzoni composte da Eric Foster White, 3 da Max Martin e soci, 3 da Jorgen Elfusson e soci e più una cover di Sonny Bono.
Il tema principale è ovviamente l'amore che inizia a provare un'adolescente: troviamo canzoni malinconiche come "From The Bottom Of My Broken Heart", "E-mail My Heart" e " Born To Make You Happy" e brani più gioiosi come " Thinking About You" e " I'll Never Stop Loving You".
Pochi sanno che all'inizio Britney fosse più incline ad optare per un sound country-rock stile Sheryl Crow, ma poi accolse il suggerimento della label di fare pop.
Molti, d'altro canto, criticano il sound eccessivamente teen dell'album, io lo trovo perfetto per quel tipo di testi data anche l'età dell'interprete, e bisogna anche considerare che nel periodo in cui l'album uscì il teen pop andava tantissimo. Comunque, nella tracce è possibile apprezzare anche strumentazione, come il suono del piano e la chitarra classica in "Sometimes", " E.mail My Heart" e "From The Bottom Of My Broken Heart" quella che forse si avvicina di più al sound pensato inizialmente dalla cantante.
Non si può dimenticare di dire che in questo disco, Britney mostra il suo meraviglioso timbro in tutta la sua purezza e profondità, anche a livello di interpretazioni è assolutamente magnifico, Britney sente tutte le parole che canta.
"Baby One More Time" è l'album con cui sono diventata sua fan e fan della musica, è uno dei miei preferiti in assoluto per i tanti ricordi che mi ha regalato. Mi dispiace che venga criticato per il suo sound e soprattutto che vengano considerati solo i singoli, perché all'interno ha molte perle da scoprire.
Passiamo al secondo album " Oops I Did It Again", uscito l'anno dopo e che non si discosta molto dal precedente lavoro, ma qualche differenza e soprattutto una crescita la si avverte.
L'album è composto da 15 tracce, la maggior parte composte da Max Martin e Rami Yacoub, una da Diane Warren, un'altra dalla cantautrice country Shania Twain e a sorpresa troviamo la prima canzone co-scritta da Britney stessa. Ancora una volta troviamo 2 cover: una di "Satisfaction" Dei Rolling Stones e l'altra di "You Got It All" dei Jets
Il tema principale è ancora l'amore, stavolta si denota una piccola maturazione rispetto all'album precedente, anche se troviamo ancora brani di un'adolescente innamorata o delusa come " Stronger" considerata il continuo di "Baby One More Time", " Don't Go Knockin On My Door", " One Kiss From You", "Dear Diary" e "Can't Make You Love Me". La maturità si sente soprattutto nelle ballate come " Don't Let Me Be The Last To Know", " When Your Eyes Say It" e "Heart".
Sono presenti anche altri temi: la cover di "Satisfaction" parla dell'insoddisfazione giovanile e un attacco verso il consumismo degli anni 60, "Lucky" che parla invece di un altro tipo di insoddisfazione che ci fa sentire vuoti nonostante apparentemente non ci manchi nulla, e per finire " Girl In The Mirror" che parla della solitudine di una ragazza.
Come ho già detto il sound non si discosta molto dal primo album, ma si iniziano a notare influenze rnb che prenderanno il sopravvento con i futuri progetti, lo possiamo sentire un po' nella cover di "Satisfaction" prodotta da Darkchild e in "Stronger" e "Don't Go Knocking On My Door'. Inoltre sono presenti anche un po' di funky in "One Kiss From You", country-pop in "Don't Let Me Be The Last To Know e tracce acustiche come " Where Are Yo Now" e "Girl In The Mirror".
Ovviamente è ancora il teen-pop ad essere il protagonista, e per l'ultima volta, ma il bello è che queste tracce sarebbero risultate probabilmente fuori luogo nell'album di debutto.
A livello vocale, sentiamo un'altra delle tante sfumature del timbro della Spears: quella vocalità profonda che caratterizzava tutto il precedente album la si sente in pochissime tracce come in "Where Are You Now" in cui sfodera anche un bellissimo acuto , la cover di "You Got It All" e "Heart". Al suo posto troviamo una vocalità più sensuale, più pacata. Britney dà dunque prova di riuscire a fare uso variegato della voce.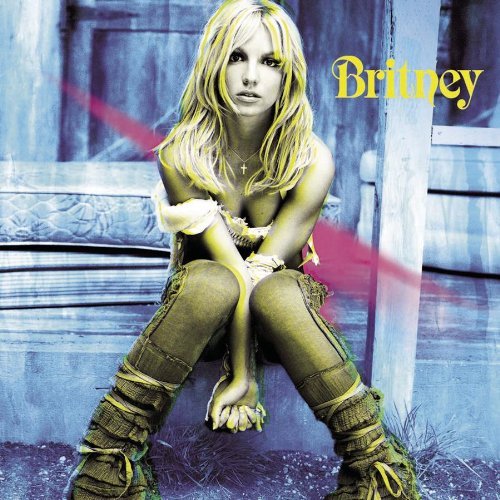 Il terzo album per un'artista rappresenta spesso un punto di svolta e per la Spears non è da meno: ''Britney" rappresenta l'inizio di una nuova lei, abbandonando completamente il teen-pop e l'immagine da girl next door. Britney inizia a sperimentare di più con la musica, chiamando nuovi produttori e lavorando anche con il suo fidanzato di allora, Justin Timberlake.
L'album è composto da 14 canzoni: 2 scritte dai The Neptures, 3 da Max Martin e soci, 6 co-scritte da Britney, una da Justin, un'altra da Jorgen Folsson e una cover degli Arrows.
L'amore adolescente cantato nei primi album cede il posto a un amore più maturo con molti riferimenti sessuali come in "I'm Slave For You", "Boys", anche le canzoni sognanti non sono da prima cotta, si sente una Britney più concreta e "reale".
A differenza dei precedenti album troviamo più tracce che non parlano d'amore: "Anticipating" che parla di una serata tra amiche, " Overprotected" che parla della sua stanchezza di essere manipolata, " I'm Not A Girl Not Yet A Woman" che invece parla della difficoltà emotive che prova una ragazza negli anni della pubertà, per quanto mi riguarda il tema portante di tutto il disco.
In quanto al sound, si sente una totale evoluzione e cambiamento rispetto ai primi 2, come già accennato il teen pop è sparito completamente per dare spazio a ritmi tendenti più all'rnb/urban come "I'm Slave For You", "Boys" e "Lonely"; al electro/dance-pop come "Anticipating" e "Before The Goodbye" e a un pop più adulto come " "Overprotected" e "What It's Like To Be Me" e "Let Me Be"
Anche in quest'album sentiamo un'altra sfumatura del suo timbro e anche un nuovo modo di cantare, un po' più parlato che cantato come in "Boys" e "Slave", dando un'ulteriore prova della versatilità dell'interprete.
Per chi fosse abituato ad una Britney più spensierata e dolce, quest'album fu quasi uno shock, però non è stato il mio caso.
Dopo 3 album rilasciati di fila, Britney si prende più tempo per il quarto " In The Zone" uscito nel 2003 e che segna completamente la svolta sexy e adulta.
La direzione del disco prese forma man mano durante la composizione, Britney partecipò di più rispetto al precedente disco co-scrivendo metà album e scegliendo personalmente i produttori principalmente nuovi, lasciando da parte Max Martin per la prima volta. Inolte troviamo 2 duetti, con Madonna e Ying Yang Twins.
L'album è composto da 14 tracce, 9 tracce co-scritte da Britney, il resto diviso tra alcuni autori tra cui i più famosi R Kelly e Puff Daddy.
Il tema dell'amore sensuale anticipato in "Britney", in In The Zone regna sovrano in tracce come " Breathe On Me", "Touch Of My Hand" , " Showdown" ed " Early Morning". Altre tracce che parlano d'amore sono " Toxic", "The Answer" e "Don't Hang Up", l'unica in cui si sente il vecchio vibe di Britney. Non posso non citare "Shadow" ed "Everytime" dedicate a Justin Timberlake e infine 2 canzoni che parlano della voglia di ballare " Me Against The Music" e "The Hook Up"
Ma è il sound la vera evoluzione dai primi 3 album: ciò che predomina è la chitarra classica accompagnata da un beat artificiale molto lieve e lo sentiamo in " Me Against The Music", "The Answer", "Early Morning" ed " I Got That (Boom Boom)". Troviamo tracce electro-pop come "Breathe On Me", "Brave New Girl" e Toxic e con influenze medio-orientali come "The Hook Up" e "Touch Of My Hand"
A livello vocale, Britney prende lo stile cantato/parlato iniziato con il terzo album e lo utilizza nella maggior parte delle tracce, "Early Morning" ne è il perfetto esempio. Il suo 'vecchio" modo di cantare lo sentiamo in " Touch Of My Hand" e "Shadow" e nella ballata "Everytime" dove mette in mostra un altro lato della sua vocalità. Inizia a farsi sentire un po' di auto-tune in "Brave New Girl", caratteristica che diventerà predominante nei futuri lavori, purtroppo.
L'album non mi piacque subito, era stato un 'grosso' shock per me sentire il primo singolo, ero abituata al teen-pop ed al suo 'vecchio' uso della voce, ma dopo alcuni anni lo riascoltai e me ne innamorai: gli album più belli per me, ironia della sorte, sono sempre quelli che non mi colpiscono da subito.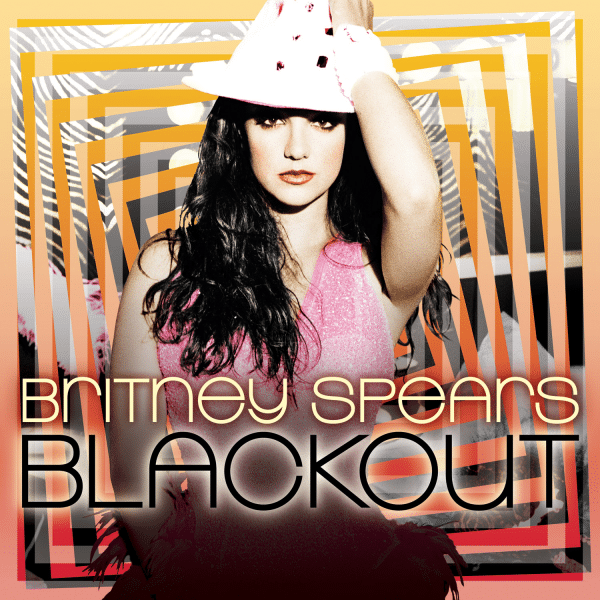 Dopo In The Zone, Britney mette su famiglia, si sposa, divorzia ed entra nel suo periodo buio e durante questo processo inizia a registrare il quinto album di nome " Blackout'', uscito nel 2007.
Britney si affida a diversi produttori tra cui i principali Danja e Bloodshy & Avant, ancora una volta Max Martin è assente.
L'album è composto da 12 tracce di cui 2 co-scritte da Britney, il resto è affidato ad autori professionisti.
I temi presenti nel disco non sono diversi rispetto agli album precedente: abbiamo dichiarazioni d'amore come "Ooh Ooh Baby", "Heave On Earth", canzoni sulla visione che hanno i media di lei in "Gimme More" e "Piece Of Me" e altre sul sesso come "Perfect Lover", " Get Naked"
A livello di sound assistiamo ad un'evoluzione del precedente album: l'electro-pop è portato ai massimi livelli in tracce come "Gimme More", "Heaven On Earth", "Break The Ice" che ancora oggi suonano all'orecchio come interessantissime, nonostante la iper-sperimentazioni e riproposizione di questo genere. Prima che arrivasse una certa Lady Gaga, ci pensò Britney con il suo Blackout a spingere il pop verso sonorità electro.  Troviamo intolre tracce di influenza urban come "Get Naked", "Toy Soldier" e "Hot As Ice" e la traccia "Ooh Ooh Baby" ha una chitarra da flamenco predominante nel corso della sua intera durata.
Molti criticano quest'album per l'eccessivo utilizzo di auto-tune, anche se la situazione non è così tragica come si potrebbe pensare, soprattutto considerato il genere di sound proposto, nel quale molti artisti hanno fatto abuso di modifiche alla propria voce, e se paragonata a quella dei lavori immediatamente successivi, dove l'auto-tune è più presente.
E' uno dei miei preferiti, anche con questo mi ci sono voluti molti ascolti per apprezzare ogni piccolo dettaglio e ancora oggi dopo 8 anni non mi ha stancata.
L'anno dopo esce "Circus" che segna definitivamente il ritorno di Britney nelle scene musicali, grazie al ritorno di Max Martin e l'entrata in scena di un altro famoso pop-producer: Dr Luke.
L'album è composto da 12 tracce: la maggior parte co-scritte/scritte dai 2 produttori citati sopra e 3 co-scritte da Britney.
Per quanto riguarda i temi troviamo delle analogie con il precedente album: insiste ancora la tematica del conflitto con i media e paparazzi come in "Kill The Lights" una sorta di seconda parte di "Piece Of Me", "Circus" che parla del mondo dello spettacolo, abbiamo 2 canzoni che parlano di un dongiovanni: "Womanizer" e "Shattered Glass" presumibilmente dedicate all'ex marito. Ci sono anche canzoni d'amori felici come " Unusual You" molto simile ad "Heaven On Earth" di Blackout, una che ricorda la tematica di " Early Morning", Blur", e una dedica ai figli.
Dopo un album con molte inclinazioni electro, assistiamo a un ritorno delle sonorità pop pure come in "Circus", "Lace & Leather", "If You Seek Amy" e "Mmm Papi" con qualche influenza latina. Ma troviamo comunque sound tendendi all'electro/dance-pop come in "Unusual You", anche in questo senso molto simile a Heaven On Earth, "Shattered Glass" e anche canzoni dal gusto urban come "Blur" e "Kill The Lights".
L"auto-tune inizia a farsi sentire di più, ma non in tutti i brani. Ancora apprezziamo la vocalità dell'interprete in "Blur", in cui ritorna la sua vecchia tonalità profonda del primo album, "My Baby", e anche "Kill The Lights" (a sprazzi) e "Out From Under".
A differenza di Blackout, mi è piaciuto fin da subito.
Proseguiamo con il penultimo album uscito nel 2011: "Femme Fatale", con questo Britney ha voluto creare un album di canzoni che mettessero voglia di ballare, quindi non ci sono vere e proprie ballate, ed è una novità unica per un suo album.
L'album è composto da 17 tracce con un'unica traccia co-scritta da Britney, gli autori principali sono Max Martin e Dr Luke, che hanno prodotto la maggior parte dell'album insieme ai Bloodshy Avant e Darkchild.
I temi non si discostano molto dai precedenti album, il 99% dell'album parla d'amore, che sia romantico come in 'Trip To Your Heart" e "Seal With A Kiss" o sensuale come in "Hold It Against Me" o triste come in "Criminal", "Inside Out" e "He About To Lose Me". C'è una canzone che parla di ballare, tema che abbiamo già trovato nei precedenti 3 album ed è "Till The World Ends" e un'altra che si potrebbe riassumere nelle 2 parole carpe diem, ed è "Don't Keep Me Waiting"
L'album è molto coeso: è la dance che predomina eccetto in " Criminal" , " He About To Lose Me", "How I Roll" e "Don't Keep Me Waiting". Proprio quest'ultima è la vera chicca dell'album, avrei voluto che ci fossero più tracce di quella qualità e meno tracce come "Big Fat Bass" ed "Up n Down", per citarne due.
Purtroppo in quest'album, l'auto-tune ha "ucciso" completamente la vocalità di Britney, che si sente un po' di più in brani come "He About To Lose Me" e "Don't Keep Me Waiting" solamente.
Questo è l'album che meno preferisco di Britney, non lo ascolto mai, perchè non mi dice nulla di Britney e di quello che sente, per colpa della modifica della voce, non sento la stessa intenzione, passione e interpretazioni che negli altri album eccellevano (sopratutto i primi) e mi facevano sognare. Agli altri fan piace perchè è ben prodotto e ha tanti miscugli di sottogeneri della dance/electropop mischiati in un'unica traccia, però a me questo aspetto non è mai importato.
E siamo giunti all'ottavo e ultimo album pubblicato nel 2013 di nome ''Britney Jean" il suo album più personale come lei stessa ha detto dedicandolo ai fan e per la terza volta, Max Martin non compare e cede il "suo" posto a Will I Am, David Guetta e altri produttori.
L'album è composto da 13 tracce: è l'unico disco finora ad avere Britney tra i credit come autrice di tutte le canzoni. Sono presente tre duetti: uno con Will I Am, uno con il rapper T.I. e l'altro con la sorella Jamie Lynne.
L'amore è ancora una volta il tema trainante di tutto l'album essendo stato ispirato dalla sua relazione con Jason, molte tracce sono dedicate a lui come "Don't Cry", "Perfume", "Till It's Gone", " Hold On Tight". Troviamo una canzone che parla di sentirsi soli di nome "Alien", "Body Ache" che richiama "Till The World Ends", "Chillin With You" che parla di sorellanza e infine "Brightest Morning Star" che io l'ho sempre vista come una dedica ai figli, mentre Britney dice che è per Dio.
Per quanto riguarda il sound, si lascia la coesione dell'ultimo album per un mix di electro-pop/dance come "Work Bith", "Now That I Found You", Body Ache" e di un sound più melodico composto da piano e chitarre acustiche come "Hold On Tight", "Chllin With You", "Don't Cry".
Fortunatamente, l'auto-tune non si sente come nel precedente album, è stato usato di meno senza alterare in maniera così invasiva, eccetto in "It Should Be Easy", la peggiore dell'album secondo me. La sua splendida vocalità risalta nelle ballate, ma soprattutto in "Passanger", dove sembra di riascoltare la Britney degli esordi.
Ho apprezzato quest'album per via delle tante ballate e della sua voce più al naturale, anche se non avrei voluto tutte quelle tracce dance che non si amalgamano bene con quelle più lente, fossero state più pop come "Passenger" sarebbe stato meglio.
Nella nostra analisi non menzioniamo le due raccolte My Prerogative e The Singles Collection per ovvi motivi, tuttavia potrete votare anch'essi nel nostro sondaggio: