Bruno Mars blocca il comeback di Justin Timberlake
Bruno Mars é riuscito a bloccare Justin Timberlake!
Sfida tutta al maschile alla teste della classifica iTunes Americana! Bruno Mars con la sua Finesse insieme a Cardi B, é sorprendentemente riuscito a bloccare Justin Timberlake con il suo singolo Filthy!
Il cantante di 24k Magic si colloca infatti alla numero 1, tallonato da Timbarlake che dopo un inizio timido, é fisso alla numero 2 della classifica! Questo potrebbe trasformarsi anche in una realtà nella prossima Billboard Hot 100!
Timberlake ha azzardato molto, per molti anche troppo, ed nelle classifiche internazionali non si é imposto per ora come ci si aspettava.
Mars dal canto suo sta compiendo un vero miracolo, riportando l'R&B di un tempo, agli apici delle classifiche, una missione che speriamo faccia da battistrada anche per altri artisti.
La sfida al maschile per ora sembra a vantaggio di Mars, anche se i pronostici dicevano il contrario! Timberlake però ha già pronta una nuova canzone per venerdì… vedremo cosa succederà.
Cosa ne pensate?
---
Bruno Mars insieme a Cardi B, attacca su iTunes USA, ed arriva alla numero 1!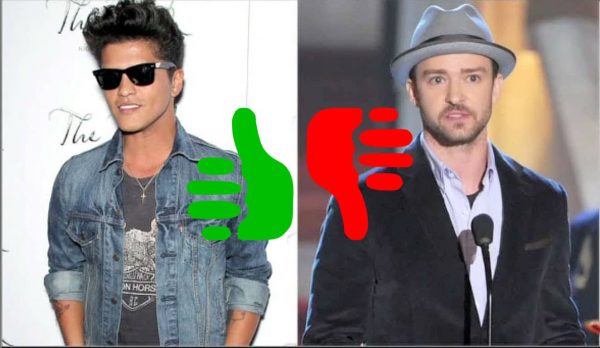 In 24 ore sono usciti un remix di Bruno Mars, che lancia ufficialmente un nuovo singolo da 24k Magic, ed il primo singolo di Justin Timberlake Filthy, dal suo nuovo album "Man Of The Woods".
Sulla classifica digitale non si é fatto attendere l'exploit di Bruno, che furbamente ha messo in collaborazione con lui la fenomeno rap del momento, Cardi B! I due si trovano alla numero 1 con Finesse, meritatissima, visto che il pezzo é un grandissimo tributo alla musica New Jack Swing, ed alla musica R&B che piace a noi!
Sembra invece tiepida la reazione dei fan al ritorno di Justin Timberlake, Filthy ha spiazzato, con delle sonorità forse troppo originali? Fatto sta che il brano di Timberlake con Timbaland e Danja, si é fermato per ora ad una posizione 30 dei brani più scaricati negli USA.
Tanti sono i fans che si trovano spiazzati dal sound, ma é ancora troppo presto per esprimersi. Come fu per "SexyBack", JT é noto per le sue evoluzioni inaspettate, ed anche questa volta il pezzo potrebbe crescere con gli ascolti e dare tante soddisfazioni al cantante.
Chi pensava che Justin ribaltasse Bruno però si é dovuto ricredere, Mars ha giocato stupendamente la carta di Finesse, con un video allegro e vivace, e strizzando l'occhio anche alle generazioni che sono cresciute negli 80 e 90…
Vedremo se Filthy riuscirà ad arrivare alla numero uno! Quello che é certo che nelle prossime settimane uscirà ogni venerdì un nuovo brano di Justin Timberlake, e siamo certi che ci saranno diverse sonorità al suo interno.
Noi tifiamo per entrambi! Hanno sicuramente portato sul piatto due pezzi eccellenti, e con produzioni fuori dalla solita solfa di questi anni.
Cosa ne dite?