Céline Dion & Nicki Minaj si scambiano complimenti a distanza
Nicki Minaj adora Céline Dion e Céline Dion adora Nicki Minaj. Dichiarazioni di stima sui social, tutto partito da un video super cliccato della bombastica artistica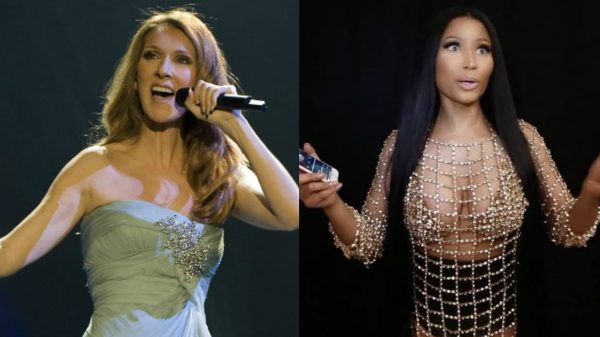 Anche le celebrities hanno i loro idoli musicali ed evidentemente uno di quelli della rapper Nicki Minaj è la diva delle dive, Céline Dion. In effetti, come darle torto?
Un paio di giorni fa la femcee, recentemente tornata in pista con tre inediti (QUI per ascoltarli), ha pubblicato su instagram un simpatico video nel quale si diverte ad interpretare (in playback, non potrebbe essere altrimenti) un pezzo di Céline Dion, che sta ascoltando con il suo smartphone come una fan qualsiasi.
Il brano in questione è It's All Coming Back to Me Now, originale di Jim Steinman la cui cover è stata resa celebre appunto dall'artista canadese nel 1996, quando la registrò per inserirla nell'album Falling into You. 
Ecco la performance di Nicki, con un'intensità quasi teatrale:
Quello che è nato come un momento di libertà dietro le quinte, è arrivato agli occhi dell'artista "imitata", che non ha mancato di complimentarsi con la sua imitatrice:
Excellente interprétation !! / Good job @nickiminaj!! 😂👍-TC https://t.co/XjUZ6IqkCh pic.twitter.com/f4RPygPfBB

— Celine Dion (@celinedion) 15 marzo 2017
"Interpretazione eccellente, bel lavoro @NickiMinaj"
A questo punto è stata la Minaj a rimanere di stucco per la risposta di Céline, e già che c'era ha svelato al mondo la sua adorazione per lei:
🙏🏽😳 I love you so much. 👑 thank you!!! 😍 https://t.co/nOzTSvY9GY

— NICKI MINAJ (@NICKIMINAJ) 15 marzo 2017
"Ti adoro così tanto, grazie"
E su instagram ha "rincarato la dose", menzionando tra l'altro Ariana Grande…
"Guardate chi mi ha scritto!!! Aspettate che lo dica a mia mamma"
Insomma, Nicki ha reagito come avrebbe reagito un fan qualunque alla risposta del suo idolo, e il siparietto tra le due è stato davvero simpatico.
Non ci resta ora che lasciarvi alla canzone "incriminata", It's All Coming Back to Me Now.