Charlie Puth presenta il terzo singolo del suo secondo album in studio. Si intitola If You Leave Me Now, e contiene una collaborazione di prestigio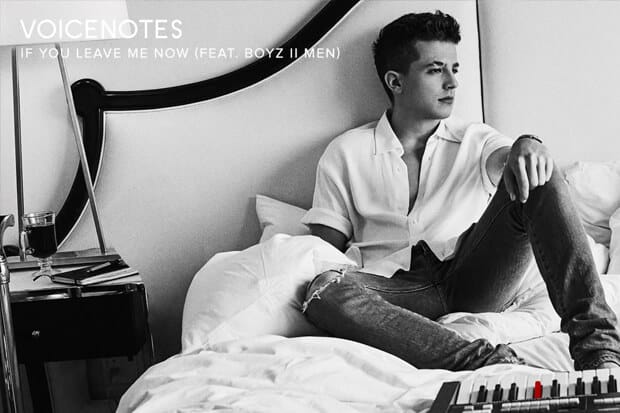 Per il terzo singolo che anticipa Voicenotes, il giovane cantautore Charlie Puth ha potuto contare sulla partecipazione del celebre gruppo vocale Boyz II Men, formazione di grande successo negli anni '90.
La loro collaborazione si intitola If You Leave Me Now e, nonostante l'indubbia qualità, nel complesso risulta a tratti troppo monotona, o per lo meno priva di quella marcia in più che ci si potrebbe aspettare dalla loro unione.
[testo] [Verse 1: Charlie Puth] No, this is not goodbye
I swear that I'm gonna change
No, baby, please don't cry
It doesn't have to end this way [Pre-Chorus: Charlie Puth] 'Cause when I think of all the nights I'll be alone
I get terrified
Please don't say goodbye [Chorus: Charlie Puth] 'Cause girl, if you leave me now
If you give it up and just walk right out
You will take the biggest part of me
And all the things that I believe
Baby, if you leave me now (yeah) [Verse 2: Boyz II Men] When did we lose our way?
My whole world was unravelling
And girls driving me insane
There's no road for the travelling [Pre-Chorus: Charlie Puth & Boyz II Men] When I think about all of the nights you're gone
(Nights you're gone, oh)
I get terrified (I get terrified)
Please don't say goodbye (Bye) [Chorus: Charlie Puth & Boyz II Men] 'Cause girl, if you leave me now
If you give it up and just walk right out (oh)
You will take the biggest part of me
And all the things that I believe
Baby, if you leave me now
Oh, baby, if you leave me now [Bridge: Charlie Puth] Oh, I can promise if we parted (parted)
And if you left me brokenhearted
Every single night, I'll think about you with someone else
Baby, if you leave me [Chorus: Charlie Puth & Boyz II Men] Baby, if you leave me now
If you give it up and just walk right out (oh)
You will take the biggest part of me
And all the things that I believe
Baby if you leave me now
Oh girl, if you leave me now
If you give it up and just walk right out (oh)
You will take the biggest part of me
And all the things that I believe
Baby, if you leave me now
Oh, baby, if you leave me now [/testo]