Chris Brown: arrestata un'altra donna che si intrufola in casa, e reazione della ex a "KAE"
Tutte pazze per Chris Brown? Il talentuoso cantante non sembra più essere nemmeno in grado di godersi un po' di tranquillità all'interno delle proprie mura domestiche. Poco tempo fa vi abbiamo parlato dell'episodio in cui Chris tornato a casa dopo una serata in un club, ha trovato una donna nuda nel suo letto, la quale aveva compiuto atti vandalici nell'abitazione di Brown e sulle sue auto, e messo in piedi degli altarini vodoo (Leggete QUI).
Il cantante si è preso un bello spavento, ma non è finita qua. Un'altra donna infatti è stata arrestata martedì scorso perchè si rifiutava di abbandonare il cortile dell'abitazione di Brown, nonostante l'intervento della security dell' entertainer. La donna 27enne, già nota alle autorità, si era appostata fuori la villa in attesa che il cancello venisse aperto, ed una volta che ciò è avvenuto, si è intrufolata nel cortile, rifiutandosi di andarsene. Chris era in casa con sua figlia Royalty, ma non è uscito ed ha lasciato che la sicurezza si occupasse di tutto.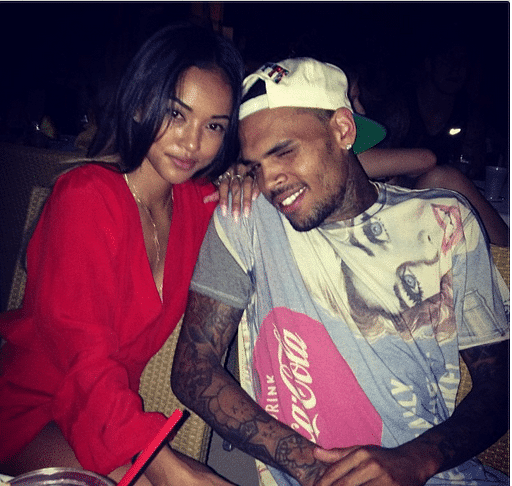 Parliamo ora di Karrueche Tran, modella di origini vietnamite che ha avuto una relazione durata diversi anni con l'interprete, caratterizzata però dalla presenza di alti e bassi. La bellissima ragazza ha deciso di allontanarsi definitivamente (per ora!) da Breezy quando è venuta a sapere della piccola Royalty, proprio quando lei pensava di fare il passo decisivo e sposare Chris (ma Chris non voleva saperne all'epoca).
Chris Brown nel suo nuovo album Royalty si rivolge a Kae (il soprannome della modella) in maniera specifica in una traccia dell'edizione deluxe, intitolata appunto proprio "KAE". Il testo parla della fine del loro amore, ma può essere intesa come una vera e propria diss track, dove addirittura CB la definisce come "estranea ai suoi occhi." Ecco qualche stralcio del testo:
Cause you're a stranger in my eyes
Stranger in my eyes

I'mma be okay, my path is gonna get clearer
Live in the moment, keeping you in my back mirror

What you gonna do when nobody's at home? Yeah
Shoulda thought of that when you turned so cold babe

We were meant to fall, fall right out of love
And I can't even say that you were there for me girl
A Karrueche sembra essere dedicato anche il testo di "Zero", abbastanza tagliente anch'esso.
"Chiedi quante notti sto pensando a te: zero, zero. Ti ho dato il 100% ed ho ottenuto zero, zero. E pensavo che fossi tu quella giusta, poi hai cercato di scappare, hai trovato qualcuno migliore, come se non mi avessi mai incontrato. […] Zero, ecco quanto vali per me".
Come avrà reagito la ragazza a tutto ciò? A quanto pare non proverebbe alcun tipo di rancore nei confronti di Chris, augurandogli infatti solo il meglio per l'album e per la sua carriera in generale. Una fonte vicina alla modella ha affermato:
"Karrueche ha ascoltato il disco, ma non parlerà negativamente di Chris. Vuole che il disco faccia il successo possibile".
Anche Chris dal canto suo, in una recente intervista non si è lasciato ingannare da una domanda tendenziosa di uno speaker radiofonico, che voleva spingere Chris ad accusare Kae di aver approfittato della sua notorietà per avviare la sua carriera, ma ha augurato solo solo il meglio alla modella.
Chissà se un giorno i due potranno superare le incomprensioni e tornare assieme!