Chris Brown feat. Future – U Did It | Nuova canzone da Royalty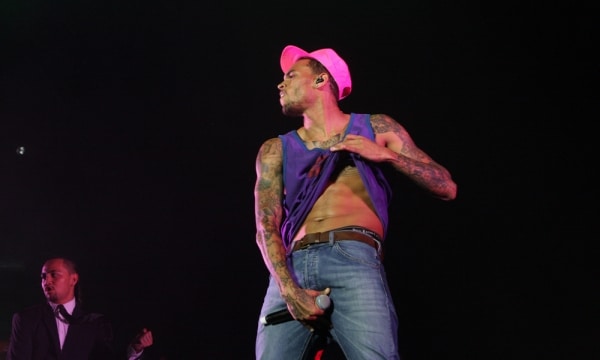 Esattamente tra dieci giorni (18 dicembre) il settimo disco solista di Chris Brown, Royalty, vedrà la luce in tutto il mondo. In questo periodo abbiamo avuto modo di ascoltare materiale estratto da questo nuovo progetto, come la bellissima slowjam R&B "Make Love", oppure il singolo promozionale "Wrist" in collaborazione con Solo Lucci, che mescola sapientemente Hip-Hop ed R&B, oltre che ovviamente i brani estratti ufficialmente "Liquor", "Zero", "Back To Sleep" e "Fine By Me".
Questa volta a trapelare online è un pezzo che figurerà solo nella versione deluxe del lavoro, e la chiuderà peraltro, si tratta di una collaborazione con il rapper Future (che però qui canta), intitolata "U Did It". Chris e Future avevano già avuto modo di collaborare nella traccia di DJ Khaled "Hold You Down".
Il brano è una bella ballad in stile R&B, Chris e Future si dividono la traccia senza interagire tra loro, parte Chris che dichiara la sua volontà di andare oltre e dimenticare la donna con cui aveva avuto una relazione, stando con i suoi amici e lasciandosi andare a vizi per dimenticare, preparandosi ad affrontare una nuova storia:
Bye bye, baby, goin' bye bye
Had her on the sidelines, now she goin' bye bye
La seconda parte del brano, interpretata da Future, invece racconta di una seconda possibilità data alla donna con cui si è appena troncata la relazione, che lo avrebbe reso "una persona migliore".
Put her hands out and bomb, she the truest
Make me pull up with the funds, I'll do it
Support you once, and again I'll do it
You want that brand new Benz, I'll do it
Nel complesso dunque questo pezzo parla di quelle sensazioni contrastanti e folli che si provano non appena si chiude una storia d'amore, ed ovviamente i riferimenti alla vita reale dell'artista non sono difficili da individuare: probabilmente infatti questa traccia è dedicata alla modella Karrueche Tran, ex fidanzata di Chris. Significativo è il fatto che questo brano figuri dopo la canzone "KAE", che ancora non abbiamo ascoltato (Kae è il soprannome di Karrueche).
Eccovi l'audio: