Chris Brown – Fortune (Recensione CD)
"Fortune" è il quinto studio album di Chris Brown. La sua release era prevista inizialmente entro la fine del 2011, ma dopo una serie di posticipi la casa discografica ha optato infine per un rilascio nell'estate del 2012.
L'album è chiamato a bissare il grande successo del precedente progetto, "F.A.M.E." che debuttò alla 1 in Billboard Hot 200 nel marzo 2011 con oltre 275 mila unità vendute.
Il titolo "Fortune" (fortuna) richiama proprio quello del precedente LP, quindi l'album concettualmente rappresenta una specie di sequel di F.A.M.E, ma si pone ad un livello successivo.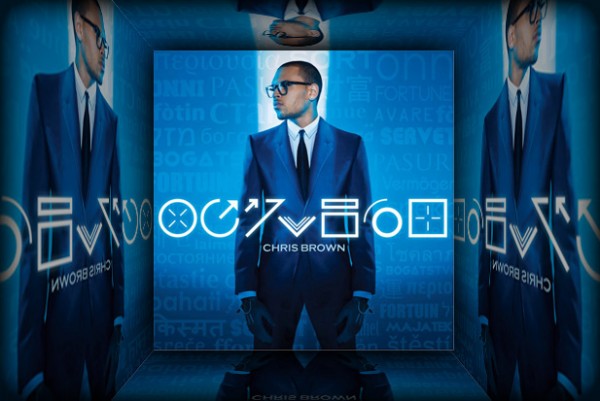 Fama e fortuna rappresentano l'obiettivo primario di Chris, il cantante virginiano ha confessato durante varie interviste che il suo più grande desiderio sia quello di primeggiare nella sua professione di entertainer. Fortuna secondo Chris non è solo fare soldi e godersi la vita, ma avere la possibilità di fare (come lui) ciò che più si ami.
Il titolo dell'album è scritto in codice, Chris si è servito di una serie di simboli dall'aspetto futuristico (il font utilizzato si chiama Stylebats). Una scelta coraggiosa quella di adottare dei simboli, che in passato fecero già i Led Zeppelin nel loro quarto album ("Led Zeppelin IV").
Passiamo ora all'analisi di "Fortune" da un punto di vista musicale. Le liriche di tutti i pezzi sono state composte dallo stesso Brown, che ha rivelato di essere stato coinvolto nel 99% dello sviluppo del progetto, ed ha prodotto anche alcuni pezzi ivi contenuti , come la collaborazione con Nas.
Con tutta franchezza quello che mi aspettavo basandomi sui primi singoli estratti era di dovermi confrontare con un album che sostanzialmente fosse la copia o la brutta copia del precedente, un disco un po' "furbo" e con molti pochi pezzi R&B. Anche cover e font futuristico, TV commercial, insomma tutto quanto nella promozione e nel concept non lasciavano presagire niente di buono per un ascoltatore affezionato alle sonorità R&B, che tanto vengono sdegnate dagli artisti in questi ultimi anni. Devo dire che mi sono ricreduto, del tutto. Qui ci troviamo di fronte ad un album con molte tracce R&B e urban, un ritorno alle origini per Chris, con qualche pezzo "furbo" pop-dance per accattivarsi il mercato europeo.
Analizziamo le canzoni:
Turn Up The Music: canzone prodotta dagli Underdogs e Fuego. Si tratta di una potente uptempo pop-dance frizzante ed elettronica, con influenze dubstep. Questo pezzo è stato creato e rilasciato con l'intento di guadagnarsi una hit mondiale prima dell'uscita dell'album, ed effettivamente così è stato. Poca originalità (è la musica che gira adesso), liriche deboli e ripetitive e voce troppo elettronica in alcuni punti, ma pezzo immediato e coinvolgente, non si riesce a stare fermi ascoltandolo.
Bassline: prodotta da Pop Wansel, Dayvi Jae. Molto interessante questo pezzo che vede Chris rappare e cantare su un beat futuristico. Di cattivo gusto il fatto di vantarsi del proprio membro sessuale. Devo dire che questo brano è piuttosto originale e caratteristico, e ci riporta per certi versi alle sonorità di "Graffiti", il terzo album di Chris. Ipnotica la voce aliena che ripete Bassline.
Till I Die: prodotta da Danja. E' una collaborazione con due nuovi ma già stimati nomi dello scenario hip hop: Wiz Khalifa e Big Sean. Si tratta appunto di una produzione hip hop non molto potente ma con un beat ricercato e particolare che mescola elementi provenienti da culture e periodi musicali diversi. Mi sarei aspettato una maggiore presenza di Chris sul pezzo, sembra che sia lui uno dei featured artists, dopo neanche un minuto dall'inizio infatti quello che si sente è quasi sempre Big Sean. Mi piacerebbe che Chris continuasse a confrontarsi con produzioni hip hop al 100%, ma vorrei sentire un pezzo in cui c'è solo lui (come nei suoi mixtapes). Molto spesso infatti si nasconde dietro volti già noti nello scenario hip hop.
Mirage feat Nas:è prodotta da Harmony e lo stesso Chris Brown, è uno dei pezzi migliori dell'album, si tratta infatti di una mid tempo R&B/Hip-Hop dal sapore old school, arricchita dalla presenza del rapper Nas.
Brown si dimostra uno tra gli artisti più versatili in grado di passare dal Pop alla Dance all'R&B e risultare convincente in ogni caso. Brano promosso, e potenziale singolo.
Don't Judge Me: è una ballata R&B prodotta da The Messengers, è il brano che secondo me colpisce di più per la sua immediatezza, in particolar modo la voce dolce di Chris e il ritornello ("Please don't judge me, and I won't judge you") contribuiscono in modo decisivo alla riuscita del pezzo. La sensazione che si ha ascoltando il brano è di dolcezza e onestà. Chris ci mostra un lato più sensibile, le liriche sono semplici e dirette, è una canzone velata di malinconia ma con un messaggio positivo. "Just let the past just be the past (…) take me as I am not who I was, I promise I'll be the one that you can trust".
Non abbastanza incisiva per essere un singolo, ma senza dubbio la traccia migliore del disco.
2012: producers del pezzo sono Adonis e Kevin McCall. Si tratta di una sexy midtempo. Questo è uno dei territori in cui Chris Brown riesce a muoversi molto bene, non c'è che dire. Il piano e la dolce voce di Chris riescono a creare magia e sensualità, il testo è abbastanza esplicito ma non volgare. Brano assoultamente promosso, è questo il Chris Brown che ci piace ascoltare!
Biggest Fan: prodotta da The Runners e The Monarch, è una mid tempo R&B, che manco a dirlo parla di sesso..canzone che richiede alcuni ascolti per essere apprezzata. Nulla di trascendentale intendiamoci, ma un brano fresco che si lascia ascoltare.
Sweet Love: prodotta da Polow da Don e Jason Perry è una slow jam dolce e sensuale, anche la clip che accompagna il brano ricrea a pieno l'atmosfera. La decisione di estrarlo come singolo è quanto meno discutibile, per quanto il brano risulti piacevole, rimane una traccia debole.
Strip: producers sono i Tha Bizzness. Questa uptempo inizialmente faceva parte del mixtape "Boy In Detention" rilasciato gratis online nell'estate del 2011, poi è stata riproposta come singolo estratto da "Fortune". Se consideriamo l'intera discografia di Brown a mio avviso ci troviamo di fronte ad uno dei suoi pezzi meno potenti. Tuttavia è piacevole all'ascolto ed orecchiabile, e mette in evidenza la bella timbrica di Chris. Tenderei a promuovere il pezzo, ma non l'avrei rilasciato come singolo.
Stuck On Stupid: prodotta da Brian Kennedy, Dante Jones e Tommy Hitts è una ballatona romantica particolarmente ispirata, che racconta come l'amore a volte è ci fa perdere la testa, e non c'è nulla che non faremmo per dimostrarlo alla persona amata. Non è la sua ballata migliore, ma sicuramente uno dei pezzi più apprezzabili di Fortune.
4 Years Old: il brano è prodotto da Polow da Don, Chris fa una riflessione sulla sua vita, non sempre il denaro e la felicità corrono di pari passo, e l'artista si sente come un bambino che sogna da grande di poter essere felice. Il beat è particolare, insolita la presenza di strumenti ad arco. Buona la prestazione vocale di Chris.
Party Hard/Cadillac: la produzione è stata affidata a Brian Kennedy e Boi-1-da. In Party Hard ascoltiamo violini associati ad un beat convulso. Pezzo molto piacevole all'ascolto. In Cadillac rallentiamo il ritmo ed apprezziamo la bella voce di Chris e Sevyn a cappella.
Don't Wake Me Up: i producers sono: Benny & Alle Benassi, William Orbit, Brian Kennedy, Free School. Questa potente traccia house era stata creata inizialmente per Madonna e sarebbe dovuta comparire in "MDNA", ma per mancanza di tempo la signora Ciccone non ha potuto registrare il pezzo, che è stato passato a Chris. Ricalca molto Beautiful People di "F.A.M.E.", soprattutto nella sua versione definitiva il beat è anche molto simile. Brano perfetto per le discoteche, sicuramente farà benissimo in Europa. Il ritmo incalza sempre più durante la strofa sino ad esplodere nel chorus insieme alla voce di Chris con dei bassi molto potenti.
Trumpet Lights: prodotta da Swizz Beatz (che aveva già lavorato con Chris in I Can Transform Ya) e cantata in collaborazione con Sabrina Antoinette, artista italo-americana emergente della CBe (l'etichetta creata da Chris). Incalzante ed accattivante uptempo dal sound futuristico e selvaggio. Il beat ricorda molto i suoni tipici dei videogames. Nel finale del pezzo tornano a farsi sentire le influenze dubstep. Potenziale singolo.
VERSIONE DELUXE:
Tell Somebody : La prima traccia presente nella versione Deluxe, è una midtempo R&B prodotta da Polow da Don e Harmon. Lo stile evoca i primi due album dell'artista, ma l'utilizzo di sonorità elettroniche la rendono più simile alle produzioni musicali attuali. Il punto di forza del brano? Il solito mix di dolcezza e sensualità che caratterizza buona parte dell'album!
Free Run: Alla produzione troviamo The Underdogs, ed è su questo pezzo che Chris tira fuori la voce, si tratta di una midtempo dall'atmosfera sognante, le liriche sono romantiche ma un tantino banali..lodevole il tentativo di utilizzare la voce in modo differente dal solito.
Remember My Name (feat. Se7en): è prodotta dai Free School, è una midtempo con influenze dubstep, il ritornello è un pò monotono. A mio giudizio qui si ripresenta il problema già riscontrato in altri brani, canzone buona ma che scivola via..
Wait For You: Questa è tra le tracce più particolari dell'album, il beat è elettronico e come già notato in Trumpet Lights i synth utilizzati assomigliano molto ai suoni tipici dei videogames, le liriche sono romantiche e lo stile del cantato ha un gusto soul. Un mix decisamente ben riuscito, il risultato è una traccia allegra e divertente che scorre piacevole all'ascolto. C'è da chiedersi come mai questa traccia insieme a Tell Somebody non sia stata inclusa nella standard edition.
Touch Me (feat. Se7en): Nulla di nuovo all'orizzonte, Chris duetta ancora con Se7en, ex componente del girl group Rich Girl, e come nelle precedenti collaborazioni tra i due, il tema centrale del brano è il sesso..sa tutto di già sentito, sicuramente il brano meno incisivo di questa Deluxe Edition.
Nel complesso Fortune è un disco piacevole all'ascolto e come sempre mette in evidenza l'incredibile versatilità di Chris, ma è poco potente ed incisivo, molti pezzi per essere veramente apprezzati necessitano di più ascolti. I singoli rilasciati non sono stati un buon biglietto da visita. Sicuramente è lodevole il tentativo del cantante di tornare su un livello R&B e quindi per questo motivo considero questo album superiore artisticamente rispetto al precedente, che mirava esclusivamente ad un rilancio di Chris nel business.
Se vi piace l'R&B allora dovete assolutamente acquistare l'album, perchè sono veramente pochi gli artisti che puntano ancora su questo tipo di sonorità nei loro nuovi lavori. Tuttavia a mio modo di vedere mancano dei pezzi R&B veramente veramente convincenti, si sente inoltre la mancanza di tracce urban potenti alla Kiss Kiss o alla Look At Me Now. Bene le tracce pop-dance ma sostanzialmente si rimane sul livello dell'album precedente, quindi nessun passo in avanti.
Ci aspettiamo molto ma molto di più da un cantante come Chris Brown, che per quanto se ne possa dire, è uno che di talento ne ha da vendere. Probabilmente il fatto di rilasciare un disco all'anno non gli giova, come accade anche per altri artisti.
Voto complessivo: 3,5/5
Recensione a cura di Davide (@CbreezyItalia) e Clara