Chris Brown ha espresso un desiderio, partire in tour con tre delle più grandi superstar al mondo. Sui social non credono sia all'altezza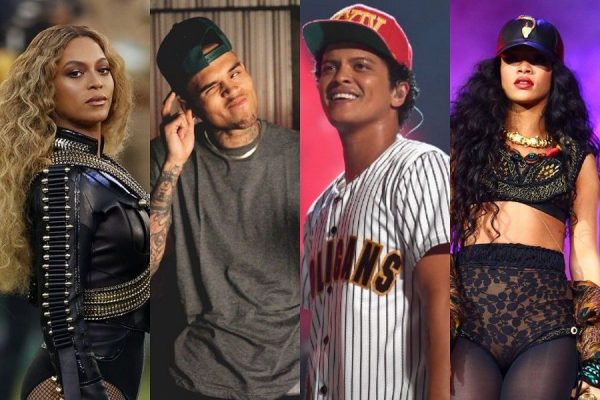 Lo scorso 9 febbraio Chris Brown ha lanciato l'idea di organizzare un super tour assieme a Beyoncé, Bruno Mars e Rihanna, la sua ex.
Just thinking…. A CRAZY WORLD TOUR would BEYONCE, RIHANNA, BRUNO MARS, CHRIS BROWN. "2 for 2". And if y'all decide to do it without me… give me 10%. 😏

— Chris Brown (@chrisbrown) 9 febbraio 2018
Quello che sembrava un innocuo tweet, in realtà ha creato non poco scompiglio tra i fans delle stelle della musica nominate, in particolar modo i BeyHive. Il motivo? Chris Brown ha accostato il suo nome a tre artisti ben più importanti di lui, mossa ritenuta azzardata ed egocentrica. Insomma, un confronto esagerato per uno che si mette in mezzo ai "più grandi" senza meritarlo. C'è chi addirittura dice che al massimo potrebbe fare il loro opening act:
Rihanna is a full-out mogul. Beyoncé is hailed as the greatest living entertainer by legends. Bruno has done with 3 albums what Chris Brown still hasn't achieved after 8. Are you trying to drag him yourself or are you really this delusional? https://t.co/ao5wa3AxRd

— ladies is pimps too (@ultimatenegro) 10 febbraio 2018
yall really trying to convince people that chris brown has classics and is on par with beyonce? delusional

— camille (@camilllionairre) 12 febbraio 2018
.@chrisbrown you should've said a world tour with Usher, not Beyonce. You no where near her level. Whoever gassed you up, lied to you

Beyonce has more #1 albums and #1 hits than you.
Beyonce doesn't lip sync. And she can sing & dance at same damn time! Something you can't do

— Kayla's Dad (@Byron_mk7r) 12 febbraio 2018
y'all smokin crisp dick if you think Chris Brown could bring anything to a Beyonce/Rihanna/Bruno concert.

— kit es muy frio (@kxxvik) 10 febbraio 2018
I'm so tired of yall hyping up Chris Brown and his dancing. Like that nigga is gassed up way too much just to be doing some simple ass pop/lock and flips. If he were to EVER get the opp to go on tour with Bruno,
Rihanna, or Beyonce, he'd be opening for them IN THAT ORDER. pic.twitter.com/4ZE0BkU2BW

— 🌻🍯🍋 (@virgheaux_) 12 febbraio 2018
😂😂😂💀💀💀💀😂💀💀 Chris Brown fans so delusional some think he's a better performer than Beyoncè 😂😂😂 Beyoncè sells out stadiums world wide stoppppp itttt 😂

— aunt veev (@veevgabrielle) 13 febbraio 2018
y'all just be retweeting anything. Rihanna has 14 #1 hits, Bruno Mars has 7 #1 hits, Beyoncé has 6 #1 hits and Chris Brown only has 2. That nigga ain't no where close to their level and y'all need to stop boosting him pic.twitter.com/sAMoZJTMvG

— reggie (@1942bs) 11 febbraio 2018
Chris Brown's boxscores from his recent tour. Struggled to sell out arenas, but somehow he's on Beyoncé's lvl and surpassed Michael Jackson. 💀😂💀 pic.twitter.com/9gj6L440Zz

— TenNumber-OnesBish (@BeyonceStanBish) 12 febbraio 2018
chris brown really put himself in the same category as rihanna, beyonce, and bruno mars. i'm logging off.

— king crissle (@crissles) 9 febbraio 2018
Che la carriera di Chris Brown abbia subito un brusco calo dopo un inizio stratosferico (addirittura alcuni lo definivano il degno erede di Michael Jackson) è indubbio, ma è altrettanto vero che, numeri a parte, quel talento è rimasto intatto.
Secondo voi Brown può permettersi di mettersi al livello dei colleghi citati o, ad oggi, la distanza tra loro è incolmabile?