Christina Aguilera STREPITOSA canta "Fighter" per Hillary Clinton (VIDEO)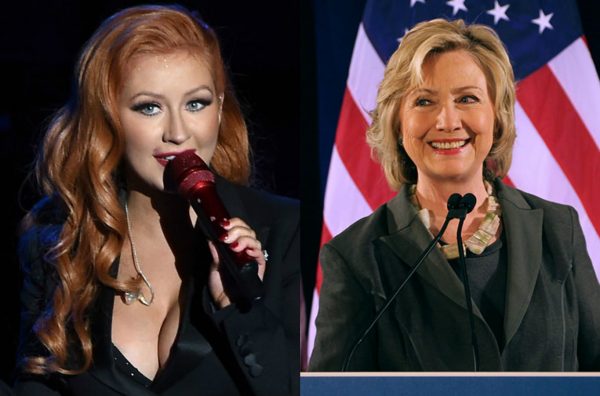 Il dado è ormai tratto, gli americani in queste ore stanno votando e presto sapremo chi sarà il 45° Presidente degli Stati Uniti d'America tra Hillary Clinton e Donald Trump.
A differenza del rivale è innegabile che la Clinton abbia avuto dalla sua parte fin dall'inizio una folta schiera di celebrities pronte a spalleggiarla pubblicamente ed esibirsi durante i suoi comizi.
Abbiamo avuto modo di vedere il coinvolgimento di Madonna per queste elezioni (QUI per sapere di cosa stiamo parlando), ascoltato le parole della supporter n.1 di Hillary, Katy Perry (QUI per approfondire) e ammirato la grinta che Lady Gaga, Bon Jovi e Bruce Springsteen hanno messo sul palco di Raleigh per la chiusura della campagna elettorale (QUI per tutti i video).
All'appello non poteva mancare in questi ultimi giorni un'altra cantante da sempre portavoce della campagna #ImWithHer per portare alla Casa Bianca il candidato democratico.
L'artista in questione è Christina Aguilera, la quale ha voluto regalare il suo talento ad una raccolta fondi per la Clinton, andata in scena lo scorso 6 novembre.
Christina ha proposto due esibizioni sublimi, a conferma di come la sua voce sia tutt'oggi una delle più speciali del panorama, unica e inconfondibile.
Il primo pezzo offerto al pubblico è stato Change, il singolo di beneficenza pubblicato a seguito della strage di Orlando (QUI per ascoltare la versione studio). Una canzone che parla di amore e di speranza, scelta evidentemente perché la speranza è uno dei sentimenti che le trasmette la Clinton.
Dopo la performance di Change è stata la volta del suo cavallo di battaglia, Fighter, proposto in una versione acustica. In questo caso non esageriamo nel dire che è stata una delle sue esibizioni migliori degli ultimi anni. Una Xtina così è quella che vorremmo ascoltare sempre, è quella diva la cui assenza dalle scene sta diventando quasi insopportabile. Questa è la vera Christina Aguilera:
The definition of a fighter is someone who doesn't give up. Hillary, this one's for you. #ImWithHer #Vote #Fighter pic.twitter.com/r9Z2sv6kA2

— Christina Aguilera (@xtina) November 8, 2016
Come avete potuto vedere dai video, la donna ha indossato una t-shirt con il messaggio "Mai sottovalutare il potere di una donna", la stessa che rivediamo in un video-messaggio pro Hillary Clinton che ha pubblicato su instagram.
"Queste elezioni sono più importanti che mai. Per favore, uscite e fate la vostra parte, votate, votate, votate. Passate parola. A tutti i miei Fighters, a tutti i miei fans, a tutti. E' importante per tutti noi".