Christina Milian: biografia ed analisi della sua carriera
Oggi vi parlo di una delle artiste R&B più promettenti degli anni '00, che dopo un inizio molto positivo della sua carriera musicale quasi 15 anni fa, con gli anni si è un po' persa per strada, non riuscendo ad affermarsi definitivamente, per una serie di motivi che analizzeremo in questo articolo. L'artista in questione è Christina Milian, tornata a sorpresa sulle scene poco più di un mese fa con l'EP '4U', ma partiamo dall'inizio.
Christine Marie Flores, questo il suo vero nome, muove i primi passi nella musica in veste di autrice, c'è la sua firma infatti tra i credits di 'Play', hit mondiale dell'icona dell'R&B Jennifer Lopez. La visibilità ottenuta da questa collaborazione le fa ottenere il suo primo contratto discografico.
Nel Novembre del 2001 viene pubblicato l'omonimo album di debutto, che tra i produttori e gli autori, oltre a se stessa, vanta nomi del calibro di Bloodshy&Avant e Jermaine Dupri.
Il disco è anticipato dall'esplosiva 'AM to PM', una contagiosa uptempo Pop'nB, con la quale Christina si presenta al mondo come una "incontenibile teenager che vuole fare festa dal mattino alla sera". Il pezzo, molto catchy, radiofonico ed in linea con la musica che andava per la maggiore in quel periodo, raggiunge facilmente la Top30 della Billboard HOT100, la #3 in UK e la Top10 in Europa, lanciando in maniera più che positiva la sua carriera in tutto il mondo.
Per il divertente videoclip, la ragazza riesce ad ingaggiare uno dei migliori registi in circolazione (tutt'oggi), il mitico Dave Meyers. Piccola curiosità, tra i suoi ballerini c'è un giovane Kevin Federline, storico ex marito di Britney Spears.
Il secondo singolo estratto è 'When You Look at Me', pezzo meno esplosivo e coinvolgente rispetto al precedente, ma sicuramente più Pop e quindi europeo a livello di sound. E' con questa canzone infatti che Christina riesce ad imporsi nel vecchio continente, dove bissa la #3 in UK, raggiunge svariate Top10 in Europa e debutta nella Top40 della classifica italiana, partecipando anche al Festivalbar.
Presa dagli impegni di attrice e conduttrice, carriere che porta avanti contemporaneamente a quella musicale, la Milian non estrae altri singoli da questo album, nonostante il buon successo raggiunto. Questo è da considerarsi uno dei primi, grandi errori intrapresi dall'artista nella sua carriera. Molte tracce della tracklist sarebbero stati infatti dei potenziali singoli di successo e avrebbero potuto contribuire ad affermarla artisticamente. Segnalo l'infettiva 'You Make Me Laugh', la ballad 'Until I Get Over You' e l'uptempo R&B 'Got to Have You', che vi faccio ascoltare di seguito.
Nel Giugno del 2004 esce il suo secondo album 'It's About Time', alla produzione ancora Bloodshy&Avant, ai quali si affiancano nuovi autori.
Il disco è anticipato dal singolo 'Dip It Low', che si rivelerà il più grande successo commerciale della sua carriera. Il testo, sessualmente esplicito, viene mescolato ad un sound accattivante, R&B con influenze tipicamente orientali e ad un utilizzo della voce molto provocante. Il risultato è un concentrato di pura sensualità. Nell'iconico video vengono evidenziati tutti questi aspetti e Christina appare più sexy che mai.
I riconoscimenti non tardano ad arrivare: #5 nella Billboard HOT100 e certificazione Oro negli USA, #2 in UK, Top10 in Europa e nomination ai Grammy Awards. Con questo pezzo la Milian è letteralmente esplosa.
Ma col secondo singolo estratto da questo album inizia l'irrefrenabile discesa della sua carriera. Oscurato dall'enorme successo del suo predecessore, al quale era anche oggettivamente inferiore a livello qualitativo, 'Whatever You Want', pezzo Pop'nB piacevole, ma dalla produzione abbastanza dozzinale, fallisce miseramente nelle classifiche, raggiungendo la Top10 solo negli UK, unico paese che continua a dimostrarle un affetto costante.
Questa è l'ennesima dimostrazione di come la scelta dei singoli sia fondamentale per mantenere un buon successo ed affermarsi come star di livello mondiale, aspetto che troppe volte viene preso sottogamba da artisti e case discografiche. E così, a distanza di pochi mesi dal boom di 'Dip It Low', Christina Milian cade pian piano nel dimenticatoio.
A difesa di questa scelta, c'è il fatto che 'It's About Time' è forse un album di minore impatto rispetto a quello del debutto, nella sua tracklist infatti troviamo delle buone tracce, ma che avrebbero comunque fatto fatica a ripetere i successi del passato, poiché caratterizzati da sound un po' banali, già sentiti e a volte ripetitivi. Tra questi meritano di essere segnalati l'ipnotica 'Get Loose', la frizzante 'Peanut Butter & Jelly' e la down-tempo 'Miss You Like Crazy', che potete ascoltare di seguito.
Nel 2006 viene pubblicato il suo terzo (ed ultimo) album, 'So Amazin'.
Il singolo che lancia il progetto è 'Say I' feat. Jeezy. Per quanto abbia apprezzato questo pezzo, non era forte abbastanza per poter diventare la hit della quale la Milian aveva bisogno per tornare sotto i riflettori e riprendersi il titolo di "Promessa dell'R&B" che aveva ormai perso.
L'album si rivela un flop e Christina ne attribuisce la colpa alla sua casa discografica, colpevole di essersi completamente concentrata sul lancio di una nuova artista, una certa Rihanna e di non aver fatto quindi una promozione adeguata al suo disco. Accuse in parte vere, ma era comunque innegabile che l'album fosse il meno commerciale della sua carriera, composto da canzoni effettivamente piatte e noiose. Su 11 tracce, l'unica che ascoltavo per intero era 'She Don't Know', down-tempo latineggiante che vi posto di seguito.
Da questo momento non abbiamo più sentito parlare di Christina Milian, se non per i progetti televisivi e cinematografici ai quali prendeva parte e per il matrimonio col produttore americano The-Dream, col quale nel 2010 ha avuto una figlia, Violet.
Unica uscita musicale in questo lungo lasso di tempo è stata 'Us Against the World', validissima down-tempo dall'atmosfera epica e suggestiva, interamente scritta e prodotta dalla Milian, che in un primo momento sembrava potesse rappresentare il suo tanto atteso singolo di ritorno e che riuscì anche ad ottenere un buon seguito sul web, ma che è stata poi misteriosamente abbandonata e nemmeno pubblicata, altro irrimediabile errore.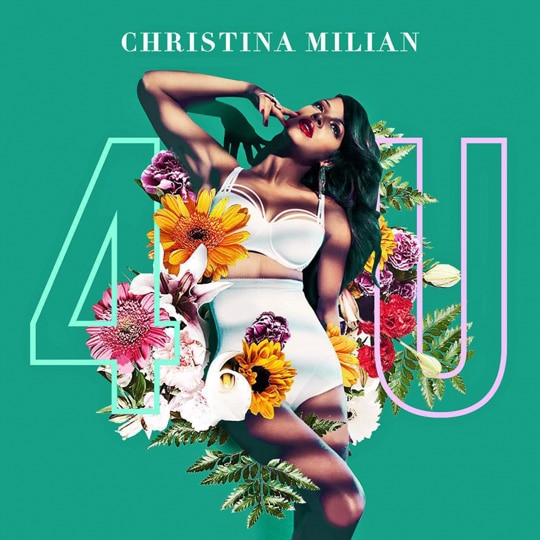 E siamo arrivati ad oggi, a 9 anni di distanza dall'ultima pubblicazione musicale, un mese fa l'artista è tornata con '4U', un nuovo EP che vanta collaborazioni con Lil Wayne e Snoop Dogg, dal quale sono già stati estratti 3 singoli promozionali con relativi video, 'Do It', 'Rebel' e 'Like Me', che potete vedere di seguito.
Nonostante gli alti e bassi della sua carriera ed i molti errori commessi, ho sempre visto Christina Milian come una delle più valide esponenti dell'R&B moderno, non solo una buona interprete, ma un'ottima autrice e produttrice, caratteristiche che la contraddistinguono rispetto a tante altre cantanti del suo genere. Mi auguro, con l'uscita di questo nuovo EP, che l'artista possa tornare al successo di un tempo o che quanto meno pubblichi un intero album di inediti. Personaggi importanti come Lil Wayne e Snoop Dogg hanno voluto collaborare al suo nuovo progetto e questa cosa mi fa pensare che non sono l'unico a sentire la sua mancanza.