Classifica album mondiale: gli One Direction firmano la terza best selling week del 2013
Dopo Justin Timberlake ed Eminem, anche gli One Direction debuttano con una cifra mostruosa: 1.206.000 copie. Il loro "Midnight Memories" supera nettamente anche il debutto di "Take me home" (1.045.000 copie). In questo risultato spiccano certamente le vendite negli USA (546.000 copie) e negli U.K (237.000 ).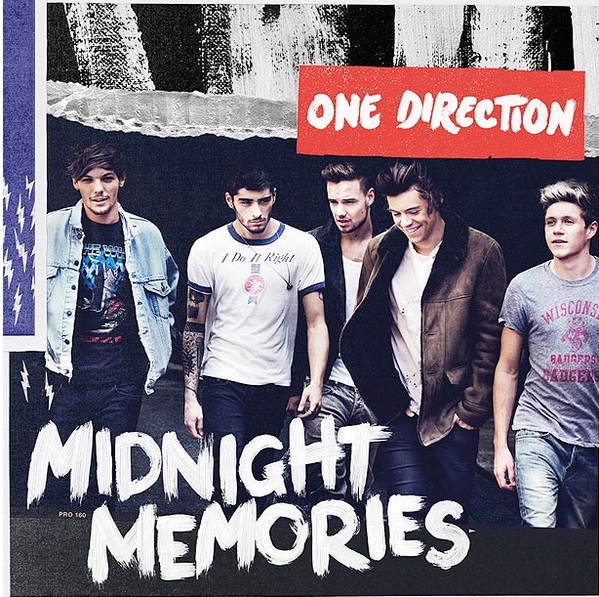 Per il resto la settimana è enormmente condizionata dal Black friday americano che ha fatto volare le vendite. Alla posizione numero 2 troviamo Eminem con "The Marshal Mathers Lp 2" che sfonda quaota 2 milioni di copie. Risale alla 3 Katy Perry con "Prism", per lei 216.000 copie. Alla 4 c'è "ARTPOP" di lady Gaga con 195.000 copie. L'album natalizio di questo 2013 sembra essere "Wrapped in Red" di Kelly Clarkson, il quale ritorna prepotentemente in top ten. Per trovare un album sotto le 100.000 copie dobbiamo scendere alla posizione 15 dove e` presente l'album natalizio che ha fatto sfracelli nel 2011 e nel 2012 "Christmas" di Michael Bublè.
Anche questa settimana troviamo un po' d'Italia nella classifica di Mediatraffic: alla 21 c'è "Mondovisione" di Ligabue con ben 70.000 copie. Grazie alle riedizioni ritornano in classifica i Florida Georgia Line e Oly Murs rispettivamente con "Here's to the good news (This is how we roll)" e "Right place Right time".
1– One Direction – Midnight Memories – 1206.000
2-Eminem – The Marshall Mathers LP 2  – 315.000
3- Katy Perry – Prism – 216.000
4- Lady GaGa – Artpop – 195.000
5- Kat-Tun – Kusabi- 168.000
6-Garth Brooks – Blame It All On My Roots – 164.000
7-Robbie Williams – Swings Both Ways – 160.000
8-Kelly Clarkson – Wrapped In Red – 145.000
9-The Robertsons – Duck The Halls: Robertson Family – 144.000
10-Gary Barlow – Since I Saw You Last- 118.000
11-Celine Dion – Loved Me Back To Life – 115.000
12- Luke Bryan – Crash My Party – 113.000
13- Miley Cyrus – Bangerz – 110.000
14-A Day To Remember – Common Courtesy – 107.000
15- Mivhael Buble – Christmas – 92.000

16-Justin Timberlake – The 20/20 Experience, Part 2 – 86.000
17-Drake – Nothing Was The Same – 85.000
18-Imagine Dragons – Night Visions  – 81.000
19-Lorde – Pure Heroine – 79.000
20-G-Dragon – Coup D'etat – 78.000
21-Ligabue – Mondovisione – 70.000
22-Mary J.Blige – A Mary Christmas – 69.000
23-Susan Boyle – Home For Christmas – 67.000
24-Florida Georgia Line – Here's To The Good News- 66.000
25-Stromae – Racine Carrée – 57.000
26-Olly Murs – Right Place Right Time – 54.000
27-Arcade Fire – Reflektor – 51.000
28-Marco Borsato – Duizend Spiegels – 50.000
29-James Blunt – Moon Landing – 49.000
30-Avicii – True 48.000