Classifica Singoli FIMI: Rovazzi comanda, Ferro monopolizza.
Eccoci giunti al consueto appuntamento con la classifica italiana, redatta dalla FIMI, che ci aggiorna su quali siano i singoli di maggior successo nella settimana che si estende dal 01/12 all' 08/12.
A differenza di sette giorni fa, sono due le new entry all'interno della top20, ma soprattutto sorprende il cambiamento del leader. In vetta troviamo un giovane che già conosciamo bene, amato da molti e al tempo stesso odiato da tanti. Indubbiamente, però, egli ha saputo crearsi un personaggio, attirando grandi attenzioni su di sé, tanto da riuscire a debuttare direttamente alla numero 1. Stiamo ovviamente parlando di Fabio Rovazzi, che centra subito il gradino più alto con Tutto Molto Interessante (QUI per il video). La canzone ha dominato per tutta la settimana su tutte le piattoforme, pertanto il debutto alla #1 era pressoché scontato.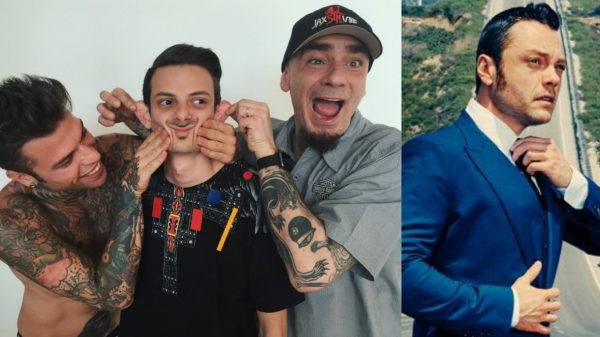 Tutto rinviato per Human. La canzone di Rag'N'Bone Man sembra essere destinata a non smuoversi dalla 2, pur essendo salita in quarta posizione su Spotify.
Perde quindi la vetta Assenzio, che scivola così alla 3, seguita dalla stabile Closer dei The Chainsmokers. Cede terreno una hit che per 6 settimane ha dominato la classifica: Let Me Love You passa oggi dalla 3 alla 5.
Subito dopo si posizionano i Maroon 5 con Kendrick Lamar con la loro Don't Wanna Know.
Riacquista linfa Tiziano Ferro: grazie alla pubblicazione del cd Il Mestiere Della Vita, il lead single Potremmo Ritornare risale di tre posizioni, portandosi alla 7. Non è l'unica canzone in top50 per il cantante di Latina. Lo ritroviamo alla 21 con la titletrack dell'album e alla 41 con Il Conforto, futuro secondo singolo, cantato in collaborazione con Carmen Consoli. Queste sono quindi le canzoni che il pubblico ha apprezzato maggiormente dell'intero progetto.
Scivola di una posizione Sia con The Greatest (8), seguita da una canzone che procede a gonfie vele. Stiamo parlando di Rockabye dei Clean Bandit, che per la prima volta entra in top10. A chiuderla ci pensa The Weeknd con Starboy in discesa di quattro gradini, a causa soprattutto del decremento nello streaming.
Fuori dalla top10 segnaliamo l'incredibile balzo in avanti di 6 posizioni (dalla 19 alla 13) per Cheap Trills: dopo 42 settimane è inspiegabile la forza del singolo di Sia.
Alla 17 troviamo la seconda new entry della top20: si tratta di Ulisse, brano del giovane rapper lowlow, pseudonimo di Giulio Elia Sabatello. Il motivo del successo è da cercarsi nei servizi streaming, dove la canzone è letteralmente esplosa.
Rispetto a sette giorni fa, non c'è più traccia in top20 di Bruno Mars (sceso alla 21) e per Black Beatles (22). Il brano che ha conquistato gli USA, dopo un buona partenza anche in Italia, sembra perdere già consensi, scendendo soprattutto nelle vendite.
Con il Natale alle porte dovremo aspettarci l'invasione delle canzoni natalizie: questa settimana Mariah Carey riesce già ad entrare all'interno della top50 con la sua storica ed immancabile All I Want For Christmas Is You. Lo scorso anno si era spinta fino alla 7…dove arriverà quest'anno?
Scoprite la top50 completa a pagina 2:
1) TUTTO MOLTO INTERESSANTE
FABIO ROVAZZI
2) HUMAN
RAG'N'BONE MAN
3) ASSENZIO
J-AX & FEDEZ FEAT. STASH & LEVANTE
4) CLOSER
THE CHAINSMOKERS FEAT. HALSEY
5) LET ME LOVE YOU
DJ SNAKE FEAT. JUSTIN BIEBER
6) DON'T WANNA KNOW
MAROON 5 FEAT. KENDRICK LAMAR
7) POTREMMO RITORNARE
TIZIANO FERRO
8) THE GREATEST
SIA
9) ROCKABYE
CLEAN BANDIT FEAT. SEAN PAUL & ANNE-MARIE
10) STARBOY
THE WEEKND FEAT. DAFT PUNK
11) NINNA NANNA
GHALI
12) COLD WATER
MAJOR LAZER FEAT. JUSTIN BIEBER & MO
13) CHEAP THRILLS
SIA
14) WE DON'T TALK ANYMORE
CHARLIE PUTH FEAT. SELENA GOMEZ
15) DON'T LET ME DOWN
THE CHAINSMOKERS FEAT. DAYA
16) MY WAY
CALVIN HARRIS
17) ULISSE
LOWLOW
18) IN THE NAME OF LOVE
MARTIN GARRIX FEAT. BEBE REXHA
19) LOST ON YOU
LP
20) SAI CHE
MARCO MENGONI
21) 24K MAGIC
BRUNO MARS
22) BLACK BEATLES
RAE SREMMURD FEAT. GUCCI MANE
23) TREAT YOU BETTER
SHAWN MENDES
24) ONE DANCE
DRAKE FEAT. WIZKID & KYLA
25) MERCY
SHAWN MENDES
26) HYMN FOR THE WEEKEND
COLDPLAY
27) IL MESTIERE DELLA VITA
TIZIANO FERRO
28) I HATE U, I LOVE U
GNASH FEAT. OLIVIA O'BRIEN
29) SAY YOU WON'T LET GO
JAMES ARTHUR
30) SCOOTERONI
MARRACASH FEAT. GUE' PEQUENO
31) HEATHENS
TWENTY ONE PILOTS
32) I FEEL IT COMING
THE WEEKND FEAT. DAFT PUNK
33) DON MEDELLIN
SALMO FEAT. ROSE VILLAIN
34) SAFARI
J. BALVIN FEAT. PHARRELL WILLIAMS, BIA & SKY
35) CAN'T STOP THE FEELING!
JUSTIN TIMBERLAKE
36) ANDIAMO A COMANDARE
FABIO ROVAZZI
37) ALL WE KNOW
THE CHAINSMOKERS FEAT. PHOEBE RYAN
38) LOVE ME NOW
JOHN LEGEND
39) CALL ON ME
STARLEY
40) ALL I WANT FOR CHRISTMAS IS YOU
MARIAH CAREY
41) IL CONFORTO
TIZIANO FERRO FEAT. CARMEN CONSOLI
42) ORONERO
GIORGIA
43) SIDE TO SIDE
ARIANA GRANDE FEAT. NICKI MINAJ
44) LOT TO LEARN
LUKE CHRISTOPHER
45) SCARS TO YOUR BEAUTIFUL
ALESSIA CARA
46) PERFECT STRANGERS
JONAS BLUE FT. JP COOPER
47) VORREI MA NON POSTO
J-AX & FEDEZ
48) RIDE
TWENTY ONE PILOTS
49) STARVING
HAILEE STEINFELD FEAT. ZEDD
50) CHANTAJE
SHAKIRA FEAT. MALUMA