Coldplay – A Head Full Of Dreams | Recensione CD
Con ben 6 album in studio all'attivo (7 con quello di cui di cui vi parleremo oggi) e molti singoli diventati dei veri e propri classici contemporanei ("Viva La Vida", "The Scientist", "Fix You", "Every Teardrop Is a Waterfall" e "Magic", giusto per citarne alcuni), i Coldplay sono una certezza in ambito musicale da ben 15 anni.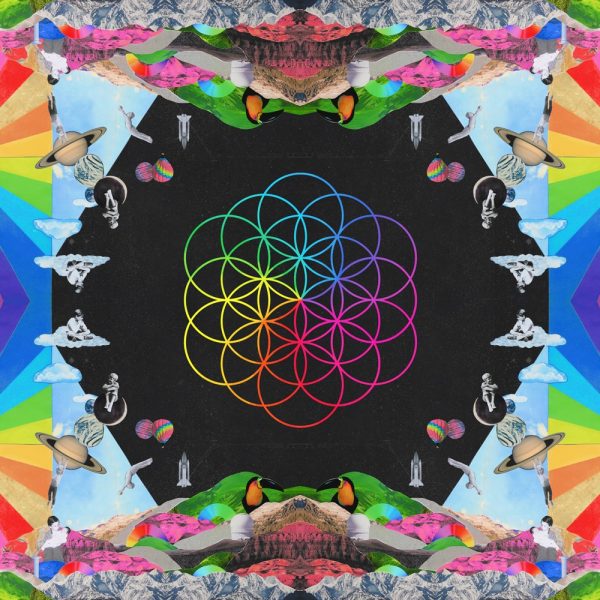 Capaci di mettersi sempre in gioco, i quattro membri della band ci hanno continuamente offerto una certa evoluzione di album in album, pur rimanendo comunque fedeli a loro stessi e alla loro visione artistica.
A poco più di un anno e mezzo di distanza dal disco precedente, il malinconico e riflessivo "Ghost Stories", al quale spettava il gravoso compito di esprimere la situazione sentimentale ed emotiva di Chris in seguito alla fine della relazione con l'attrice Gwyneth Paltrow, il gruppo fa il suo atteso ritorno sulle scene mondiali con un nuovo progetto, dall'emblematico titolo "A Head Full Of Dreams".
Si tratta di un album contrapposto al precedente, del quale ne è quasi l'antitesi (o, meglio, l'antidoto), caratterizzato da un forte ottimismo, espresso tramite sonorità allegre e variegate, che spaziano tra diversi generi, prevalentemente pop-rock/nu-r&b e funk, e da melodie semplici ma d'impatto. Tutto questo è perfettamente espresso dalla copertina del disco, un caleidoscopico e coloratissimo artwork impostato attorno alla geometrica raffigurazione dell'Albero della Vita.
Per il disco – memore nel titolo di "A Sky Full Of Stars", il brano più allegro e radio-friendly di "Ghost Stories" – la band si è servita per tutte le canzoni delle produzioni del duo norvegese StarGate (fautore di hit per popstar del calibro di Beyoncé e Rihanna) e di Rik Simpson, già collaboratore del gruppo in precedenza. Molte sono invece le guest star presenti: da Tove Lo (l'unica presente come featured act) in "Fun", coinvolgente e riuscitissima midtempo incentrata sulla fine di una relazione, alla già citata Beyoncé presente in "Hymn For The Weekend", passando per Apple e Moses Martin, i due figli di Chris e Gwyneth, Blue Ivy Carter, Noel Gallagher, la stessa Paltrow, Brian Eno e molti altri nella corale traccia finale "Up & Up".
Andiamo ora ad analizzare singolarmente le tracce che compongono questo sorridente ed audace progetto.
1) A Head Full Of Dreams
Il progetto si apre con la title track, la sognante e solida uptempo "A Head Full of Dreams". Si tratta di una canzone che fonde funk, dance e pop rock e ricorda molto nelle sonorità gli ultimi album degli U2 ("No Line In The Horizon" in primis). La produzione molto coinvolgente nei versi e nei ritornelli, esplode poi definitivamente nella parte finale e nei cori. Il primo brano, che funge un po' da manifesto dell'intero progetto, è caratterizzato nel testo da un'elemento ricorrente: il già citato ottimismo. Traccia assolutamente promossa e perfetta opening track.
2) Birds
Martin e compagni non hanno intenzione di premere il freno con la seconda canzone. Si tratta di "Birds", midtempo brit-pop sincopata e quasi ipnotica che parla delle paure e dei dubbi che una storia d'amore porta inevitabilmente con sé. Possiamo infatti udire nel ritornello la voce malinconica e sognante di Chris cantare: " "Uh-uh, no, come on!" you say / It's a fools gold thunder / It's just a warring rain / Don't let the fears just start "What if / I wanna see you again?"/ Around here you never want to / Sleep all night / So start falling in love / Start the riot, and come on / Rage with me". Uno dei momenti più belli del disco.
3) Hymn For The Weekend
Siamo finalmente arrivati ad uno dei brani più attesi dal momento stesso in cui tracklist e collaborazioni sono state rese note. La terza traccia, e probabile secondo singolo ufficiale, "Hymn For The Weekend", prevede infatti la partecipazione della superstar Beyoncé che nonostante si occupi di intro, outro e backing vocals non compare nei credits come featured act. Si tratta di una midtempo con sonorità nu-R&B e chiare influenze electro, nella quale Beyoncé svolge il ruolo di angelo salvatore che ha illuminato il mondo di Chris quando lui era in un brutto periodo. Complessivamente una canzone di ottima fattura, ma probabilmente la collaborazione con un nome del genere andava sfruttato meglio.
4) Everglow
Dopo tre canzoni a loro modo spensierate e allegre, arriviamo, con la quarta traccia, "Everglow", ad una ballata molto potente e personale (forse l'unica vera e propria di tutto il disco). Fondamentalmente composta da voce e piano, questa ballad pop avrebbe potuto far tranquillamente parte del precedente "Ghost Stories", e parla di come a volte il sentimento e l'affetto non finiscano del tutto ma possono continuare benissimo anche dopo la fine della relazione stessa, sia essa di amicizia o d'amore; il punto più forte della canzone è il testo, che recita alla fine: "So if you love someone, you should let them know / Oh, the light that you let me will everglow". Ad aggiungere pathos al brano (e dare conferma al testo) vi è la partecipazione nei backing vocals dell'ex moglie di Chris. Traccia molto bella che potrebbe benissimo essere estratta come singolo in futuro.
5) Adventure Of A Lifetime
Cambiamo decisamente toni con la traccia n° 5. Si tratta del primo singolo estratto dal disco, la groovy "Adventure Of A Lifetime". Il brano è caratterizzato da un beat infettivo e sonorità funk-dance e strizza l'occhiolino alla hit di qualche anno fa "Get Lucky" dei Daft Punk. Per quanto riguarda il testo, invece, questa "Adventure Of A Lifetime" affronta un po' semplicisticamente temi come l'amore e la vita ("Everything you want's a dream away / We are legends, every day", o ancora "And if we've only got this life / In this adventure, oh then I / Want to share it with you / With you, with you / Yeah I do") e celebra la ritrovata felicità in seguito ad una nuova relazione ( "Oh, I can feel my heart beating / Cause you make me feel / Like I'm alive again / Alive again"). Un brano solido, felice e accattivante, che ci mostra come Martin e gli altri abbiano voglia di divertirsi e farci divertire.
6) Fun (Ft. Tove Lo)
La sesta traccia si intitola "Fun" ed è una midtempo cantata in collaborazione con la svedese Tove Lo. Le voci dei due si fondono perfettamente in questo piccolo gioiellino caratterizzato da un sound pop-rock molto coinvolgente con influenze di brit-pop. Il titolo del brano potrebbe far pensare ad una canzone allegra e spensierata, ma in realtà si tratta della seconda ed ultima parentesi, almeno in questo album, dedicata alla fine del rapporto con la Paltrow. Il testo infatti riflette su tutti i momenti divertenti e belli di una coppia prima che la loro storia volgesse al termine per chiedersi, a fine canzone se tutto possa ripetersi ancora:
"But didn't we have fun? / Don't say it was all a waste / Didn't we have fun? / Oh-oooh-ooh / From the top of the world / The top of the waves / We said forever, forever always"
Canzone molto bella, tra le mie preferite del disco, ma che difficilmente potrebbe farsi notare nelle chart, se estratta come singolo.
7) Kaleidoscope
La settima traccia del disco è il sognante interlude "Kaleidoscope", nel quale, dopo l'intro di pianoforte, sentiamo la voce del poeta Coleman Barks interpretare "The Guest House" di Rumi, mistico vissuto nel 13esimo secolo. La vera sorpresa dell'interlude è il campionamento del Presidente degli Stati Uniti d'America, Barak Obama, che canta un piccolissimo frammento di "Amazing Grace", durante i funerali del reverendo Clementa C. Pinkney, ucciso durante una sparatoria nella sua chiesa in South Alabama.
8) Army Of One (+ X Marks The Spot)
La midtempo pop con contaminazioni electro e pop-rock "Army Of One" è il brano n° 8 del disco. Si tratta di uno dei momenti in cui si sente maggiormente l'eredità, soprattutto a livello di porduzione, del quinto album della band, "Mylo Xyloto". Nel testo, la spensierata e dolce canzone parla dell'eterno sentimento bei confronti dell'amata e altrettanto eterno sostegno che Chris è pronto a donarle ("So I never say die, aim never untrue / I'm never so high as when I'm with you / And there isn't a fire that I wouldn't walk through / My army of one is gonna fight for you"). Pezzo carino ma che non resta impressa come altre. Molto più interessante è, invece, la hidden track che parte al minuto 3:25, "X Marks The Spot", che esplora sonorità urban con tracce trap inedite per la band.
9) Amazing Day
Il primo brano che abbiamo potuto ascoltare dal progetto, "Amazing Day", cantato al Global Citizen Festival lo scorso 26 Settembre, occupa il 9° nella tracklist. La traccia in questione è una spensierata midtempo pop che esplode nei ritornelli e nel bridge e celebra la gioia di vivere e la bellezza del mondo ("Sat on a roof, your hand in mine, singing / "Life has a beautiful, crazy design"/ And time seemed to say / "Forget the world and all its weight"/ Here I just wanna stay / Amazing day, amazing day"). Un brano di rinascita molto piacevole che trasmette positività, ma forse non adatto ad essere estratto come singolo dal disco.
10) Colour Spectrum
Come traccia n°10 del disco è stato inserito il secondo (ed ultimo) interlude, "Colour Spectrum". Anche qui, come per "Army Of Me", l'influenza di "Mylo Xyloto", è massiccia. A differenza di "Kaleidoscope", siamo di fronte ad una traccia che non aggiunge niente di necessario, possiamo infatti risentire la voce di Barks che legge uno dei versi di Rumi ("Because each has been sent as a guide"). Piacevole sicuramente, ma forse l'unico passaggio completamente evitabile del disco.
11) Up & Up
Eccoci arrivati al grand finale di questo album pieno di sorprese. L'undicesima (e ultima) canzone di "A Head Full Of Stars", intitolata "Up & Up", è stata definita dallo stesso Chris come "la traccia alla quale abbiamo lavorato per 15 anni"; si tratta di una power ballad pop intensa e maestosa, memore nelle sonorità dei grandi nomi del pop-rock anni 2000, come ad esempio i già citati U2, i Trains, gli Oasis (complice anche il riff presente gentilmente offerto da Noel Gallagher), e caratterizzata da un potente coro formato da amici e colleghi della band. In linea con le tematiche dell'album, questa "Up & Up" invita all'ottimismo e alla fiducia ("We're gonna get it, get it together / I know we're gonna get it, get it together somehow / We're gonna get it, get it together and fly"), senza però togliere spazio a dilemmi e domande interiori ("How can people suffer? How can people part? / How can people struggle? How can people / Break your heart? Break your heart?). Uno dei momenti più audaci, intensi ed interessanti del progetto.
La versione standard del disco si conclude con l'undicesima traccia, mentre per il mercato giapponese è stata inserita una bonus track: si tratta di "Miracles", canzone che già avevamo avuto modo di ascoltare a Dicembre dello scorso anno e che era stata inclusa nella soundtrack di "Unbroken", film di Angelina Jolie. La traccia, prima collaborazione della band con gli StarGate in tempi ancora non sospetti, è una midtempo pop-rock decisamente valida ma che non aggiunge molto al disco.
Siamo giunti alla fine della recensione track-by-track di questo settimo e, forse, ultimo album dei Coldplay (affermazione fatta dallo stesso Chris, che, però, risulta poco credibile allo stato attuale delle cose).
Possiamo definire questo "A Head Full Of Dreams" come l'album più spudoratamente pop (qui inteso anche come sinonimo di mainstream) del gruppo, ed è un progetto che deve molto ai due dischi precedenti, i già nominati "Mylo Xyloto" e "Ghost Stories", ma, nel complesso, risulta solido e ben realizzato, segno che la collaborazione massiccia con gli StarGate (presenti praticamente in tutti i brani) è stata una scelta ardita ma ben riuscita.
Caratterizzato sia canzoni allegre e infettive ("A Head Full Of Dreams", "Hymn For The Weekend" e "Adventure Of A Lifetime", ad esempio) che da momenti più intimi ("Everglow", "Amazing Day" e "Fun", su tutte), il disco è molto valido e piacevole, ma sicuramente non è il più genuino o riuscito del gruppo.
Con questo disco Martin e soci continuano quel percorso di evoluzione stilistica e musicale che ormai portano avanti da tempo. Che questo percorso possa piacere o non piacere è un conto, ma lo sforzo di cambiare e rinnovarsi almeno va loro riconosciuto.