Diplo e DJ Snake contro David Guetta: "L'inno degli europei copia Lean On!"
Nel mondo della musica le accuse di plagio sono all'ordine del giorno. Dopo lo scontro pesante tra Azealia Banks e Zayn per le somiglianze tra il concept di "Like I Would" dell'ex One Direction e quello di"Chasing Time" della rapper, è la volta di un noto DJ che su twitter tira fuori gli artigli contro un collega colpevole a suo dire di aver spudoratamente copiato una sua produzione.
I protagonisti della vicenda sono l'onnipresente Diplo, il dj francese DJ Snake e il connazionale David Guetta, tre fra i più rinomati produttori musicali in circolazione.
L'oggetto della discussione sarebbe la troppa somiglianza tra la base della hit "Lean On" e il nuovissimo inno dei prossimi europei di calcio prodotto da Guetta, "This One's For You".
Ad accendere la miccia tramite twitter è stato DJ Snake, che proprio con Diplo ha collaborato per la creazione di "Lean On" appunto. DJ Snake, poco dopo l'uscita ufficiale di "This One's For You", ha voluto esprimere la sua opinione riguardo il brano senza peli sulla lingua, senza dimenticarsi di menzionare il profilo del diretto interessato David Guetta. Ecco la reazione di Snake, messaggi che poco dopo sono stati cancellati: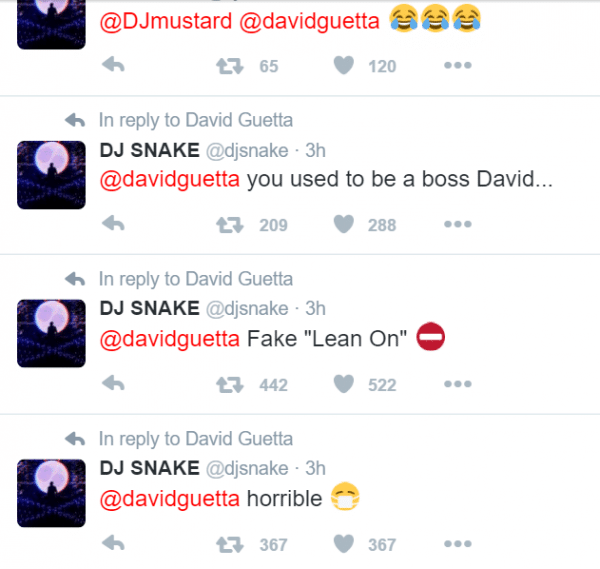 "@davidguetta una volta eri il capo…"
"@davidguetta -Lean On- fasulla"
"@davidguetta orribile"
Chiaro e conciso DJ Snake; non solo pensa che Guetta abbia copiato "Lean On", ma trova anche che il risultato ottenuto sia qualcosa di orribile.
La cosa non è finita qui, perché poco dopo nella conversazione virtuale si è inserito Diplo, leader e fondatore dei Major Lazer, che non ha fatto altro che gettare benzina sul fuoco con frecciate decisamente pungenti:
"Hai ragione @djsnake spero che i ragazzi capiscano che noi cerchiamo sempre di rinnovarci ed è facile per @davidguetta fare tutto ciò che vuole grazie alla sua rilevanza"
"@djsnake non sei superiore a noi @david guetta… non puoi copiarci pensando di farla franca…è una piccola comunità qui"
Non contento Diplo ha continuato a punzecchiare Guetta, facendo riferimento al fatto che sia più "vecchio" di loro:
I respect my elders but when they straight jack us its clap back season – 🌽🌽🌽🌽🌽 that is all

— diplo (@diplo) May 12, 2016
"Rispetto quelli più vecchi di me ma quando questi cercano nettamente di fregarci ne pagano le conseguenze – tutto qua"
And It's hard to be my elder cuz I'm old af

— diplo (@diplo) May 12, 2016
"Ed è difficile essere più vecchi di me perché sono già vecchio io"
A DJ Snake e Diplo la cosa non è proprio andata giù, non riescono a "perdonare" l'affronto fatto (a loro parere) da un collega del calibro di Guetta. In effetti ascoltando i due pezzi è innegabile che qualcosina in comune ci sia (specie la parte strumentale che segue il primo ritornello), e non sarebbe neanche la prima canzone ad avere delle somiglianze più o meno nette con "Lean On" ("I Took A Pill In Ibiza Remix", "Roma-Bangkok"…).
La somiglianza tra "This One's For You" e "Lean On", anche se meno evidente di altre, non è il primo caso e non sarà neanche l'ultimo. Che ne pensate di questa reazione? Troppo bambinesca forse? Di seguito i due file audio, a voi il giudizio: