Rnbjunk Xmas Fashion Challenge
Da qualche giorno è iniziato ufficialmente il countdown per il prossimo Natale e chissà che le nostre star non siano alle prese con lo shopping sfrenato per la caccia ai doni da mettere sotto l'albero oppure impegnate nella realizzazione di addobbi accattivanti per le loro lussuosissime dimore.
Di sicuro staranno pensando ai look da sfoggiare in questo periodo ricco di feste. E se è vero che la storia si ripete, molti di loro opteranno per qualcosa di bizzarro mentre altri cercheranno di sfruttare il momento per mostrare gli ultimi trend della stagione.
Proprio per questo RnbJunk ha voluto catalogare gli outfit di Natale più interessanti degli scorsi anni, suddividendoli in quattro categorie e creando una piccola battle che potesse coinvolgere i pareri di voi lettori.
Le più Stravaganti
In questo primo gruppo troviamo le idee più bislacche e gli spunti più curiosi per look fuori dal comune.
Impossibile non citare Lady Gaga. L'immagine attuale si discosta ampiamente da quella di qualche tempo fa, come quando a Londra, in occasione del Jingle Bell Ball, si presentò al pubblico in un playsuit di stoffa rossa, calze a rete, tacchi vertiginosi e un copricapo a forma di pino addobbato con palline colorate e stella dorata. Di certo Joanne non avrebbe apprezzato.

Piuttosto prevedibile la presenza della cantante di Million Reasons in questo team, mentre meno scontata risulta invece la presenza di madame Beyoncé. Lei, la donna tutta d'un pezzo, sempre attenta a non commettere errori, lo scorso anno, lasciò di stucco durante una delle sue uscite a New York per aver indossato un coatigan di lana con stampa geometrica sui toni del verde, "adornato" da palline e boa luccicanti in stile "Xsmas Tree" e occhiali da sole verdi dalle lenti maxi.
Ultimo nome è quello di Ariana Grande. Anche lei sul palco del Jingle Bell Ball del 2013, si fece notare per un matching tra un top corto bianco e una gonna a ruota con stampa agrifogli. A completare il look un frontino con orecchie, stile anni '60.
Le più "Babbe"
Chi di noi non ha provato almeno una volta a indossare i panni di Babbo Natale? Alcune delle nostre cantanti hanno vissuto quest'esperienza durante una o più performance. E' il caso di Katy Perry, la quale allietò nel 2010 il pubblico dell Jingle Bell Concert di Sunset, in Florida, vestita in un body rosso con gonnellino a palloncino in velluto, il tutto caratterizzato da una morbida pelliccia bianca. La cantante di Teenage Dream ci ha abituati a questi colpi di testa, che appartengono, tra l'altro, al suo personalissimo modo di essere sexy.
Estremamente sensuale apparve anche Mariah Carey all'inaugurazione del Xsmas Tree Lighting Ceremony 2013. La regina musicale per eccellenza del Natale optò per un longdress bustier rosso accompagnato da lunghi guanti neri in velluto, un coprispalle in pellicciotto bianco e un unico pendente in cristalli swarovski.
The last but not the least di questo team è Miley Cyrus. La teenage idol salì sul palco del Jingle Bell Ball nel 2013 più provocante che mai in uno sgambatissimo body in tessuto tecnico rosso e polsini di pelo bianco e papillon. Così conciata può darsi che il suo twerk abbia risvegliato i sensi di Santa Claus.
Le più Trendy

Come ben sappiamo, essere in linea col buon gusto e attinenti all'occasione non è mai compito semplice per le beniamine della musica. Tra le altre, Rita Ora riesce quasi sempre a centrare l'obiettivo. Durante una delle sue apparizioni pubbliche nel 2013, dettò alcune fashion tips con il suo completo giacca doppiopetto e pantaloni con tasche alla francese rigorosamente in tessuto tartan e mixato sapientemente a uno stivaletto anfibio per conferire la giusta grinta e leggerezza.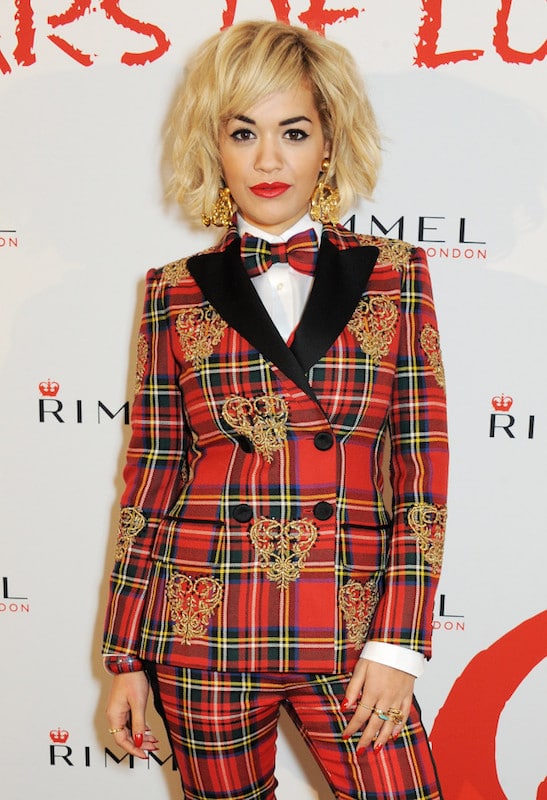 Non da meno, fu Kylie Minogue. La cantante di All The Lovers accompagnò gli stilisti Domenico Dolce e Stefano Gabbana alla serata per l'accensione dell'albero di Natale 2014 dell'Hotel Claridge's di Londra, allestito e curato dai due stilisti. Kylie indossò una delle loro creazioni: minidress a rete bianco con decorazioni floreali. L'outfit fu arricchito da decoltee Bellucci K e pochette in satin.
A chiudere la triade ci pensa Rihanna che, in uno scatto del 2014 apparso sui suoi social, indossò un top nero e una particolarissima gonna longuette a fasce con patchwork di stampe natalizie e balze sul fondo. Un modo del tutto IN di vestire il Natale.
Le più Freddolose
La moda del jumper natalizio dilaga oramai da tempo. Sul web è possibile vederne di tutti i tipi, con ispirazioni e motivi sempre nuovi. Meghan Trainor fu una delle fautrici, vista la sua apparizione durante uno show televisivo americano lo scorso anno, quando indossò una maxi tunica svasata in caldo filato e luci incorporate, dettagli-festoni e overknee boots con fiocchetto. Decisamente too kitsch!
Più soft apparve Taylor Swift tre anni fa, in giro per le vie di New York, con un pullover in misto mohair color crema con stampa renna.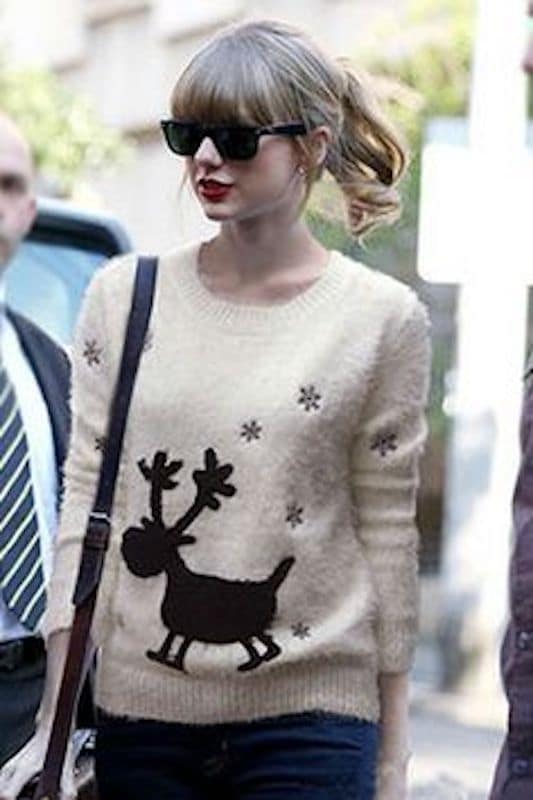 Stampa simile per la cantante Cheryl Cole, che in uno scatto su Twitter del 2012, indossò la firma prestigiosa di Stella McCartney per il suo pullover natalizio, in morbida lana color rosa antico.
Adesso che le idee son chiare, tuffiamoci nei nostri guardaroba e scegliamo quale capo sfruttare il giorno di Natale. Voi a quale gruppo appartenete? E da chi prenderete spunto?