Ed Sheeran e The Weeknd cantano Dark Times a Toronto
A quanto pare l'abitudine di Taylor Swift di esibirsi insieme a colleghi durante i concerti inizia a contagiare anche i suoi migliori amici. In particolare, in queste ore a fare lo stesso ci ha pensato un artista molto legato all'interprete di "Shake It Off": sto parlando del cantautore britannico Ed Sheeran, interprete davvero molto talentuoso da tutti i punti di vista che negli ultimi anni ha messo a ferro e fuoco le classifiche.
In realtà, il ruolo rivestito da Ed in questa occasione non è quello di padrone di casa che invita un collega: il suo "X Tour" è attualmente in pausa e riprenderà soltanto verso la fine di novembre, dunque ora come ora non ha uno spazio tutto suo in cui offrire un simile spettacolo. Ad invitarlo, ed a farne dunque suo ospite, è stato un altro grande padrone delle classifiche di questo 2015: sto parlando di The Weeknd.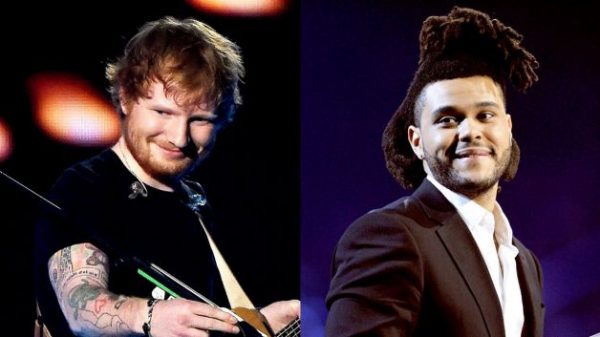 Ovviamente, il brano scelto per questa performance è "Dark Times", duetto tra i due artisti incluso nell'ultimo album di Abel "The Beauty Behind the Madness" che ha fatto letteralmente impazzire i fan di entrambi già nel momento della pubblicazione.
Ovviamente, in questa performance i due sono riusciti a ricreare l'atmosfera generata in studio, dimostrando per l'ennesima volta di essere due artisti di grande talento e di meritare, da questo punto di vista, il successo che stanno ottenendo da un po' di tempo a questa parte.
Vi posto di seguito la performance, che ne dite? Credete che questa traccia possa diventare singolo?