Emeli Sandé: "Long Live The Angels" è il nuovo album! (COVER + TRACKLIST)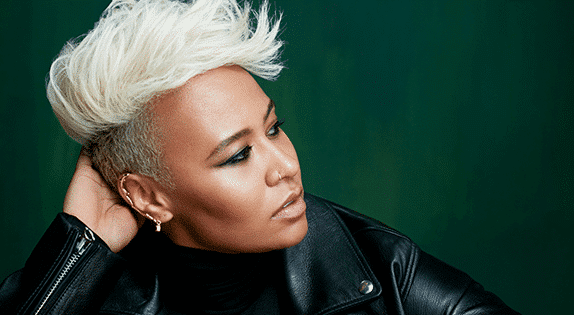 La settimana scorsa Emeli Sandé è tornata come un fulmine a ciel sereno annunciando l'arrivo imminente del nuovo album, accompagnando la notizia con la pubblicazione di un nuovo brano, Intermission (QUI per ascoltarlo), che farà parte del progetto. Mentre il lead single Hurts (QUI per saperne di più) verrà premierato domani, 16 settembre, è arrivato il momento per Emeli di svelarci nuovi dettagli sul suo atteso comeback album.
Innanzitutto si intitolerà Long Live The Angels, letteralmente "lunga vita agli angeli", un titolo che già di suo lascia intendere ad un contenuto decisamente intimo e profondo, sulla scia di Our Version Of Events. Rilasciata anche la copertina del disco, uno scatto semplice ma d'impatto, in cui vediamo l'artista, di nero vestita, seduta su una sedia con un pavimento a scacchi e lo sfondo verde smeraldo; lo stesso sfondo e gli stessi abiti che ritroviamo anche nella cover del singolo. Posizione diversa ma stessa scenografia anche per quella che dovrebbe la cover della deluxe edition.
La Sandé mostrando al pubblico le copertine ha anche descritto con poche ma significative parole cosa rappresenti per lei Long Live The Angels:
"Non sono un angelo. Queste canzoni sono le storie di un essere umano imperfetto, ma spero sinceramente che possiamo avere una connessione più profonda e crescere più forti, insieme. Prendete nota dei colori dei vostri sogni. Le cose non sono così buie come possono sembrare. Siamo così forti. Ho scelto da che parte stare. Non più delicatamente. L'amore ha bisogno di essere protetto e bisogna combattere per lui. Più che mai. LUNGA VITA AGLI ANGELI"
Frasi tanto semplici quanto profonde che rendono l'attesa ancora più difficile, visto che la data di uscita ancora non è stata resa nota, a differenza della tracklist, che è la seguente:
LONG LIVE THE ANGELS
1. A Z of Disaster | Emily Sande, Ashton Millard, Paul Philip Hernan & Justin Broad
2. All We Really Have Is Now | Emily Sande & Tobias Gad
3. Breathing Underwater | Christopher Crowhurst & Emily Sandé
4. Dirty Jeans & Sweater | Emeli Sandé
5. Don't Fight the Bullet | Emeli Sandé
6. Feels Like | Matthew E Marston & Emily Sande
7. Highs | Emeli Sandé, Benjamin Kohn, Peter Kelleher, Wayne Hector & Thomas Barnes
8. Hurts | Emeli Sandé
9. I Tried | Chris Loco & Emeli Sandé
10. If I'm Being Honest | Emeli Sandé, Jermaine Jason St Claire Scott, Tony Mahaba, Kwame Kwel-Armah & Tre Jean-Marie
11. Intermission | Emeli Sandé
12. More Than U | Emeli Sandé & Shahid Khan
13. Naturally | Thomas Barnes, Wayne Hector, Peter Kelleher, Benjamin Kohn & Emeli Sandé
14. Spaceships | Rahman Khalil Abdul, Pranam Injetl, Emily Sande & Daniel Tannenbaum
15. So Sentimental | Syed Naqui, Kaywan Qazzaz & Emeli Sandé
16. Wanted | Thomas Barnes, Wayne Hector, Peter Kelleher, Benjamin Kohn & Emeli Sandé
17. Who Needs the World | Emeli Sandé
Non vediamo l'ora di avere tra le mani questo nuovo lavoro che si preannuncia uno dei più eleganti e ricchi dell'anno. Cosa vi aspettate dal ritorno di Emeli Sandé?