Eminem (ft. Skylar Grey) esegue un medley delle sue hits al SNL | VIDEO
Il video dell'esibizione di ieri sera di Eminem al Saturday Night Live è la perfetta rappresentazione della differenza tra artista vero e presunto tale. FAVOLOSO!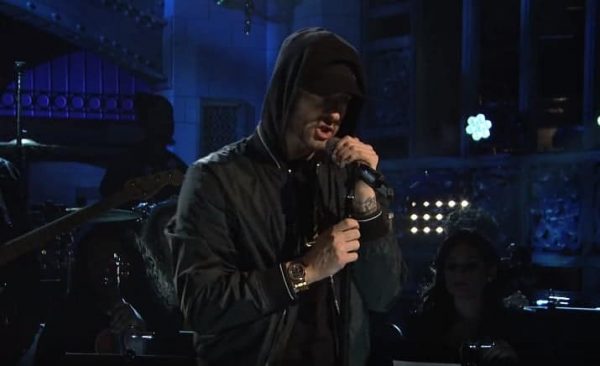 Che sia uno dei capisaldi del rap mondiale è indubbio, ma ieri sera Eminem l'ha voluto ricordare a tutti offrendo agli spettatori del Saturday Night Live una performance grandiosa. Presentato dal giovane collega Chance The Rapper, l'artista ha riempito il palco per circa 9 minuti, durante i quali ha scelto di proporre un piccolo medley dei suoi singoli.  Partendo da Walk On Water si è poi passati al capolavoro Stan, per concludere con quello che probabilmente è il suo pezzo più conosciuto dal punto di vista commerciale, Love The Way You Lie. 
Impossibile non dedicare uno spazio anche all'artista che lo ha accompagnato in questo medley, e che in generale lo accompagna da anni nella sua carriera, formando un solidissimo connubio artistico. Skylar Grey non è solo una cantante incomprensibilmente sottovalutata, è anche una fantastica autrice (Love The Way You Lie e Walk On Water sono nate principalmente dalla sua penna) e musicista e lo ha dimostrato ieri sera per l'ennesima volta. E' riuscita nel duro compito di non far rimpiangere su quel palco tre pilastri come Dido, Rihanna e Beyoncé, affiancando con trasporto l'amico e regalando agli spettatori 9 minuti di vero spettacolo (per questo c'è da ringraziare anche l'orchestra che li ha accompagnati divinamente).
Una delle migliori performance che si siano viste al SNL negli ultimi mesi, per intensità, emozione, spessore artistico e specialmente qualità della musica proposta. Ci si rende veramente conto di quanto artisti del calibro Eminem manchino all'industria musicale quando finalmente tornano sulle scene, mostrando concretamente il divario che li separa dalle loro brutte copie.
Godetevi lo spettacolo: