ESCLUSIVA: intervista ad Ada Reina, promessa italiana dal gusto internazionale
Quest'oggi abbiamo il piacere di condividere con voi una chiacchierata con un'interessante nuova promessa della musica italiana. Il suo nome è Ada Reina e ve ne abbiamo già parlato un po' di tempo fa quando, colpiti dal suo talento, vi abbiamo proposto un articolo incentrato sui vari singoli che la ragazza ha rilasciato negli ultimi anni. Ora, alla vigilia della release del suo nuovo brano "Voy Saltando", abbiamo deciso di scendere più nel dettaglio e conoscere meglio questa ragazza.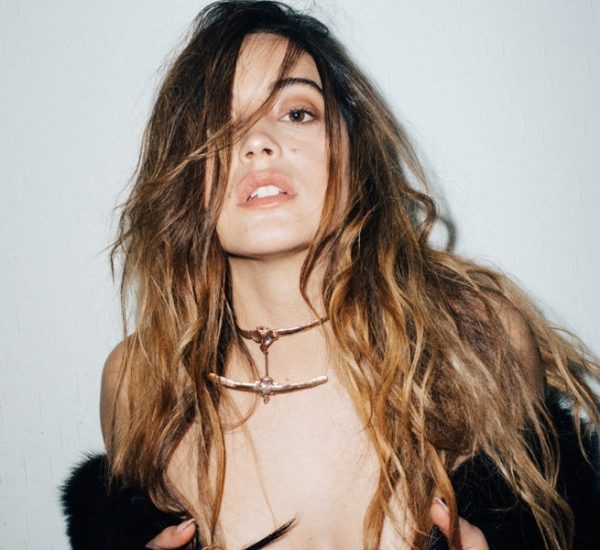 UMBERTO: Ciao Ada, grazie per aver scelto di farti intervistare da RnB Junk! Come sai, noi siamo stati rapiti dal tuo stile fin dal momento in cui abbiamo scoperto la tua musica, tanto da dedicarti circa sei mesi fa un post in cui ti segnalavamo come nuova promessa per la musica italiana. Ad averci colpito è proprio il tuo modo di porti, il tuo carisma, unito ovviamente al tuo grande talento, senza il quale sarebbe vano. Quanto credi sia importante per un artista essere anche carismatico oltre che talentuoso? Si tratta di una dote innata oppure è qualcosa che si può imparare ed affinare nel tempo?
ADA: Credo sia una caratteristica che si acquisisce nel tempo, ovviamente c'è chi è più propenso ad essere così ed apprezzo molto che voi lo pensiate di me. Un artista che ha voglia di trasmettere messaggi e sensazioni attraverso la propria musica ha bisogno sicuramente di molto carisma per riuscire nel suo intento.
U: La tua artista si estende su due fronti: l'interpretazione e la scrittura. Quale fra queste due forme ti permette di esprimere al meglio il tuo universo artistico, quello che c'è dentro di te? Il modo in cui la tua voce riesce a comunicare l'emozione o quello in cui le parole che metti su carta possono entrare nel cuore della persona che ti ritrovi davanti?
A: Raccontare le proprie esperienze scrivendo in prima persona i testi non ha prezzo, è quello che ti permette poi di interpretare al meglio un canzone.Io nei miei testi sono sempre molto autobiografica, e la voce ovvero il modo in cui esprimo quello che ho dentro, deve essere in linea con ciò che provo.Ma non c'è bisogno di sforzarsi, è una cosa che viene fuori poi naturalmente. Quando la voce è innamorata del testo allora è la combinazione ideale.
U: Un altro elemento che ci colpisce è il tuo stile, così lontano dalle sonorità tipicamente italiane, che richiama fortemente alla musica internazionale. Abbiamo notato che, nonostante le tue origini latine, musicalmente sembri più vicina ad artisti anglofoni, per quanto comunque il tuo stile risulti unico e personale. Chi sono gli artisti che ti hanno ispirato? E quali esperienze ti hanno formato maggiormente come artista?
A: Devo dire che amo molto ciò che arriva dall'estero in generale, come alcuni miei fan sanno sono ossessionata dal k-pop, il pop coreano.Amo le basi caratterizzate da suoni imponenti, sperimentali ed elettroniche. Sicuramente artisti come Beyoncè e the Weekend hanno smosso molto i miei gusti personali, ma nel mio iPod recentemente tra gli artisti più riprodotti c'è Allie X. Il fatto di cimentarmi in pezzi Trap e underground, mi ha aiutato a capire che la mia vera natura è poliedrica. Mi piace spaziare, non accetterei mai di confinarmi in un genere, un box senza via di uscita. Recentemente ho fatto un viaggio a Miami che ha riacceso il mio lato più latino e questo ha fatto si che prendessi il coraggio giusto per portare un po' di allegria e spensieratezza con la mia musica.
U: Da artista quale sei, che rapporto hai con i tuoi collaboratori? Vuoi avere il pieno controllo sui testi e sulle produzioni, accettando un influsso esterno soltanto se è conforme a quella che è la tua visione, oppure sei disponibile ad arricchire il tuo stile personale grazie al confronto continuo con le persone che ti stanno intorno?
A: Amo molto ascoltare i pareri degli altri e prendere spunto dove a volte mi mancano input. Cerco di seguire in prima persona ogni fase di realizzazione dei miei pezzi, a partire dalla scelta dei suoni fino alla scelta delle melodie. Credo molto che solo essendo coinvolti realmente all'interno della creazione di una canzone, la si possa interpretare al meglio.
U: Bene, dopo aver rotto il ghiaccio iniziamo a parlare del tuo ritorno in scena. Voy Saltando è il titolo del tuo ultimo singolo, una grintosa up tempo a nostro avviso prodotta divinamente che potrebbe davvero portarti molta fortuna. In questa canzone, Ada, sei tornata a quella che definisci la tua lingua madre, lo spagnolo: cos'ha determinato questa scelta, venuta dopo un certo riscontro avuto soprattutto con brani in italiano? In quale di queste due lingue preferisci esprimere il tuo estro artistico?
A: Spesso mi basta sentire solo la cassa iniziale di un brano per capire se partire dallo spagnolo o dall'italiano. Credo che alcune sonorità dettino legge riguardo la scelta della lingua con la quale cantarle. Come dicevo prima il viaggio a Miami, mi ha confermato quello che però stavo già intravedendo da tempo, ovvero la voglia di tornare a scrivere in spagnolo. Con lo spagnolo sono più istintiva. 
Ma sia che scriva in spagnolo o in italiano, il mio intento é quello di far bloccare per un attimo chi mi ascolta, usare frasi ad effetto, taglienti e anche piuttosto contradditorie. Mi piace quando le persone vengono da me e mi chiedono "Scusa Ada, ma davvero hai i tampax con le borchie nella borsa?"  Non immagini le risate che mi faccio, ma la cosa é proprio quella, creare un momento di come dire… What the fuck!?
U: Così come altri tuoi brani, Voy Saltando ci trasmette tanta grinta ed energia, non solo per la base ma anche per l'apporto dato dalla tua bella voce, il cui timbro è davvero interessante e comunicativo. Un'interpretazione veramente solida la tua, e noi percepiamo chiaramente come la musica scorra intensa nelle tue vene. Quali sono invece le sensazioni che hai provato tu nel registrare questa canzone e nel girare il relativo video? Quali emozioni credi che proverai quando ti troverai finalmente ad esibirla davanti ad un pubblico?
A: Non vedo l'ora di cantarla dal vivo, di fare saltare tutti in piedi e di vedere solo sorrisi e spensieratezza. Questo è quello che provo io sentendola e voglio trasmettere quest'energia a chi mi ascolta. Il pezzo è nato in un solo giorno, poi è stato perfezionato per mesi, ma quando il primo ascolto ti fa battere il cuore a mille capisci che quella é sicuramente una canzone giusta. Il video l'ho girato ieri, ho collaborato con un team di persone fantastiche… Vorrei dirvi chi sono, li conoscete sicuramente… Ma voglio aspettare ancora un po', meglio avere un po' di segreti, no?
U: Nel tuo repertorio, oltre a canzoni energiche vanti anche brani più introspettivi, primo fra tutti "Lei Balla", canzone con cui hai dimostrato capacità interpretative sublimi ed hai mostrato come si possano trattare temi seri anche utilizzando basi EDM. Ebbene, nel tuo nuovo album dobbiamo aspettarci anche tracce più riflessive come questa, oppure ti concentrerai su altri tipi di emozioni?
A: Come tutti penso abbiate notato, questa mia nuova 'era' é contraddistinta dai fiori. Tantissimi, di diverso tipo, diverso colore e diverse sfumature. Non è stata una scelta casuale, ma studiata, e con un forte concept alle sue spalle: La diversità della bellezza. Così come la musica. Non voglio limitarmi ad esplorare un solo genere, la mia anima é pop, vivo ogni giorno la pop culture, da cui traggo moltissima ispirazione, ma non mi limito a questo. Amo spaziare, divagare e scoprire nuove sonorità ogni giorno… In studio ho creato tanto materiale, lavorando anche con basi estremamente urban ed altre solamente piano e voce, amo anche mixare gli archi ai bassi grossi, corposi. Sperimentare. 
Dal mio disco, sicuramente capirete tutte le mie sfaccettature artistiche, e chi sa, potreste anche ritrovare il mio lato più dark.
U: Come dicevamo, il tuo stile musicale ci sembra molto più "anglofono" che italiano o latino, ma ciononostante finora non ti abbiamo mai sentita cantare in inglese. Hai intenzione di proporre qualcosa in questa lingua in futuro?
A: Ci sto lavorando, anzi devo dire che in studio spesso molti provini li faccio cantando in inglese. Lo sto studiando privatamente, e sento molto feeling con la lingua. Si, canterò anche in inglese.
U: Puoi rivelarci qualcosa su quali saranno i tuoi prossimi passi? E' previsto un tour in tempi brevi?
A: 'Voy Saltando' attualmente é la mia priorità assoluta, ci sarà una promozione, ma ancora non posso svelare tutti i dettagli. Nel frattempo come sempre, sono chiusa in studio a creare nuova musica e finire l'album. Ma state certi ragazzi che ovunque io vada ad esibirmi, voi sarete tra i primi invitati.
U: Come ultima domanda, vorremmo porti un interrogativo "di rito", un must per tutti gli artisti emergenti come te. Cosa ti aspetti dal tuo futuro in quanto artista? Quali risultati speri di poter raggiungere nella tua vita lavorativa nell'arco di 10 anni?
A: Vorrei vivere di musica ogni giorno… Ultimamente sto facendo cadere fin troppi bicchieri.
Restate connessi per il nuovo singolo di Ada! Ve lo assicuriamo: è una bomba!