Eurovision Song Contest 2016 | rilasciate le ultime canzoni!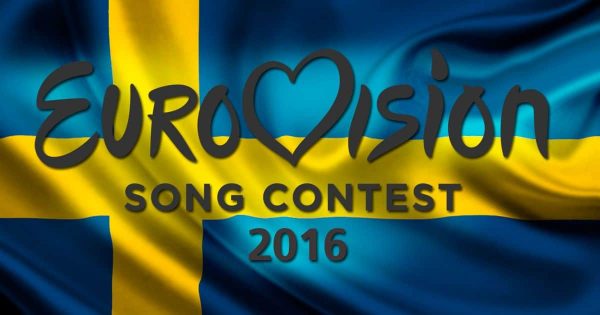 Nonostante oggi sia il 20 dicembre 2015 e l'inizio dell'importantissima competizione europea sia il 10 maggio 2016, tra cinque mesi circa, il paese ospitante dell'Eurovision Song Contest 2016, la Svezia, non tarda ad annunciarci moltissime anticipazioni.
Ecco tutte le informazioni di carattere generale che si conoscono dell'evento:
La città che ospiterà la competizione sarà nuovamente Stoccolma, capitale della Svezia.
La sede scelta è l'Ericsson Globe: la storica sfera si riaccenderà con i colori dell'Eurovision dopo averlo già ospitato nel lontano 2000, quando vinse la Danimarca.
La lista dei partecipanti è stata chiusa: i paesi che competeranno saranno 43, tre in più rispetto all'anno scorso. Un numero tale di partecipanti non si vedeva dal 2011 in Germania, record eguagliato con l'edizione serba del 2008.
Quest'anno non ci sarà nessun debuttante.
Ci saranno ben 4 ritorni: la Bosnia-Erzegovina, assente dal 2012, la Bulgaria e la Croazia, entrambe mancanti dal 2013, e l'Ucraina, che non partecipava dal 2014.
Rispetto all'anno scorso, solamente il Portogallo non parteciperà: lo sfortunato paese non sarà presente a causa di una mancata promozione da parte dalle reti televisive. Anche il fatto che il vicino dalla Spagna non acceda alla finale da 4 anni brucia un po'!
Parteciperanno tutti e 5 i BIG 5 ai quali si aggiungerà l'ospitante Svezia.
Anche quest'anno l'Australia parteciperà come concorrente: i lontanissimi amanti dell'Eurovision però non entreranno di diritto in finale ma dovranno sudarsela superando una delle due semifinali.
Spinti dalla partecipazione dell'isola più grande al mondo, anche la Cina e il Kosovo hanno richiesto di entrare tra la lista dei partecipanti ma sono stati completamente snobbati. A noi sarebbe piaciuto moltissimo vedere un cantante cinese/kosovaro partecipare che portasse un nuovo sound nella competizione ma, in questo caso, non sarebbe più stato un Eurovision ma un Worldvision Song Contest, ipotesi che EBU potrebbe considerare vista già l'assurda presenza dell'Australia.
Secondo quanto detto dagli organizzatori, il budget sarà di 120 milioni di corone svedesi, circa 5 milioni in meno. 400 mila euro, rispetto a quanto impiegato nel 2013, ultima volta in cui la Svezia ha ospitato l'evento.
I conduttori della competizione saranno Petra Mede, già conduttrice nel 2013, e Mans Zelmerlow, vincitore della scorsa edizione.
Dalle anticipazioni, soprattutto dall'annuncio dei conduttori, sembra che sarà una delle edizioni più scoppiettanti di sempre.
Voi che ne pensate? Cosa vi aspettate dall'edizione di quest'anno?
Annunciata questa mattina la scelta, fatta internamente,  del cantante e della canzone che rappresenteranno l'IRLANDA all'interno dell'importantissima competizione:
CANTANTE: Nicky Byrne
CANZONE: Sunlight
Questa volta i rumours avevano ragione! I giornalisti aveva previsto la partecipazione dell'ex membro dei Westlife, gruppo irlandese famoso in tutta Europa che è riuscito a vendere 20 milioni di dischi solamente negli UK.
---
Comunicata l'artista la canzone e l'artista che rappresenteranno il BELGIO all'Eurovision:
CANTANTE: Laura Tesoro
CANZONE: What's The Pressure
---
Annunciata la scelta del cantante e della canzone che rappresenteranno la BIELORUSSIA all'Eurovision:
CANTANTE: IVAN
CANZONE: Help You Fly
---
Si è appena concluso Objetivo Eurovisión, la finale nazionale spagnola che decreta l'artista e la canzone che rappresenterà la SPAGNA all'evento musicale europeo. Ecco il risultato finale:
CANTANTE: Barei
CANZONE: Say Yay
---
Ieri sera a Vienna si è svolto Wer singt für Österreich?, competizione il cui unico scopo è quello di scegliere il cantante e la canzone che competerà all'Eurovision in rappresentanza dell'AUSTRIA. Ecco i risultati:
CANTANTE: ZOE
CANZONE: Loin d'ici
Che ne pensate della canzone? E della scelta della lingua?
---
Iniziamo con la SVIZZERA che ha scelto cantante e canzone con il programma televisivo ESC 2016 –Die Entscheidungsshow:
CANTANTE: Rykka
CANZONE: The Last Of Our Kind
Ieri sera, mentre Sanremo era ancora agli inizi, in DANIMARCA è stato annunciato il cantante e la canzone che rappresenterà la nazione scelto con il Dansk Melodi Grand Prix 2016.
CANTANTE: Lighthouse X
CANZONE: Soldiers Of Love
In ITALIA la scelta non è stata così semplice.
Dopo l'annuncio della classifica finale, i vincitori, la band rock Stadio, hanno inizialmente annunciato di non voler andare all'Eurovision per lasciare spazio ai cantanti più giovani, per poi ribaltare la situazione dicendo che sono incerti se partecipare o no, che avrebbero dovuto pensarci. Nel frattempo Giancarlo Leone, rappresentante della RAI, aveva dichiarato che la band non avrebbe partecipato alla trasmissione eurovisiva per una scelta interna della casa televisiva. A questo punto è iniziato il giallo italiano!
Proprio ora il sito ufficiale del festival europeo ha affermato che i vincitori non avrebbero partecipato perchè occupati con il tour che inizieranno il 10 marzo.
Proprio in questi minuti è stato annunciato che a partecipare e a rappresentare l'Italia nell'importantissima competizione sarà la seconda classificata, la giovanissima Francesca Michielin. 
---
Momento d'oro per i fan dell'Eurovision!
Proprio in queste ore è stata annunciata la canzone che rappresenterà la GEORGIA nella competizione canora più famosa d'Europa.
CANTANTE: Nika Kocharav & Young Georgian Lolita
CANZONE: Midnight Gold
---
Dopo mesi dall'annuncio dei cantanti, finalmente lo stato della BOSNIA ERZEGOVINA, che ritornerà quest'anno da anni d'assenza, ha rilasciato la propria canzone, completamente in bosniaco.
CANTANTE: Dalal & Deen feat. Ana Rucner and Jala
CANZONE: Ljubav Je
Dopo aver annunciato il nome della canzone, la band rock dei Minus One, rappresentante l'isola di CIPRO, ha rilasciato la propria canzone perfettamente in tempo.
CANTANTE: Minus One
CANZONE: Alter Ego
Dal caldo sud al freddissimo nord, in questi giorni anche il paese scandinavo della FINLANDIA ha annunciato la propria scelta.
CANTANTE: Sandhja
CANZONE: Sing It Away
Dopo la Spagna e l'Italia, un'altro BIG 5, la FRANCIA, ha annunciato il proprio cantante e la propria canzone, con la speranza di classificarsi nella parte più alta della classifica.
CANTANTE: Amir
CANZONE: J'ai Cherché
Oltre alla Francia, anche la GERMANIA ha annunciato il cantante e la canzone che rappresenteranno la nazione che nella scorsa edizione si è classificata ultima con 0 punti totali, nonostante la grandissima presenza scenica della cantante.
CANTANTE: Jamie-Lee Kriewitz
CANZONE: Ghost
Annunciata la scelta dell'UNGHERIA.
CANTANTE: Freddie
CANZONE: Pioneer
Annunciata anche la scelta dell'ISLANDA.
CANTANTE: Greta Salome
CANZONE: Hear Them Calling
Comunica anche la scelta fatta della LETTONIA durante la finale nazionale.
CANTANTE: Justs
CANZONE: Heartbeat
In questi giorni anche la MOLDAVIA ha annunciato sia la cantante che la canzone che rappresenterà la nazione che l'anno scorso non è riuscita a superare le semifinali.
CANTANTE: Lidia Isac
CANZONE: Falling Stars
Dopo l'annuncio della Finlanda, anche lo stato scandinavo della NORVEGIA ha annunciato la sua scelta, fatta con lo show nazionale Melodi Grand Prix 2016.
CANTANTE: Agnete
CANZONE: Icebreaker
Anche la nostra vicina di casa, la SLOVENIA, ha finalmente annunciato la cantante e la canzone che rappresenteranno il paese durante la competizione europea.
CANTANTE: ManuElla
CANZONE: Blue and Red
Ultima nazione (in ordine alfabetico) ad annunciare la propria scelta è stata l'UCRAINA.
CANTANTE: Jamala
CANZONE: 1944
---
Dopo aver annunciato ancora ad novembre dello scorso anno la cantante che avrebbe annunciato la nazione, solamente oggi l'ARMENIA ha rilasciato la canzone.
CANTANTE: Iveta Mukuchyan
CANZONE: LoveWave
---
Dopo mesi di attesa, l'AUSTRALIA ha finalmente annunciato l'artista e la canzone che rappresenterà la nazione all'Eurovision.
CANTANTE: Dami Im
CANZONE: Sound Of Silence
Anche l'AZERBAIJAN ha annunciato la propria scelta.
CANTANTE: Samra
CANZONE: Miracle
Dopo alcuni anni d'assenza, la CROAZIA ha deciso di ritornare sfoderando una scelta abbastanza inaspettata.
CANTANTE: Nina Kraljic
CANZONE: Lighthouse
Sempre in questi giorni, la REPUBBLICA CECA ha annunciato la propria scelta.
CANTANTE: Gabriela Guncikova
CANZONE: I Stand
Grazie ad una selezione nazionale, l'ESTONIA ha selezionato sia l'artista che la canzone che la rappresenterà durante l'Eurofestival.
CANTANTE: Juri Pootsman
CANZONE: Play
Visto il risultato dell'anno scorso, la MACEDONIA ha deciso di tornare quest'anno con un'artista che il pubblico europeo conosce molto bene, visto che ha rappresentato la sua nazione per altre due volte.
CANTANTE: Kaliopi
CANZONE: Dona
Anche la GRECIA ha finalmente annunciato la canzone che la rappresenterà in Svezia, visto che il gruppo rappresentante era già stato scelto mesi fa.
CANTANTE: Argo
CANZONE: Utopian Land
Pure ISRAELE ha annunciato la propria scelta.
CANTANTE: Hovi Star
CANZONE: Made Of Stars
In queste ore, la LITUANIA ha rivelato la propria scelta, fatta attraverso una selezione nazionale.
CANTANTE: Donny Montell
CANZONE: I've Been Waiting For This Night
Dopo aver annunciato mesi fa l'artista, finalmente MONTENEGRO ha svelato anche la canzone che rappresenterà il paese a maggio in Svezia.
CANTANTE: Highaway
CANZONE:  The Real Thing
Anche i PAESI BASSI hanno annunciato la loro scelta, fatta internamente.
CANTANTE: Douwe Bob
CANZONE: Slow Down
Grazie ad una selezione nazionale, anche la POLONIA è in grado di rivelarci la propria scelta.
CANTANTE: Michael Szpark
CANZONE: Color Of Your Life
Anche la ROMANIA ha selezionato un artista e una canzone.
CANTANTE: Ovidiu Anton
CANZONE: Moment Of Silence
Finalmente dopo mesi dall'annuncio del cantante, la RUSSIA ha annunciato la canzone che la rappresenterà a Stoccolma.
CANTANTE: Sergey Lazarev
CANZONE: You're The Only One
Dopo aver annunciato il nome del cantante un po' di tempo fa, SAN MARINO ha annunciato anche la canzone.
CANTANTE: Serhat
CANZONE: I Didn't Know
Rilasciata anche la canzone che competerà come rappresentante del REGNO UNITO.
CANTANTE: Joe & Jake
CANZONE: You're Not Alone
In queste ore, anche la SERBIA ha rivelato il nome dell'artista e della canzone che la rappresenteranno durante la competizione canora più famosa d'Europa.
CANTANTE: Sanja Vucic
CANZONE: Goodbye
Grazie alla selezione nazionale, il Melodifestivalen, concluso ieri sera, anche l'ospitante SVEZIA ha annunciato il cantante e la canzone che competerà a Maggio durante il Festival europeo.
CANTANTE: Frans
CANZONE: If I Were Sorry
Dopo parecchia attesa, Francesca Michielin e tutto lo staff di Eurofestivalnew.com hanno annunciato in che lingua canterà la nostra beniamina.
Prossima settimana sul canale ufficiale dell'Eurovision potremo ascoltare finalmente la versione editata a tre minuti (come previsto da regolamento), che siamo sicuri farà felici in molti, soprattutto quelli che hanno sperato che il brano fosse mantenuto in lingua italiana.
Da quello che siamo riusciti ad apprendere, "Nessun Grado Di Separazione rimarrà nella quasi totalità in lingua italiana, ad eccezione di un solo ritornello nella seconda metà del brano, che sarà in lingua inglese, una pura traduzione del testo sanremese che tutti ormai conosciamo bene, senza stravolgimenti particolari. In pratica una ventina di secondi sull'intera durata del brano.
Il titolo del brano in gara per l'Italia sarà però in inglese: "Nessun Grado Di Separazione" diventa dunque "No Degree of Separation".
Non ci resta che aspettare altri pochissimi giorni per scoprire la versione finale del brano editato con un ritornello in inglese!
Che ne pensate di questo cambiamento?
Rilasciata la versione in inglese che competerà all'Eurovision rappresentando l'ALBANIA.
CANTANTE: Eneda Tarifa
CANZONE: Fairytale
Rilasciate le ultimissime canzoni!
Dopo aver vinto la competizione nazionale, la rappresentante di MALTA, Ira Losco, ha scelto di optare per un cambio radicale di canzone cambiando la sua "Chameleon".
CANTANTE: Ira Losco
CANZONE: Walk On Water
Ultima a rilasciare la canzone inedita è stata la BULGARIA.
CANTANTE: Poli Genova
CANZONE: If Love Was A Crime
All'appello mancano solamente alcuni video e la versione eurovisiva del singolo di Francesca Michielin, rappresentante dell'ITALIA. QUI per revisionare "No Degree Of Separation", singolo che ci rappresenterà in maggio.